20 Best Things to Do in Boynton Beach, FL
Florida has many unknown treasures, and one of these is the charming city of Boynton Beach.
It's not exactly hidden given its location as a key city in Palm Beach County, but it gets overshadowed by nearby metro areas like Miami, Boca Raton, and Fort Lauderdale.
Those curious enough to explore this vibrant community will be treated to beaches, water activities, and a busy city scene.
But Boynton Beach is also blessed with many natural areas and centers that remain undisturbed.
One other thing you'll notice is the several golf courses scattered in between the suburbs and waterways.
So if you're a sports enthusiast, a nature lover, a thrill-seeker, or an intrepid adventurer, you'll find something to enjoy in this bustling destination.
Here are the 20 best things to do in Boynton Beach, FL:
Traverse the Boardwalk Across Green Cay Nature Center & Wetlands
In contrast to Seacrest Scrub Natural Area, the Green Cay Nature Center & Wetlands is, as the name implies, wetter.
It's got the more recognizable features of Florida: swamps, murky waters, and tall grasses hiding predators.
But it's not just wetlands that have formed in this 100-acre nature preserve.
There are other habitats like tropical hammocks and bald cypress communities.
All these you can see and explore by walking along the 1.5-mile elevated wooden boardwalk, looping around the preserve.
Thanks to the lack of tall trees in most areas, you'll get uninterrupted views of the vast expanse.
So keep an eye out for the raptors and waterfowl hunting or frolicking in the deep green waters.
After touring the boardwalk, make a stop at the Nature Center and learn about the reptiles, amphibians, and many other creatures that call the area home.
Have a Fun Family Day at Barrier Free Park
If Seacrest Scrub Natural Area or Green Cay Nature Center & Wetlands prove too wild for your taste, you can always visit Barrier Free Park for your outdoor adventures.
This 37-acre attraction is the most modern alternative to authentic Florida swamps, as it's been patterned after these iconic land features.
The result is an exotic-looking park accessible to everyone, including people with disabilities and mobility issues, hence the "Barrier Free" name.
Thanks to this consideration, the park has become one of the family favorites in Boynton Beach.
Within the spacious attraction, you'll find many modern amenities like playgrounds, picnic benches, and restrooms.
You'll also see the restored wetlands on one section of the park, containing native flora and wildlife who occasionally visit.
For those who like more sporty activities, there are several tennis courts and fitness trails in the park.
Find Quality Veggies at Bedner's Farm Fresh Market
If you're looking for a place where you can get the freshest produce from local growers, head to Bedner's Farm Fresh Market.
While this is not your classic gathering of farmers and vendors, this facility is still one of the most visited markets in town.
They offer a wide range of products sourced from nearby lands and gardens, so freshness and quality are guaranteed.
Check out their selection of seasonal vegetables, various fruit cultivars, root crops, and other produce you won't find in other places in the country.
You can even pick the produce yourself, as the property has small gardens growing plump strawberries, pumpkins, and even sunflowers.
It's a great, hands-on way to find the best products for your next homecooked meal.
Play a Few Rounds at Hunters Run Country Club
Among the many facilities in Boynton Beach with golf courses, the Hunters Run Country Club is one of the most expansive.
That's because the country club is more than a golf course; it's a center for recreation and active living in the city.
Most people would be unsurprised to learn that there are three 18-hole championship golf courses in the area given its vastness.
But this knowledge still doesn't diminish the experience of seeing the rolling manicured fields going as far as the eye can see.
These three courses are named North, South, and East Course, each with distinct layouts and hazards that make for a challenging gameplay.
But if you're not a fan of the sport, the country club still offers plenty of other activities and amenities.
There are dining centers offering sumptuous local cuisine, fitness centers to get you moving, and spas where you can unwind and forget about your worries.
Play Sports at Caloosa Park
The vast Caloosa Park is one of the favorite community gathering places in town, offering plenty of amenities and attractions for residents and visitors.
Within the 64-acre area, there are open fields, patches of woodland, and a 3-acre lake on the northernmost edges.
If you're a fan of sports or would like to move your muscles during your visit, this place is the best place to be.
You'll find numerous courts for volleyball, basketball, racquetball, tennis, and other sports, all lit for use during the night.
There are also baseball and softball diamonds, a roller hockey rink, bicycle paths, and multi-purpose fields for other athletic pursuits.
If you're not interested in sports at the moment, you can still visit the park and enjoy the views, especially the section near the forest and lake.
Canoe along the Tall Grasses of Arthur R. Marshall Loxahatchee National Wildlife Refuge
The expansive Arthur R. Marshall Loxahatchee National Wildlife Refuge is the biggest green space in Boynton Beach, making up its westernmost borders and beyond.
With an area covering 145,188 acres, this wildlife sanctuary takes up a significant space of the northern Everglades.
It's a vital ecological hotspot where many of Florida's native plants and animals live in relative peace.
To see them in their natural habitats, you can explore the many paths that go into the refuge, most of them starting on the edge of Boynton Beach's city proper.
There are also plenty of opportunities for kayaking and canoeing, but you'd need a guide so you won't get lost in the vast tall grasses.
Fishing and hunting are allowed in some areas and during certain seasons, so be sure to contact local authorities before heading it with a gun or a line.
Go Birdwatching at Seacrest Scrub Natural Area
Sitting amidst urban neighborhoods is a remnant of ancient sand dunes that once were everywhere in the region: the Seacrest Scrub Natural Area.
It's one of the last natural areas in the city, untouched by modern development thanks to human intervention in the 1980s and 90s.
Today, the 54-acre attraction serves as a home to many local and protected species.
They live among the tall pines, oak shrubs, and saw palmettos thriving in the dry and coarse sand.
To see them, you need to explore the few paths crisscrossing in the location, including the 0.18-mile Gopher Tortoise Trail.
So keep an eye out for local Florida birds, the protected gopher tortoise, and gray foxes spotted in the area.
If they're too shy during your visit, you can still enjoy the wildflowers who've managed to thrive in such soils.
Watch the Waves Come In at Ocean Inlet Park
The beautiful Ocean Inlet Park stands in an area where the borders of Boynton Beach meet with other towns and cities.
But this attraction still sits within the city's territory and is actually another frequently visited attraction.
Set in the barrier island separating Lake Worth Lagoon and the Atlantic, this park has vast beaches and the Boynton Inlet as its main features.
In the past, Lake Worth Lagoon wasn't connected to the Atlantic.
But an inlet was opened on the northern edge, resulting in the lagoon becoming brackish and polluted.
Local authorities opened the Boynton Inlet to help circulate the water, which also created this beautiful attraction.
You can reach the edge of the inlet via a boardwalk traversing the water.
It's a great spot for watching sunsets and shore fishing.
Explore Lake Worth Lagoon on Kayak
Surprisingly, the Atlantic is not the main water feature surrounding the eastern side of Boynton Beach; it's the magnificent Lake Worth Lagoon.
This was once a freshwater lake that turned brackish once it was connected to the Atlantic.
Because of this, there's a mix of wildlife living in the waters.
To access the lagoon, head to Boynton Harbor Marina, the base for many outfitters.
There, you can rent your choice of small watercraft, such as jet skis, kayaks, and paddleboards, to explore the body of water.
Most prefer kayaks since they're stable and don't need fuel.
On it, you can head to the nearby mangrove thickets and isolated beaches and try spotting the marine mammals visiting the area.
These include curious manatees and playful dolphins.
Join the Haunted Pirate Fest and Mermaid Splash
The spine-chilling yet memorable Haunted Pirate Fest and Mermaid Splash is a seasonal celebration happening every October.
This event is one of the ways that Boynton Beach celebrates Halloween, and visitors are welcome to join in the fun!
On several locations along East Ocean Drive, you'll find stages set up for many shows, including entertaining acts, risky stunts, and mind-blowing performances by costumed actors.
They'll come as pirates, beautiful or horrific mermaids, and other characters that are sure to entertain the whole family.
Aside from these shows, the festive event will have free activity sections.
So you can play on a bounce house, get a Henna tattoo, build a giant Lego set, or go trick or treating—there's no age limit!
Head to the Deep Waters of the Atlantic
If Lake Worth Lagoon proves too tame for your taste, you can sail to the Atlantic and enjoy the thrill of the deep waters.
There are several local charters in Boynton Beach offering half-day and full-day tours to the ocean.
So if you're a fan of sports fishing, definitely join one of their trips.
You'll be with seasoned captains who've been in the sea most of their lives, so you and your family will be in safe hands.
Upon arrival on the best fishing spots, cast your line and wait for the fish to take the bait.
Some of the large game species you can catch include mahi-mahi, marlin, swordfish, and groupers.
It's a fun experience for the whole family, and you might even bring home a catch that you'd be proud of.
Let the Kids Play at Schoolhouse Children's Museum
For those traveling with kids, let them explore their imagination and creativity at Schoolhouse Children's Museum.
This learning facility was established to engage and inspire kids and families so they'll learn about Florida's history through the sciences and art.
So you can expect lots of exhibits that stimulate the mind of young learners.
One section has a collection of interactive items where children learn what it was like in the city before digital convenience and stimulation came.
In addition, there are collections where kids discover new things about the human body and play roles like doctors, store clerks, and mail carriers.
The best thing about this place is that it's been tailored to accommodate children with special needs.
So even if your kid is in a wheelchair or has hearing difficulties, they'd feel included while inside the museum.
Unwind at Ocean Ridge Hammock Park
Ocean Ridge Hammock Park is the perfect place for those who want some tranquility, with only the sound of waves as their company.
This hideaway is an isolated beach section accessible only via a boardwalk surrounded by woodland.
Upon arrival, you'll notice the lack of human development and amenities in the area, including a lifeguard.
The only traces of humanity are the people visiting and the distant condos on either side of the beach.
So it's no wonder that this has become a favorite haunt for Boynton Beach's long-time residents.
Bring an umbrella, a towel, and your favorite book when going to this hidden slice of paradise and enjoy the zen vibe.
You can also swim, but at your own risk since there aren't professionals around in emergencies.
Engage in a Water Excursion with PaddleAwaySports
PaddleAwaySports, a family-run business, aims to ensure that everyone who participates in one of their experiences has a good time and feels safe.
They have serviced almost 70,000 clients in seven years and received over 500 reviews.
In Boynton Beach, PaddleAwaySports rents paddleboards, kayaks, snorkeling gear, and various sports gear to both individuals and parties.
They provide very reasonable pricing for renting both new and slightly used equipment.
They offer enjoyable paddleboarding, kayaking, and snorkeling excursions for parties and individuals in Boynton Beach.
The team at PaddleAwaySports has nearly 30 years of overall expertise.
Feel the Air and Admire the Sights from Above with Boynton Beach Parasailing
From Florida's Lake Worth Pier towards Boca Raton, Boynton Beach Parasailing provides parasail trips aloft a 31' Ocean Pro.
The trip alone is the most tranquil, magical activity, making parasailing a family-friendly pastime for people of all ages.
They lift you 400 feet up in the air, 800 feet over the gorgeous Atlantic Ocean, from their main deck.
When reaching the highest point, the scenery is breathtaking and truly peaceful.
The maximum height permitted by Florida law is used for their regular parasailing ride.
Experience Florida's most remarkable sights from a fresh angle, where you may take in the beautiful ocean panoramas, Florida attractions, and perhaps even some animals like dolphins, turtles, and other sea creatures.
Schedule a parasailing excursion right off the bat!
Enjoy Delicious Food with Taste History Culinary Tour
The Taste History Culinary Tour is a multi-district excursion featuring contemporary art and cultural cuisine.
The non-profit Taste History was founded in 2011, making it the first food tour in Florida's Palm Beach County.
With cultural cuisine samples, artistic viewings, and history lessons, Taste History alternately highlights the distinctive flavors of more than five places, including Boynton Beach.
The trip highlights developing arts areas in off-the-beaten-path locations, Florida history, and cultural cuisine tastes at family-owned restaurants.
All year long, they alternate going on the first to fourth Saturdays.
Shop from Various Stores at Boynton Beach Mall
Boynton Beach Mall is a top retail location that draws locals and visitors of all stripes.
Visit more than 100 shops and restaurants while taking a hiatus from the heat and beach, featuring department stores such as Macy's or JCPenney.
Grab a wonderful dinner at some of the Food Court restaurants while visiting Boynton Beach Mall, followed by a must-see movie in the luxury of the Cinemark Theater.
In addition to eating, shopping, and leisure, take advantage of community activities sponsored by the facility or unwind while the kids play in the Children's Play Area.
Use the free Wi-Fi to stay connected while roaming around.
The Boynton Beach Mall provides adaptable spaces for events and gatherings.
Try an Unforgettable Diving Experience with Starfish Scuba
Starfish Scuba provides exciting and secure scuba diving charters, day excursions, training, and certifications in stunning Boynton Beach, South Florida, the United States.
They take pleasure in knowing what their divers require, and Dive Guides are provided on all expeditions.
They can accommodate your needs whether you are a beginner or like to dive at your speed and leisure.
The only barrier reef made of live coral on American soil is the Florida Reef.
Thanks to their closeness to the Gulf Stream, the swimming resembles that of the Caribbean and the Florida Keys!
They organize dive trips for a maximum number of 13 divers, which produces an exceptional experience that enables them to concentrate on each person and attend to their particular scuba diving needs.
Other Things to Do Nearby
Once you're done with your adventures in Boynton Beach, make time for these other places nearby.
Feel the Zen Energy at Morikami Museum and Japanese Gardens
Visiting the magnificent Morikami Museum and Japanese Gardens is like being transported to the Land of the Rising Sun.
But it's just a twenty-minute drive from Boynton Beach.
This must-see attraction is a center for Japanese arts and culture, harboring a museum celebrating these aspects of the nation.
But the most visited sections of the 188-acre facility are the gardens, which are as authentic as the ones you'd find in Japan.
From reflection pools, koi ponds, and bonsai trees to wooden bridges and homes, these beautiful gardens feature the iconic symbols you'd see in other similar attractions.
You're also welcome to join the Japanese-themed festivals and activities at the facility.
Stroll on the Soft Sands of Gulfstream Park
The scenic Gulfstream Park is located in Delray Beach, right where its borders meet with Boynton Beach.
So reaching it is as easy as walking from the condominium complexes on the barrier island section of the city.
Compared to Ocean Ridge Hammock Park, this attraction is more accessible, so more people come here to enjoy the beachside views.
Swimming is also safer, as there are assigned lifeguards in the park.
Aside from that, you can enjoy sunbathing, shore fishing, and strolling along the pristine sections of the area.
There's also a playground on one end where the kids can play all day on the well-maintained structures.
Final Thoughts
Boynton Beach may not be as famous as the nearby mega-cities, but it packs a punch when it comes to the recreation department.
From vast nature reserves to scenic beaches, from festive events to bustling country clubs, there's something for every preference here.
Use this guide when making your itinerary so you won't miss the best spots in this charming city.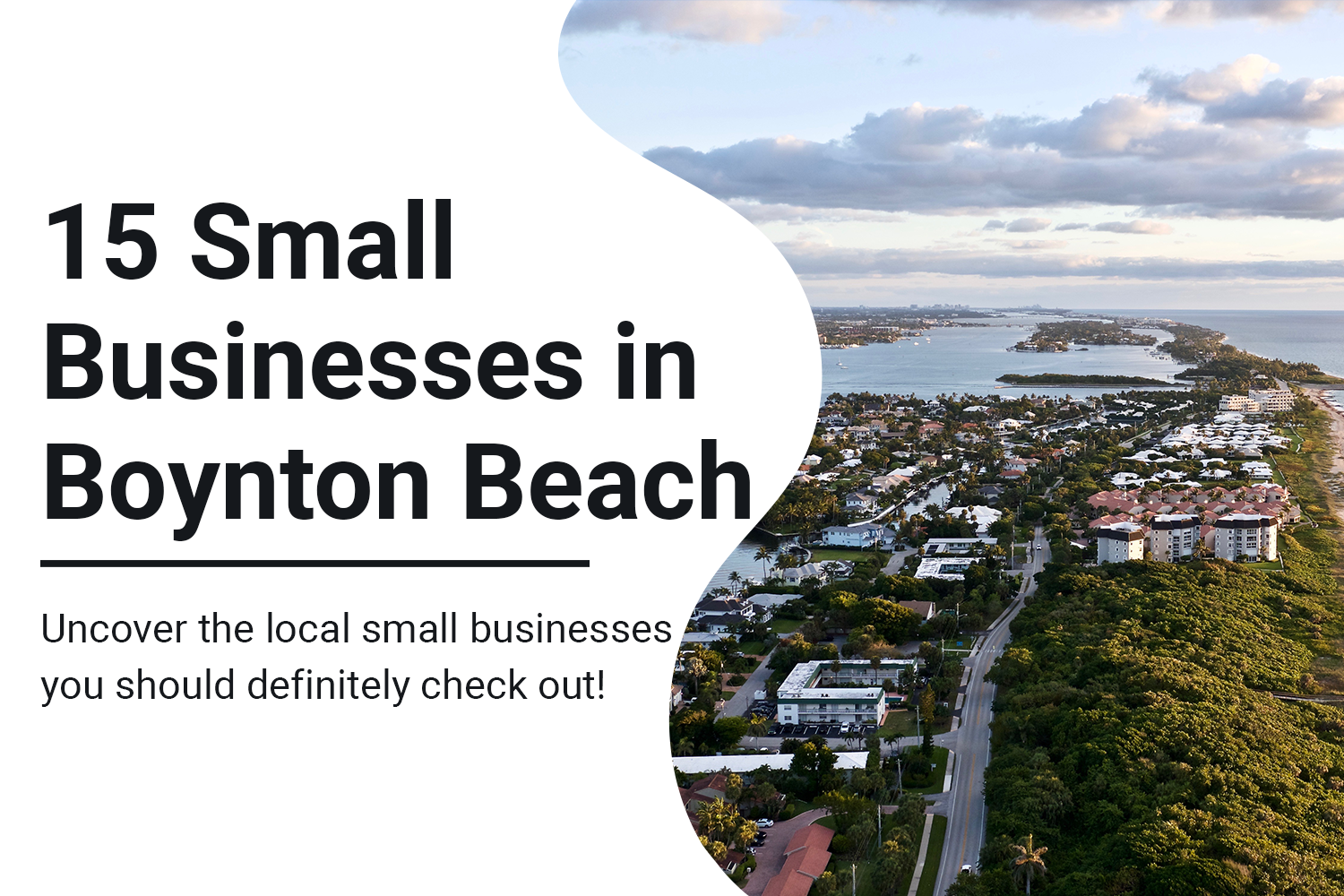 Discover More of Palm Beach County, FL
Things to Do in Delray Beach, FL
Things to Do in Palm Beach Gardens, FL
Things to Do in Palm Beach, FL
Things to Do in Lake Worth, FL
✍️
Find out more about Travel Lens and read our editorial guidelines
here
.