15 Romantic Hotels in Kansas City
The Barbecue Capital, Kansas City, is a premier travel destination known for its steaks and barbecues.
Aside from its stand-out food culture, it's also famed for its jazz history and lovely geographical location.
In the 1830s, Kansas City, known as Westport Landing then, was popular as a boat dock.
In 1889, the town officially became Kansas City, attracting tradesmen and business travelers because of its settlement between two major rivers.
Now, walking down the streets of this suburban city in Jackson County, Missouri, you are in for an aesthetic surprise with fountains and architectural beauties you can't find anywhere else.
This is perhaps why so many couples come around to see the view and form deeper connections in this artsy city.
Is that the case for you and your significant other?
Below are some of the best romantic hotels in Kansas City, MO, that you should take note of on your next intimate getaway:
The Raphael Hotel, Autograph Collection
Upscale relaxation is a promise at The Raphael Hotel, Autograph Collection.
This European-influenced boutique hotel opened in 1928 to serve the public as the Villa Serena Apartments.
Its architect, Alonzo Gentry, chose the Italian Renaissance Revival flair of its establishment and had undergone repurposing to represent small European hotels.
Its historic features and interior extravagance made it an established landmark in Kansas City.
More than that, the hotel is also home to contemporary art pieces, making it an art house as well as a place to stay for travelers.
Inside, the spacious living spaces or rooms come in 126 numbers, offering modern textile decor.
Outside is where The Raphael Hotel, Autograph Collection's best assets shine.
Spend a romantic walk with a loved one on the grounds where an exceptional fountain stands in the middle.
Or choose to take your date to the onsite restaurant where fine dining is at its peak.
You can find this boutique hotel on Ward Parkway.
Hotel Indigo Kansas City Downtown
Located on West 11th Street, Hotel Indigo Kansas City Downtown is one of the more vintage hotels a part of this list.
But unlike most hotels that recall architectural-related history, this 3-star hotel brings to life its railroad past.
Its 1930s-era building radiates as a reminder of what it once was: an establishment housing ticket offices for train travel.
And as a gesture of historical significance, this hotel's suites and rooms also blend a mix of modern aesthetics and travel-themed layouts.
In the lobby, marvel at the comic-style walls indicating train transportation and its symbolism.
Postcard elements also serve as a nice touch on the walls of the guest rooms.
Its well-known curated spaces make for romantic spots, too!
The local, minimalistic design fitness center can be an ideal venue to work out with your lover together.
At the same time, Hotel Indigo Kansas City Downtown's bar and bistro, with its sparkling chandelier and fairy lights, can make dining extra special with your precious one.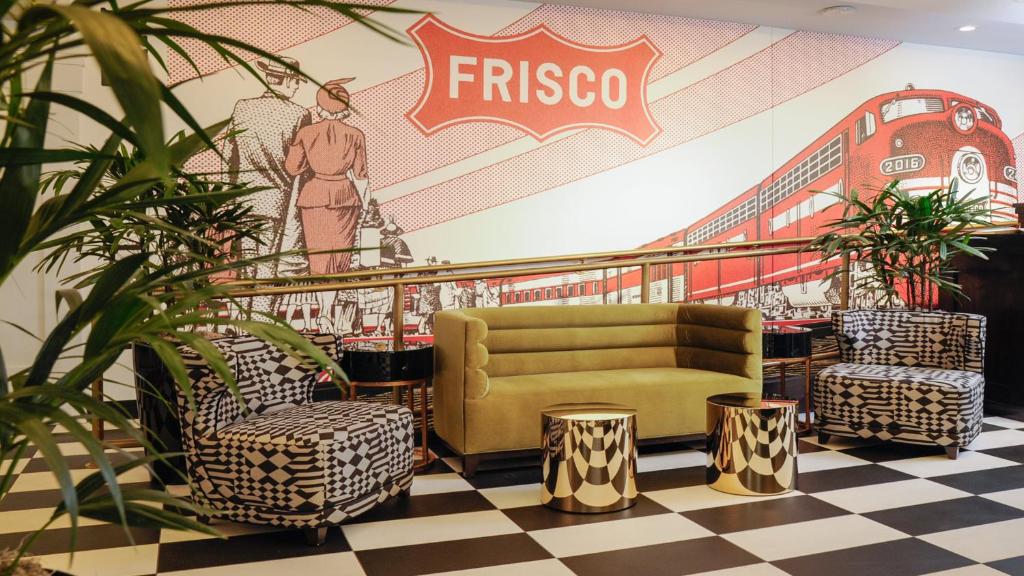 The Fontaine Hotel
Looking for a hotel that stays at the center of the buzz and fun?
The Fontaine Hotel stays in downtown Kansas City, where deluxe shopping is a prime activity.
This luxury hotel brings together high-end furbishing to the next level with its Venetian glass and marble walls.
Every architectural detail offers a serene and familiar look to the atmosphere.
Rich hardwoods and intricate headboard tapestries also come in a full circle at the 132 luxury guestrooms.
So, whichever room you prefer to stay in with a lover, you are sure that you and your eyes feel blessed with the artistic features presented in its room walls.
Make your summer memorable and exciting with a dip at the rooftop pool and a relaxing time at the cabanas.
There's also a private igloo that you can choose to stay in and spend meaningful conversations with your partner.
Find sophistication at The Fontaine Hotel, located on West 48th Place.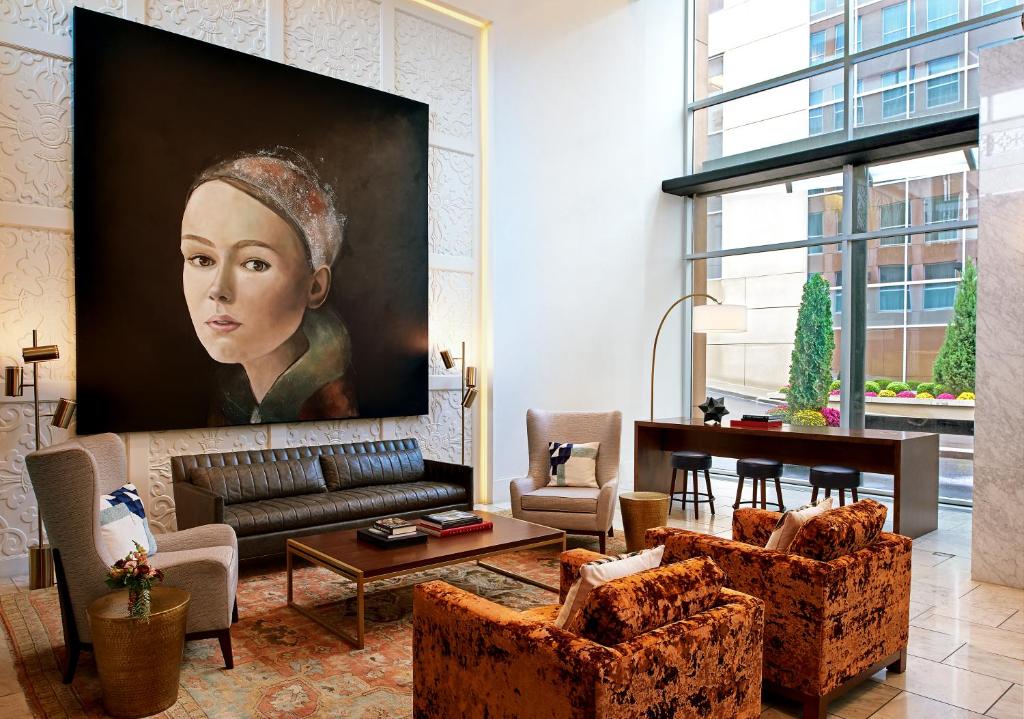 Southmoreland on the Plaza
In Kansas City, you can never run out of art hotels to explore.
Southmoreland on the Plaza is one among many that you should choose to rest in after a day of your couple's exploration of Kansas City culture.
Since 1913, this inn has been a household name for weary travelers looking for modern lodgings.
In January 2022, it officially changed its label from a bed-and-breakfast to a self-service hotel but its spirit of true hospitality remains within its walls.
Its tucked-away corner on East 46th Street serves as a laid-back and cozy place of rest for new and old couples alike.
Its smaller delights make it a gem worth visiting because of the nice change it brings from the usual buzz and bustle of Kansas City.
Read a book or two with your partner in the Sunroom while basking in the sunlight and warmth.
The simplistic 1923 Colonial Revival Mansion helps you appreciate the smaller, more important things of traveling: finding a haven where you can be comfortable with your partner.
Southmoreland on the Plaza opens its doors to you.
InterContinental Kansas City at the Plaza
On Ward Parkway, InterContinental Kansas City at the Plaza offers an opulent spin to your usual lodgings.
The Midwestern homespun feel to this hotel brings it a step up from other hotels in Kansas City, alongside its hospitality.
Its most famed amenities include its wide pool and the American Slang Modern Brasserie.
This brasserie's vibrant and comfortable aura makes it an ideal space to dine and wine with a partner.
The patio seating also opens up your eyes to the best views of Country Club Plaza.
But if you've got an anniversary coming up or just a memorable celebration with your partner, invite some of your closest friends to a party at the 25,000-square-foot ballroom.
Aside from its corporate sleekness, its innovative decor and spacious area are also great for casual events.
InterContinental Kansas City at the Plaza is the place to be for some relaxed stay and swimming with a significant other.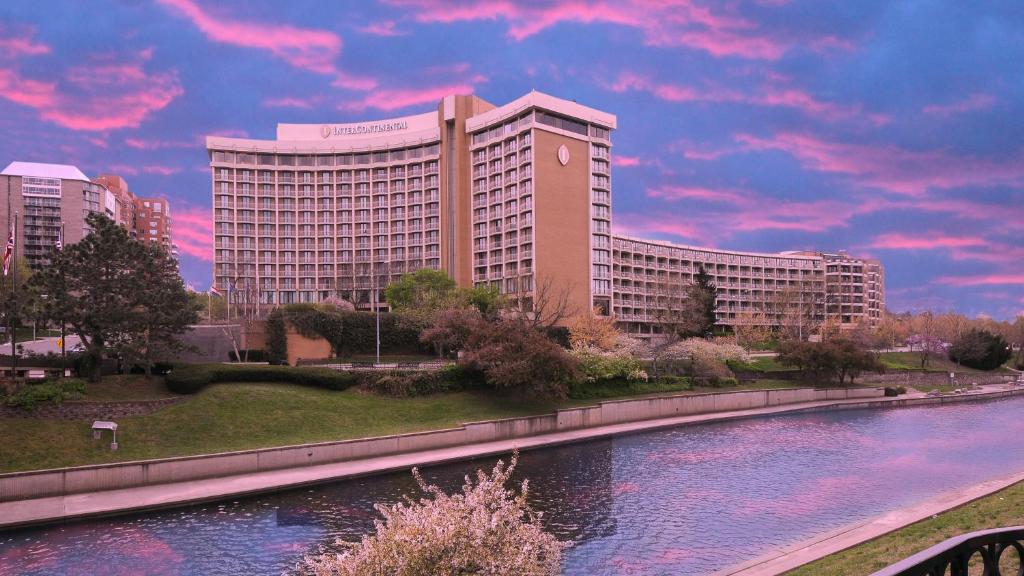 The Westin Kansas City at Crown Center
For some finely decorated rooms and suites, The Westin Kansas City at Crown Center gets your expectations high and fulfills them tremendously.
This hotel takes pride in the sense of renewal and wellness it provides its guests.
Offering effortless luxury amid simplistic decor, you may feel like you have stepped into a new kind of heaven.
Visit the gift shop and find treasures to give your lover as tokens of appreciation.
Its rooms and suites offer a light, clean atmosphere that's worth sprawling around for lazy days with your partner.
Take your romantic getaway to the next level with a round of tennis at the courts or a splashing time at the hot tub.
You can find The Westin Kansas City at Crown Center on East Pershing Road.
Hotel Phillips Kansas City, Curio Collection
Hotel Phillips Kansas City, Curio Collection speaks to your spirit with only a glance at its hotel front.
This dim-style luxurious hotel was once the tallest building in all of Kansas City.
Its high-rise building comes at a 1930s-style art deco establishment that's both family-friendly and romantically intimate.
Most of its charm lends itself to the presence of its basement speakeasy and convenient location to the heart of nightlife in the city.
Its executive lounge and restaurant are also worth checking out with their rustic atmosphere, where you can taste craft cocktails to set the mood.
Under the vibrant lights of the lobby, you can share light conversations with your partner.
The ballrooms offer a fairytale-like enchantment to them that you and your partner would adore.
Find Hotel Phillips Kansas City, Curio Collection on West 12th Street.
The Truitt
The boutique hotel, The Truitt, fuses manicured nostalgia and peaceful modernity.
Built in 1916, this hotel sets itself into a colonial historic brick mansion that's eye-catching at first glance.
In fact, the local paper describes the hotel as one that "attracts much attention by taste".
In its carefree halls, you can find a home with your partner.
At the veranda, feel the sunshine's rays while you enjoy a cocktail or two.
This hotel's specialty is making romance brew and settle within some of its Asian-borrowed decors.
Rejuvenate and rebuild intimacy with your partner at The Truitt on Oak Street.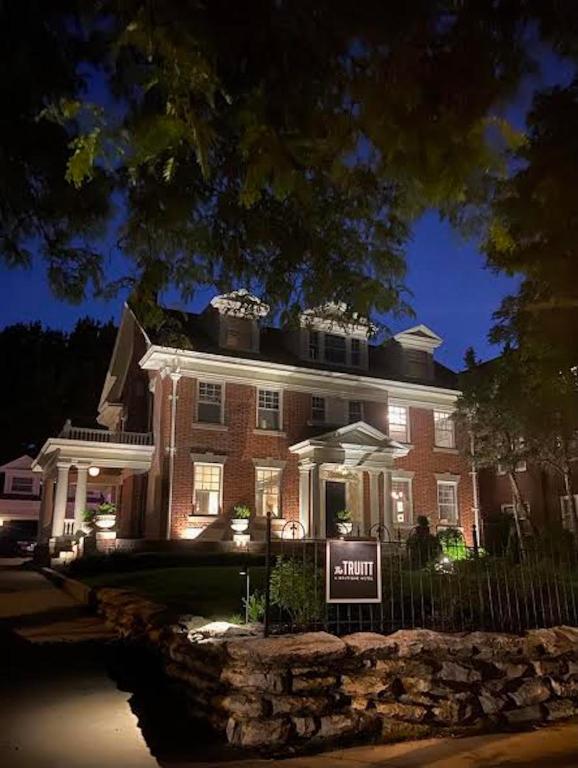 Chateau Avalon Hotel
One of Kansas City's biggest pride is the Chateau Avalon Hotel.
This unique boutique hotel offers 61 rooms with stunning themes each.
French architecture stands out prominently in the walls, furniture, and ornamentation.
But perhaps what makes this hotel a favorite among couples is its d'Nile Lounge.
It's a thematic bar getaway to get to know your loved one while sipping some cocktails.
Keep date nights more interesting with a few card games.
Or you can take the fun outside on the patio where you can host the best parties to celebrate anniversaries.
Get in on the love and excitement at Chateau Avalon Hotel on Village West Parkway.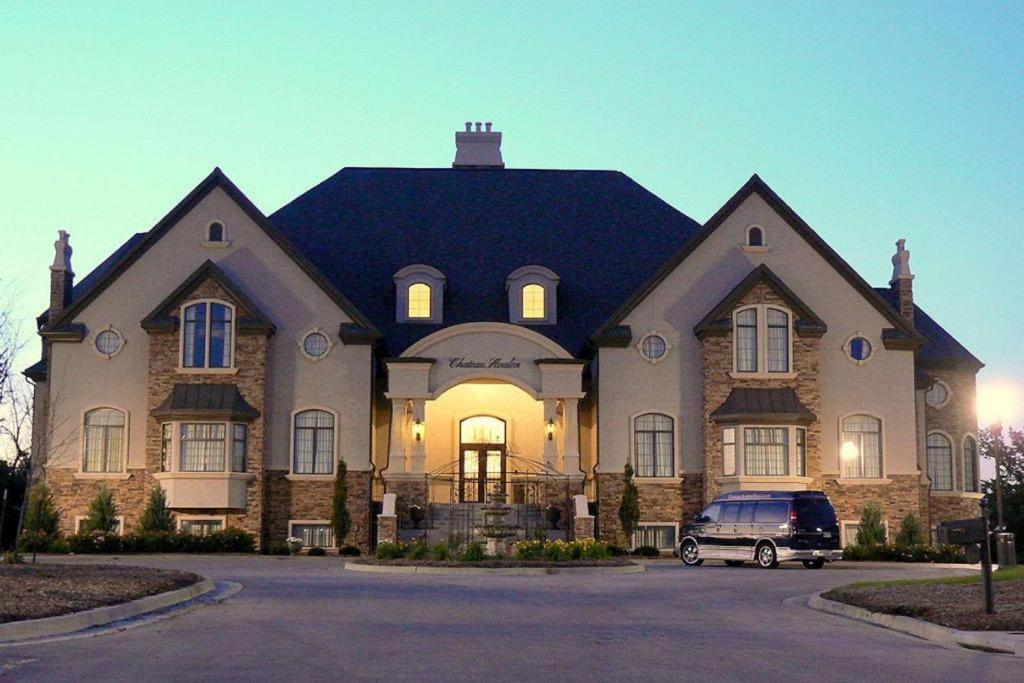 The Ambassador Hotel Kansas City, Autograph Collection
For a striking view of downtown Kansas City, The Ambassador Hotel Kansas City, Autograph Collection is your best spot to rest with a significant other.
But the adventure doesn't stop there.
Its 1920s Neoclassical building is accessible to the day explorations and nightlife of Kansas City.
From the bedrooms to the bathrooms, everything is as slick and carefully decorated as expected.
After winding down, be sure to dress up for date night at the onsite restaurant, The American Reserve.
With its salient romantic ambiance and delectable cuisine, you can be confident memories will stay and flourish at the dinner table.
The Ambassador Hotel Kansas City, Autograph Collection is on Grand Boulevard.
Loews Kansas City Hotel
Midwest hospitality is protrusive at Loews Kansas City Hotel on Wyandotte Street.
With a stunning 800-guest room feature, it's easily a preferred place of lodging for many.
Whether you'd prefer dates to be for coffee or with a fine dining experience, this hotel gives you everything and more.
The Bar Stilwell, its lobby bar, keeps things historical with a tribute to Kansas City's past with great dish classics.
If you and your partner prefer a bit more activity on your dates, the hotel's fitness center may be your best bet.
Embrace the city's warm atmosphere while staying on the outdoor terrace with a very special someone.
Loews Kansas City Hotel keeps things amorous with its amenities, so why not stop by?
Hotel Kansas City
On Baltimore Avenue, Hotel Kansas City turns up its charm for all kinds of couples.
Opened in 1922, this Gothic Revival-inspired establishment takes your romance back to the Roaring Twenties.
Its most prominent guests in the past include Harry Truman and Ewing Kauffman.
Its 160 private rooms all live up to its promise of luxury and relaxation rolled into one.
Visiting the onsite eatery and ballrooms also evokes a magical romance you and your partner would want to surround yourselves with.
There's always a reason to toast to love at Hotel Kansas City.
Crossroads Hotel
Unlike the usual guarantee of leisure in glamorous suites, Crossroads Hotel is more about community and connection.
The living proof of this is the coming together of two Kansas City buildings into one community hotel.
Built in 1911, it's a celebration of a past where horses—instead of cars—drew up on the street.
This hotel on Central Street also specializes in bringing the lifestyle of art and inspiration.
In its Art District home and gallery, it gathers local artists in one shared space.
So, if you and your partner have a keen eye for art, you can do all the gallery dates you can while staying at Crossroads Hotel.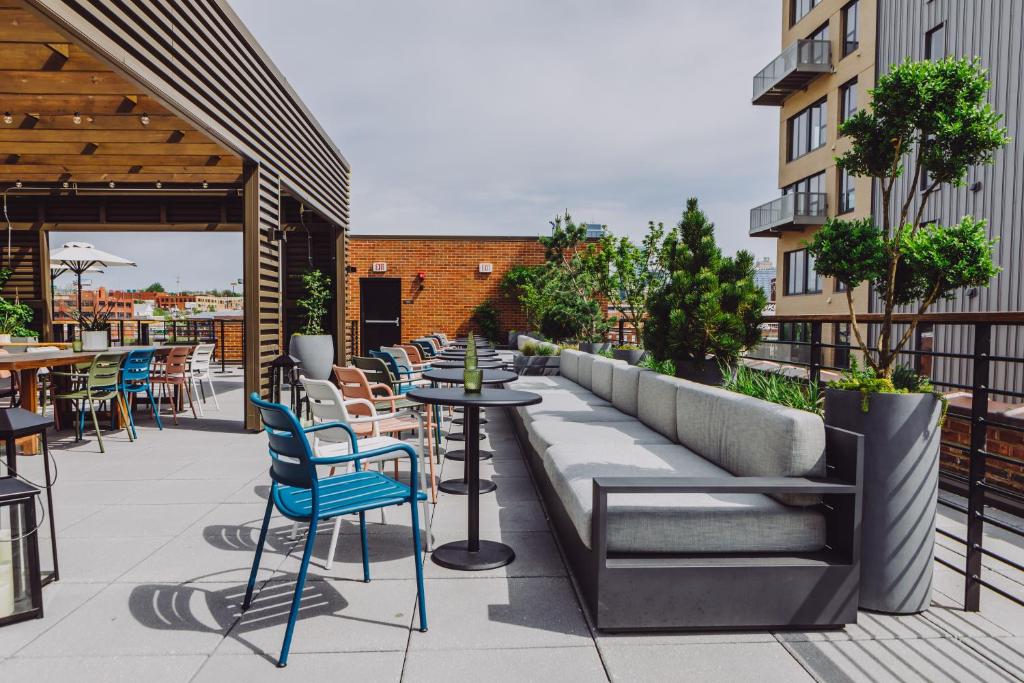 Homewood Suites by Hilton Kansas City Speedway
For a speedy romantic excursion, you deserve to stop at Homewood Suites by Hilton Kansas City Speedway.
This Midwest-centered hotel gets you near the Kansas Speedway and Community America Ballpark.
Its unassuming indoor pool is a great place to hang out and chill with a loved one.
Keeping things simple but with a splash of color, every room and hallway at this hotel offers a space where you can sit in silence with your partner.
Planning an outdoor date that doesn't create a hole in your wallet?
The Community America Ballpark, which is only a 12-minute walk from the hotel, provides you with that secluded venue to eat and stroll.
Homewood Suites by Hilton Kansas City Speedway is on Parallel Parkway.
The Secret Place
The Secret Place is a parallel representation of its name because of its sheltered location on Michigan Avenue.
Christian hospitality lies at the core of this 4-star hotel.
So, every room in this place flickers with intimacy.
It's also just a few minutes away from famous plazas and shops all over downtown Kansas City.
Cuddle by the fireplace or gear up to go outside for a quest at the Power & Light District or the Nelson-Atkins Museum of Art.
Whatever you and your partner choose to do, it's all going to be worthwhile when you choose to stay at The Secret Place.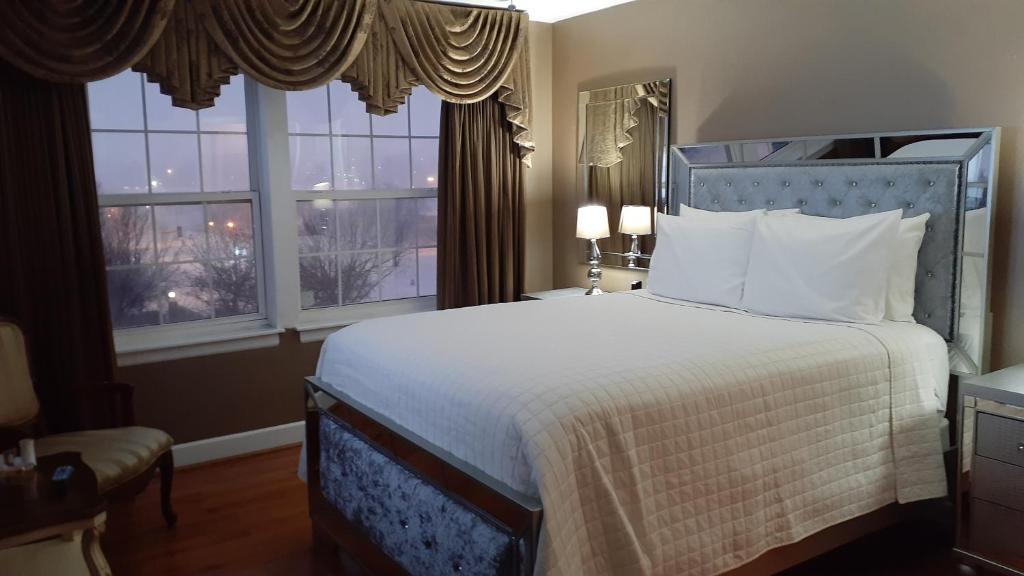 Final Thoughts
Traveling to new cities is, indeed, a great way to spend more time with your lover, and Kansas City surpasses all your expectations.
With its vast array of private and luxurious accommodations, it's no wonder the city is a hot spot for those in love.
And the list above of the best romantic hotels in Kansas City, MO, is detailed proof of this.
Love is in the air in Kansas City; it awaits your arrival!

✍️
Find out more about Travel Lens and read our editorial guidelines
here
.