15 Best Restaurants in Boynton Beach, FL
Many locals and visitors come to Boynton Beach, Florida, for a relaxing and vibrant tropical lifestyle.
Being situated along the Atlantic Coastline in Palm Beach County, Boynton Beach is known as the "Gateway to the Gulfstream."
It's a great place to enjoy the open sea.
This city's locals and guests can take advantage of several seashore recreational activities, from adrenaline-pumping sports to simply relaxing on the beach.
Boynton Beach is the perfect place to relax and have fun, whether you're looking to catch some waves, go deep-sea fishing, or explore the city's beautiful natural areas.
Boynton Beach has plenty of options to choose from when you feel famished after exploring the city all day!
You can find seafood so fresh it tastes like it was pulled from the ocean minutes ago, as well as other classic Italian fares in restaurants throughout the city.
Here are some of the best restaurants in Boynton Beach, Florida you won't want to miss out on:
Agliolio
Experience a fresh and modern take on Italian dishes at Agliolio.
Agliolio is a restaurant that uses responsibly sourced ingredients to cook Italian dishes with exciting and bold flavors.
Aside from this, customers can try pasta and mozzarella made from scratch, ensuring their fresh and exceptional quality.
Their Agliolio Meatball Appetizer, a mix of three gass-fed beef and ricotta, is the perfect way to start your meal.
Their homemade pasta dishes made with 100% Semolina are delectable, ranging from mouthwatering Marinara to tantalizing Alfredo.
In addition to their delicious food, you can also order from a selection of fine wines to perfectly accompany your meal.
Prime Catch
If you're in the mood for seafood, head on over to Prime Catch.
Established in 2004, this restaurant offers some of the most delectable seafood dishes in Boynton Beach.
Customers keep returning to their restaurant because their award-winning and passionate executive chef prioritizes quality, style, freshness, and consistency.
In addition to their amazing seafood selections and wonderful service, Prime Catch has a stunning outdoor seating area if you're looking for an intimate dining experience with your partner or close friends.
Some delicious seafood dishes you can try here include eggplant fries, fresh oysters, and grilled octopus.
Prime Catch also serves mouthwatering prime rib and steamed clams.
Get your cameras ready when you come to this restaurant because their dishes are not only delicious, but they're also Instagram-worthy.
Bond Street Ale and Coffee
Looking for a European-style meal with fine wine, craft beer, and coffee? Look no further than Bond Street Ale and Coffee.
Based in east Boynton Beach right inside Walgreen plaza, Bond Street Ale and Coffee is a restaurant that offers European-style baked goods and dishes, as well as a variety of beer and wine.
Whether you are heading out to have brunch or are looking for a quick afternoon snack, this restaurant has got you covered with all of its delicious offers.
They have a wide variety of pastries, including the rich and delicious apple crumble cake as well as fluffy and buttery croissants.
If you're into beers, then this place is definitely worth checking out!
Not only does it have a spacious and bright atmosphere, but they also serve different types of beer.
What's more, if you time it right, you might catch their Happy Hour promo and get two drinks for the price of one.
No matter the occasion, whether you're looking to feast or simply unwind with some drinks, Bond Street Ale and Coffee is always a great choice.
Casa Linda
Indulge your craving for flavorful, home-style Mexican food at Casa Linda.
Casa Linda is a gem for anyone searching for amazing Mexican cuisine in Boynton Beach.
This restaurant prides itself on using only the freshest ingredients for cooking traditional Mexican cuisine.
With each bite you take, you'll be met with an explosion of intense flavors.
Some of their must-try dishes include the filling Enchiladas, delectable Mexican Pizza, and their incredible Tacos Al Pastor.
Casa Linda also serves margaritas which are so delicious they will transform any meal into a party.
If you have dietary concerns, you do not need to worry because the hospitable staff at this restaurant accepts special requests for the dishes you order.
If you're ever in the mood for some truly authentic and tasty Mexican food, be sure to pay Casa Linda a visit.
PIZZA ROX
Curb your hunger and share a box of fresh, artisan-style pizza with your family and friends at PIZZA ROX.
PIZZA ROX is a restaurant committed to serving deliciously made pizza fresh and fast.
At this restaurant, you start your order by choosing one among the three choices of handmade pizza dough.
PIZZA ROX only uses vegan and organic pizza doughs for their dishes, and they offer a gluten-free option as well.
The pizza place not only uses quality ingredients for its dough but also has an amazing house-made pizza sauce.
They use only the best quality antibiotic and hormone-free cheeses for their pizzas.
You can be confident that you're paying for a high-quality, delicious product at this pizzeria.
You won't go hungry at this restaurant because it only takes 195 seconds for the skilled staff to perfectly cook your pizza in their Italian Brick Deck oven.
Chris' Taverna
Savor some of the best Greek dishes in Florida at Chris' Taverna in Boynton Beach.
Whether you are hungry for a Greek Salad, Gyro Wrap, or Lamb Chops, this restaurant has got it all for you.
Established in 2004, Chris' Taverna has won many awards for their excellent customer service and exceptional Greek dishes through the years.
This family-owned restaurant has plenty of awards and great reviews for a reason: it's sure to please every visitor.
Enjoy the Greek family recipes the restaurant owners here are eager to share.
With high-quality ingredients sourced from local farmers' markets, their dishes are always packed with flavors as vibrant as the Mediterranean Islands.
Some dishes you have to order here include their Spanakopita and Souvlaki plates.
Chris' Taverna also serves Greek wines that will take your meal to the next level.
Sweetwater
Sample a wide range of handcrafted wines, cocktails, and spirits at Sweetwater.
Based in Boynton Beach, Sweetwater is Florida's first whiskey bar that serves a variety of unique wines and cocktails.
This whiskey bar was developed due to the owner's passion and desire to bring the cocktail scene to Boynton Beach.
This bar is an excellent spot to unwind, relax with your friends, and try to find your new drink of choice.
Sweetwater also hosts different special events, like Whiskey Tastings and Cocktail Pairings dinners.
At this establishment, you can not only sample some of the boldest and most flavorful cocktails and wines but also learn more about them.
You also don't have to worry about getting hungry after having a few drinks at this bar.
Their kitchen also serves unique dishes that are perfect accompaniments to their cocktails.
A few of the dishes you can try include Poke Tacos, Lobster Pierogies, and Steak Churrasco.
Driftwood
Dine on fresh and delectable food while enjoying Driftwood's cozy and relaxing ambiance.
Jimmy Everett and Illia Gonzalez Colon, who spent most of their careers working in fine-dining restaurants in New York City, established this restaurant.
With their extensive experience in the industry, they were finally able to bring their dream of Driftwood, a comfortable yet refined dining experience, to life.
Many customers return to this restaurant regularly because it has a relaxing gastropub-like atmosphere.
When you visit Driftwood, you will be greeted by the gorgeous aesthetic of the whole restaurant.
You will also enjoy some of their fantastic craft cocktails that will elevate the place's relaxing vibes.
Start your meal with a flavorful ceviche or a grilled octopus, and try the fantastic local fish en Papillote.
This restaurant is perfect for date nights and intimate celebrations with friends or family.
Two Georges Waterfront Grille
Bond with your loved ones as you delight in delicious dishes while having an exceptional view at Two Georges Waterfront Grille.
You would be surprised to know that this restaurant has been around for more than 76 years.
Established in 1946, the restaurant was originally named Fred and Harry's, inspired by the name of its founders.
After many years of development, Two Georges Waterfront Grille in Boynton is now happy to serve excellent food, quality booze, and spectacular views to all its customers.
This family-friendly restaurant is perfect for casual lunch dates as well as for large group gatherings.
This place is best known for its fresh seafood, but it also offers a wide variety of other dishes.
Whether you're in the mood for seafood or something more land-based, this restaurant will not disappoint.
There's truly a dish for any craving, with options like Crab Cakes and Shrimp Scampi to Corned Beef Reuben and Tuna Melts.
They also have a Catch & Cook option where you are in charge of fishing, and they will cook the fishes you catch.
Dune Deck's Mimosa Cafe
For exceptional customer service paired with delicious homemade cuisine, head to Dune Deck's Mimosa Cafe.
The family-owned and operated restaurant has been in business for over 35 years.
With over two decades of experience and many satisfied customers, you can surely have an incomparable and unforgettable dining experience here.
Bring all your loved ones and indulge in classic Mediterranean dishes with a modern twist.
You can be confident that this restaurant's two award-winning chefs are up to the job of satisfying your cravings with their delectable dishes.
The Filet Mignon benedict is a dish you cannot miss when visiting here since it will make your breakfast extraordinary.
You'll also want to order their Greek Yogurt Berry Crepe, topped with satisfying granola, abundant fresh berries, and delicious chocolate drizzle.
If you want to make your breakfast even more luxurious, try one of their delicious breakfast cocktails.
You can't go wrong with a classic Bloody Mary or Mimosa, or if you're feeling festive, try a Poinsettia!
Hurricane Alley Raw Bar & Restaurant
Have a fun and casual dining experience at Hurricane Alley Raw Bar & Restaurant.
This establishment, located just steps from the Boynton Beach marina, is a favorite raw bar and restaurant among locals.
No wonder this restaurant was voted the Best of Boynton Beach Award in 2020 with its delicious seafood and terrific customer service.
Dine outdoors and enjoy the fresh ocean breeze as you feast on their wide array of seafood options.
If you're in the mood to explore, give their fresh raw clams or oysters a try.
They're made even better with some lemon juice.
If you prefer your food cooked, you can have your seafood steamed as well.
You can even bring along your furry little friends because this restaurant also has something for your dogs!
Your pet can chow down on Roast Beef Ends, Bacon, and Grilled Chicken.
Sabai Thai & Sushi
Come explore an abundance of flavor at Sabai Thai & Sushi.
This Thai and Japanese restaurant's cuisine is crafted with fresh herbs and spices and promises an immersive and irresistible experience for all your senses.
Immediately upon entering Sabai Thai & Sushi, the ambient lighting and tropical murals on the walls transport you to the sunny countries that inspired their menu.
The chefs here are passionate about using only the freshest ingredients to make their phenomenal dishes.
The delicious food served at this restaurant is cooked with love, and you will be able to taste and appreciate the hard work of the chefs in every bite you take.
Start your meal with some delectable appetizers, like the Veggie Rolls.
Another must-try dish is their unique and flavorful Papaya Salad.
You can order the Chicken Red Curry and enjoy an array of flavors for your main course.
You can also order some of their mouthwatering sushi rolls, like the California Roll and Green Dragon Roll.
The Fish Depot Bar & Grille
Go dancing and listen to music before satiating your hunger with fresh seafood dishes from The Fish Depot Bar & Grille.
This restaurant has a casual, yet incredible vibe, perfect if you're looking for a fun night out with your friends.
You will have a grand time listening to live music and socializing with a fun and friendly crowd.
Don't be afraid to let loose and bust a move when you come to this bar, as dancing is practically mandatory!
If you get tired from all the dancing and socializing, you can recharge your energy and order some of their delectable seafood-based meals.
Some of the recommended dishes include perfectly fried Fish and Chips and Fried Calamari.
If you prefer a quieter meal, you can come by during lunchtime and still enjoy their delicious menu items.
Bramer's Brazilian Cuisine
Bramer's Brazilian Cuisine is a family-friendly restaurant that will make your dining experience memorable.
Established in 2018, this restaurant serves flavorful Brazilian food with a delightful American touch.
If you're hankering for some authentic Brazilian cuisine, this is the best restaurant in Boynton Beach.
The moment you step into this restaurant, you are welcomed by the server's warm smile and can feel the casual and friendly atmosphere right away.
The croquettes at this restaurant are cheesy, meaty, and filling, making it the perfect comfort food.
Another dish you'll love is the Picanha, a Brazillian grilled top sirloin steak.
To top off your meal, order their Brigadeiro, a dessert made with Brazilian fudge chocolate, granulated chocolate, and mozzarella cheese.
The dishes here are so uniquely delicious that you'll be left wanting more every time, and you'll find yourself coming back again and again.
Tsunami Subs and Wraps
Tsunami Subs and Wraps is the perfect place to go for a quick, yet filling meal.
Every sandwich is made with the utmost precision at this restaurant and only contains the freshest, high-quality ingredients.
With such a wide array of options on the menu, Tsunami Subs and Wraps guarantees to find a dish that will satisfy your cravings.
The Philly Cheese Steak Sandwich is the most sought-after meal, which contains thinly sliced steak, onions, mushrooms, and peppers cooked to perfection.
The Buffalo Chicken Wrap is another customer favorite because the buffalo sauce and spices blend perfectly.
If you're looking to satisfy your hunger, the restaurant's 3- and 6-foot subs will do the trick.
You can bring your friends and family along and enjoy a meal together.
Final Thoughts
The city of Boynton Beach is home to some of the best restaurants in the country.
Whether you're looking for a quick and easy meal or an unforgettable dining experience, these 15 best restaurants in Boynton Beach, Florida will satisfy your hunger.
So what are you waiting for? Get out there and explore all that Boynton Beach has to offer!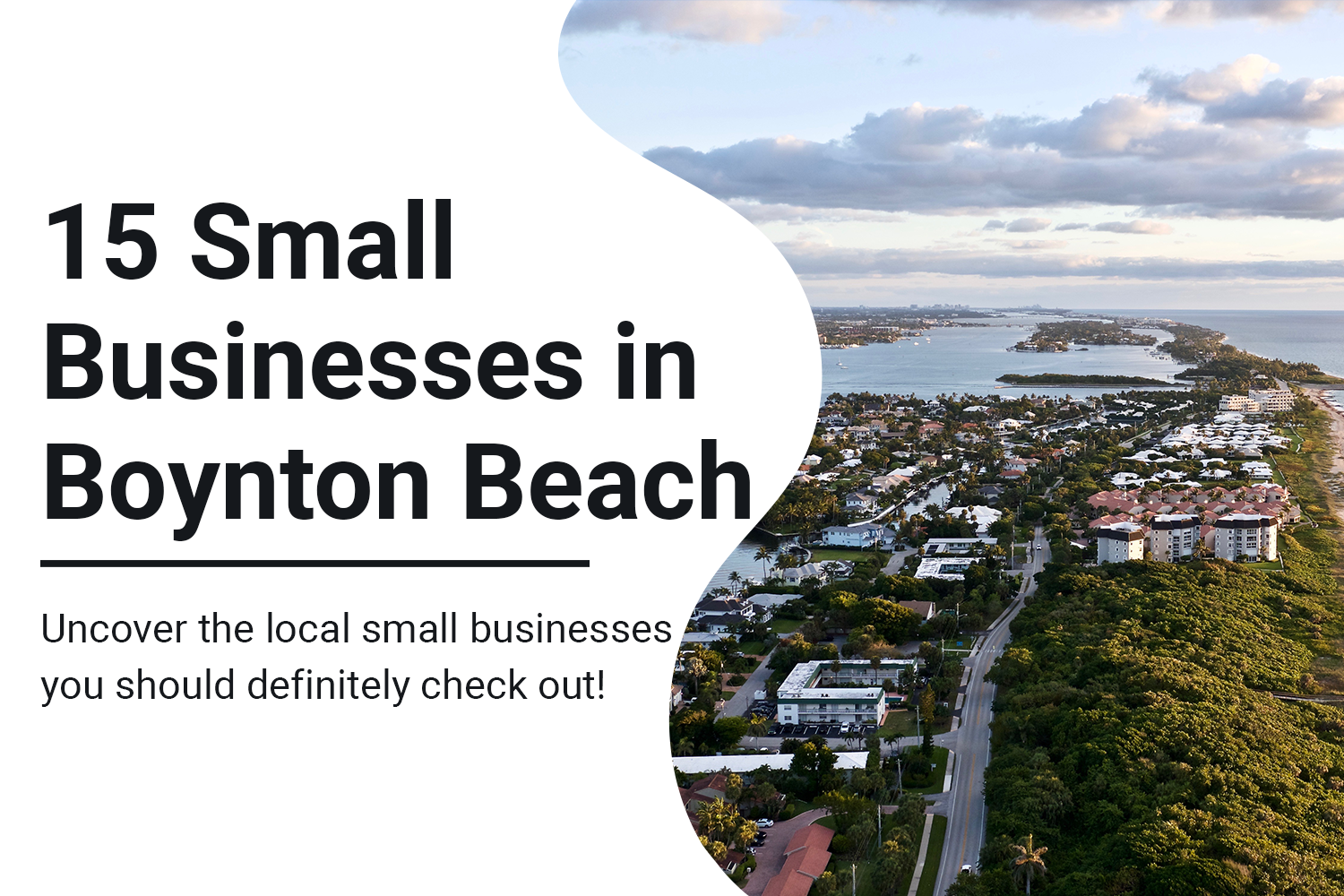 ✍️
Find out more about Travel Lens and read our editorial guidelines
here
.