15 Best Hotels in Shoreditch, London
Even if you might have not heard of this city, Shoreditch has always been London's one of the most unique places to visit.
It has a rich history; tourists continue to flock to this city for its thriving nightlife.
Sprawled between Bethnal Green and Clerkenwell, Shoreditch has some of the best clubs, bars, and restaurants in the world.
Not to forget, it also boasts of having the world's first pop-up mall, BOXPARK.
With such a vivid catalogue of places for the tourists to explore, Shoreditch should also have the best hotels in London.
It just makes sense, right?
Below is a list of the perfect hotels you can try in Shoreditch.
Affiliate Disclosure: As a Booking.com affiliate, I earn a small commission when you book through links on this page.
Montcalm Royal London House
Standing in this hip modern city is a hotel that started its journey as the Royal Mail head office.
Montcalm Royal London House is located a short distance away from Finsbury Square and offers guestrooms suffused with mid-century charm.
Amidst the neutral tones with colourful splashes, the guests get premium bedding, marble bathrooms, Elemis toiletries, and Nespresso machines.
There are also several restaurants you can indulge in, such as Aviary, the stunning rooftop restaurant and terrace bar.
You can also go to the Burdock, the beautiful City café and Long Arm Pub, with the best selection of beers.
As for the facilities, you get access to a fitness centre, spa facilities, meeting rooms, event spaces and a pool.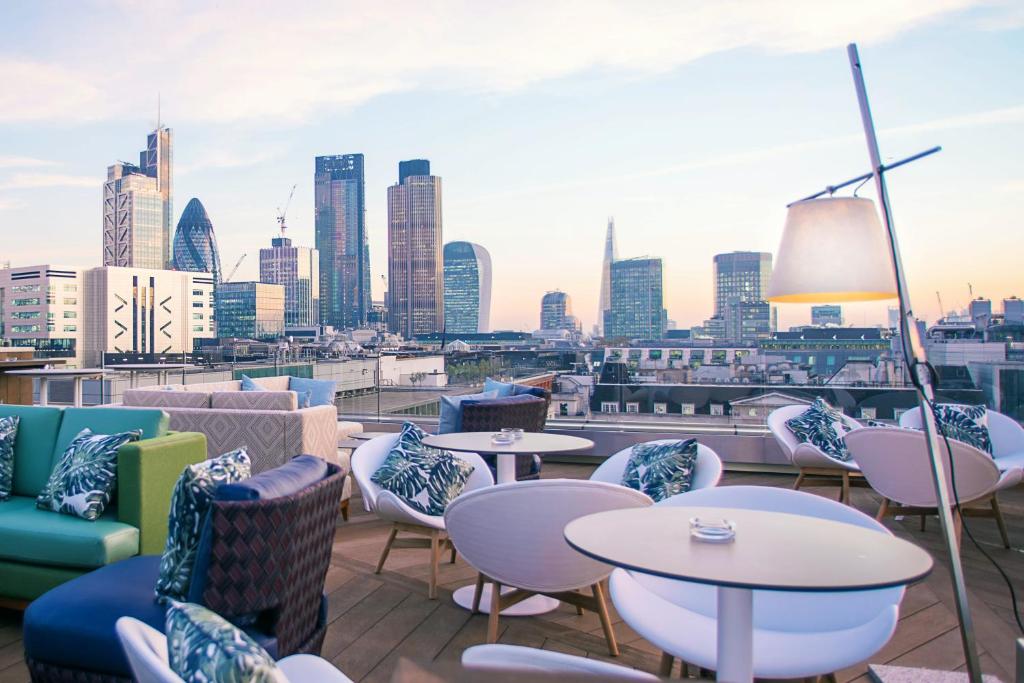 citizenM London Shoreditch
The term "affordable luxury" sounds like a dream, right?
citizenM, however, is all too real, standing proudly just three minutes away from Shoreditch High Street Station.
The guestrooms are quirky but absolutely delightful, equipped with the most comfortable beds, wall-to-wall windows, widescreen TV, mood lights, power showers and even blackout blinds.
It also provides a buffet breakfast.
Otherwise, you can enjoy delicious meals at the canteenM bar.
The most impressive part of citizenM is the lobby.
It's a fun, Warhol-esque space filled with various world-class artworks, eclectic seating arrangements and loads of books.
If you don't want to empty your pockets on accommodations without compromising quality, reserve your room at citizenM immediately.
Mondrian Shoreditch
Mondrian Shoreditch, located on Curtain Road, had a different name and look before 2021.
It went by the name the Curtain, which the guests loved.
However, Mondrian has become even more amazing.
The hotel is a short distance away from literally everything – restaurants, clubs, bars and some tourist spots.
The guestrooms are decorated beautifully, featuring large beds, exposed brickwork, marble bathrooms and vintage photographs.
There's a 24-hour gym, several wellness facilities, a pool, laundry services and high-speed WiFi all around.
The restaurants here are amazing, including BiBo Shoreditch, owned by popular chef Dani García.
You can also visit the day café and cocktail bar, Christina's Shoreditch, and the rooftop restaurant, Laurel's on the Roof.
Point A Hotel London Shoreditch
With cosy vibes, interesting accommodations and a minimalist atmosphere, Point A Hotel London Shoreditch is one of the best budget hotels to stay in London.
Located a little away from Hoxton Square and Brick Lane, the hotel features beautiful rooms, equipped with Hypnosis beds, power showers, mood lighting, blackout curtains and in-room safes.
Continent breakfast is served every morning.
You can get a good fill of coffee and snacks throughout the day.
Facilities include a 24-hour front desk, a guest work area as well as guest lounges and free WiFi all over the property.
The hotel doesn't have a restaurant but it more than makes up for it by offering discounts to select places.
In two words, Point A Hotel is affordable and amazing.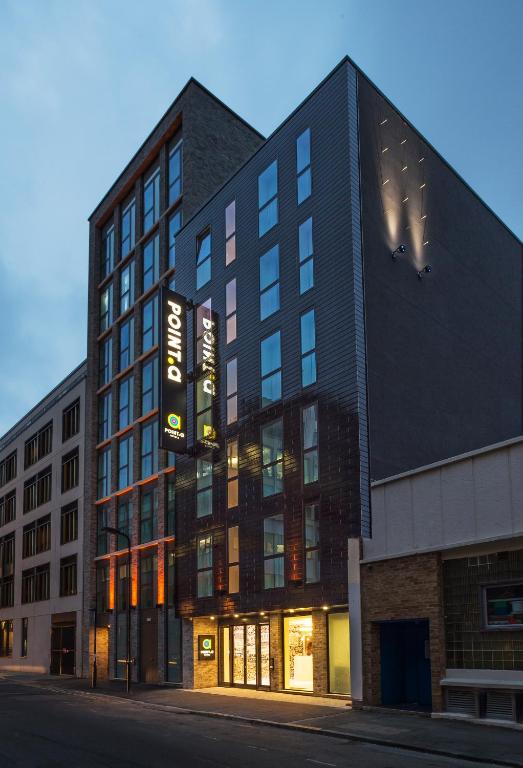 The Hoxton, Shoreditch
Even though The Hoxton, Shoreditch is a little over a decade old, it has made its way into the top ten.
It is surrounded by restaurants, bars, coffee shops, boutiques and a thriving nightlife.
You can choose from more than 200 rooms – with nine interesting concept rooms – divided into three categories, Shoebox, Roomy and Cosy.
Some of the rooms are dog-friendly.
However, all of them come with luxurious beds, flat-screen TVs, tea and coffee makers and free newspaper service.
You get access to meeting rooms, an outdoor courtyard, a lobby area and excellent room service.
The hotel has two restaurants.
You have Maya, the rooftop restaurant with a Mexican menu, and the Hoxton Grill, serving American-style food from breakfast to dinner.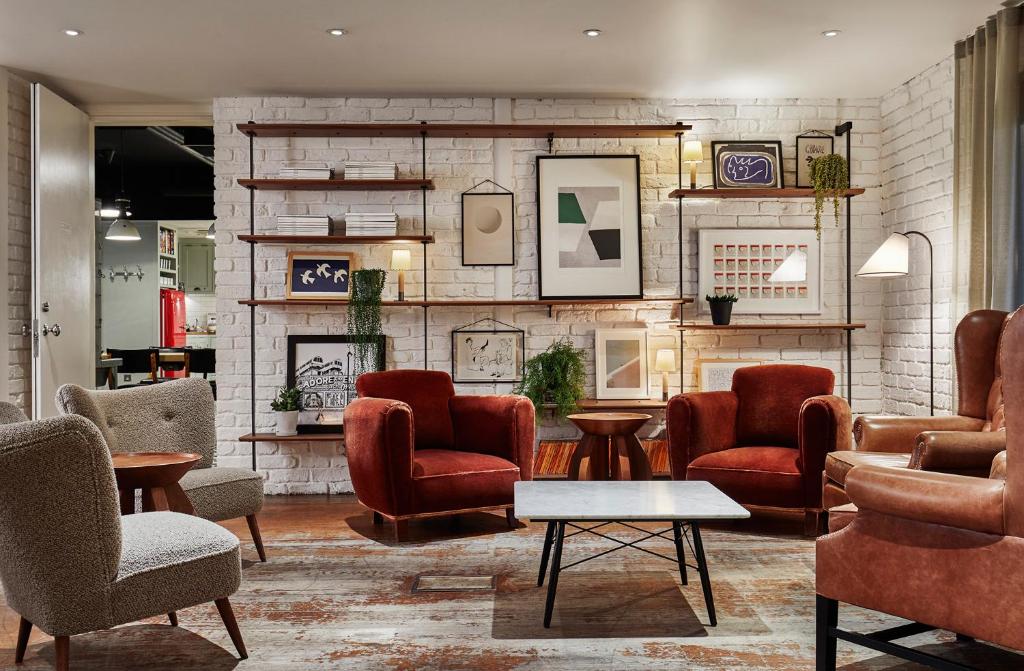 One Hundred Shoreditch
Right in the thick of the busy Shoreditch High Street is this amazing One Hundred Shoreditch hotel.
There are as many as 250 bedrooms and suites, all drowning in cosy vibrancy which is surprisingly calming.
You get comfortable beds, hybrid work and dining spaces, and artworks.
Likewise, you can enjoy many other things if you go for other, bigger categories.
The hotel has many restaurants and bars.
Visit Goddard & Gibbs, a restaurant wine bar, or the Seed Library, a bar owned by a popular bartender, Mr Lyan.
Likewise, hang out on the Rooftop, a terrace bar, or the Lobby Bar and a coffee shop.
The hotel is always up-to-date about the events happening within and nearby the hotel.
Check them out!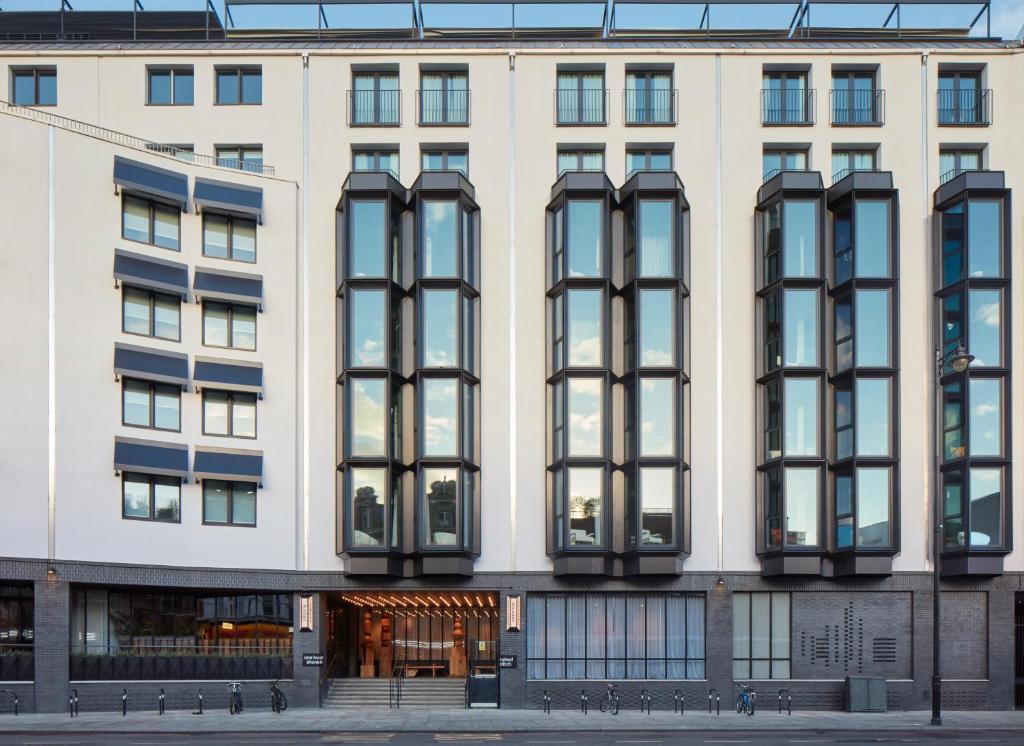 Z Hotel Shoreditch
Out of all the hotels you can stay in, Z Hotel Shoreditch stands out for its sophisticated no-nonsense atmosphere.
Located just some minutes away from Old Street Station, everything featured in the hotel serves a purpose.
The guestrooms have comfortable beds – with under-bed storage space – a shower room with complimentary toiletries and loads of hanging space.
Pay a little extra charge for a delicious breakfast at the Z café.
Other than that, you can enjoy sandwiches and other savoury snacks in the café.
The hotel is also big on providing necessary services, including daily housekeeping, concierge service, luggage storage, a shared lounge area, a 24-hour front desk and accessibility facilities.
If you need a budget option with luxurious necessities, Z Hotel is for you.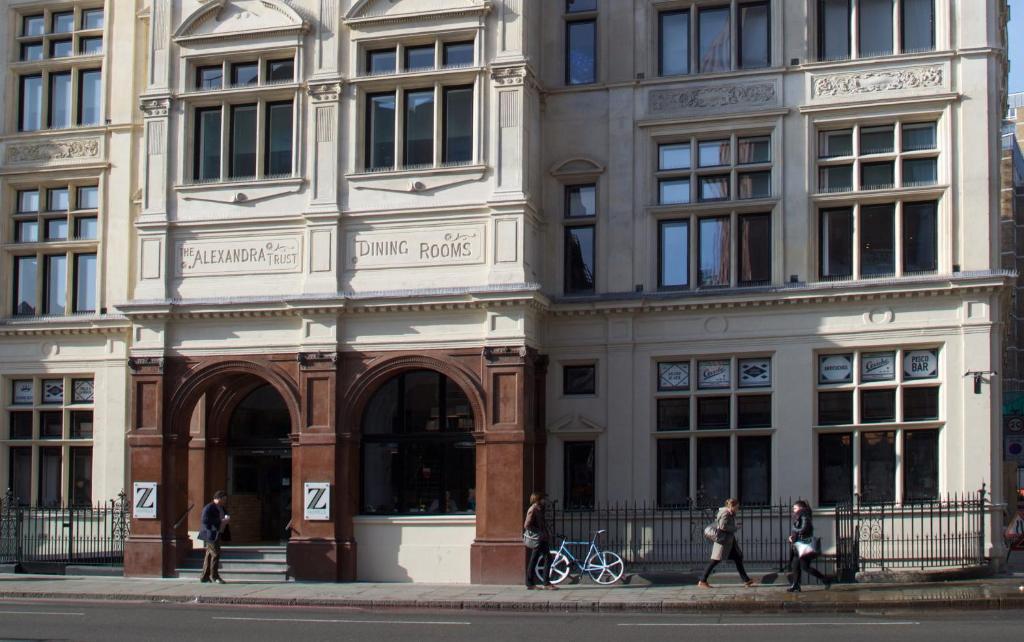 Courthouse Hotel Shoreditch
Courthouse Hotel Shoreditch might be a recent addition to the city's hotel scenario.
However, it has managed to be a tourists' favourite in only a few years.
It stands in the place of an old courthouse.
Some of the remains of the façade are incorporated into the hotel.
For example, see the Jailhouse Bar, which is just a converted prison cell.
Otherwise, check out the Judge & Jury fine-dining restaurant, which clearly used to be a courtroom.
Don't worry though, the rooms are normal.
In fact, all of the guestrooms and suites are equipped with a comfortable bed, minibar, desk and a clean bathroom.
Lastly, the hotel provides relaxing facilities, such as a heated pool, jet fountain, sauna and treatment rooms.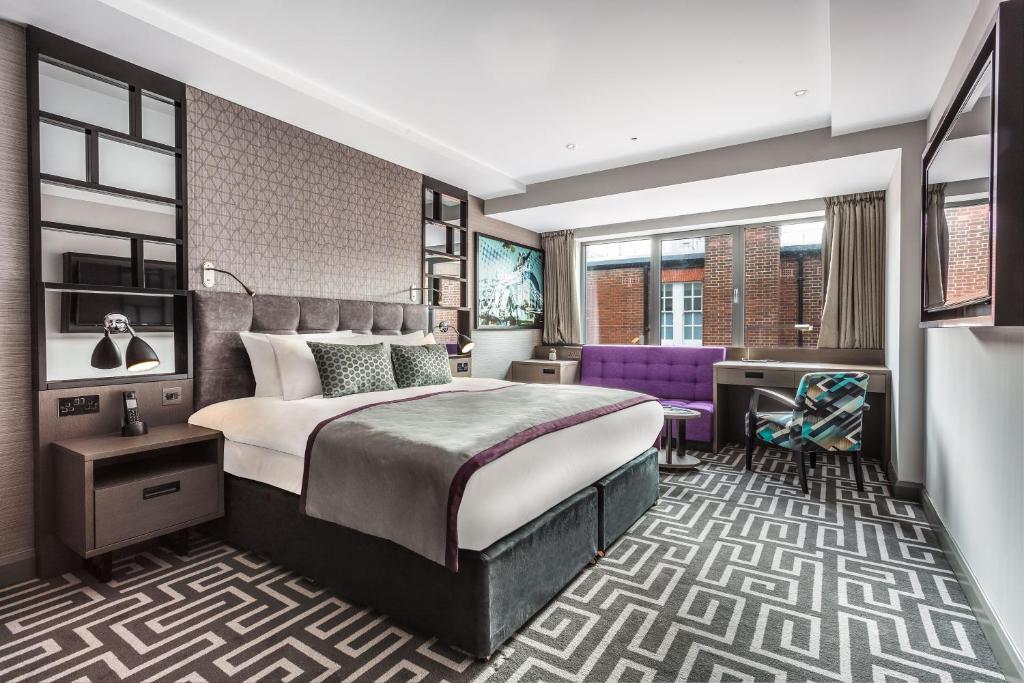 nhow London
With Brick Lane, St Paul's Cathedral and Sadler's Wells Theatre nearby, one can't go wrong with a sophisticated yet simple hotel like nhow London.
The guestrooms are the epitome of unique yet eye-pleasing architecture, filled with the fluffiest beds.
You'll also enjoy bathroom amenities, a kit, rain-effect showers in the bathroom, a desk and free WiFi.
The hotel's breakfast is perhaps the most delicious spread you'd ever see, serving fresh fruits, cold cuts, cheeses, yoghurt, coffee and tea.
Apart from that, enjoy scrumptious meals at nhow's own, The Bell & Whistle Restaurant.
Lounge around in the café area, or enjoy nhow cocktails at their bar.
The best part, however, is how the hotel is not only eco-friendly but pet-friendly, too.
Batty Langley's
When you blend a gorgeous Georgian mansion and a luxurious hotel together, the result is Batty Langley's.
This unusually small hotel gets its name from an 18th-century interior writer and landscape designer, Batty Langley.
The guestrooms of the hotel have vintage four-poster beds, drape curtains, wood-panelled walls, restored bathrooms, and complimentary WiFi.
You can get your breakfast in your room or in any of the public rooms.
One of them actually has a sunny, private courtyard, which serves croissants, smoothies and beigels.
You can also use the public rooms – the library, the parlour and the tapestry room - for private and discreet meetings.
If you wish to experience the old English charm, Batt Langley's is the best.
Nobu Shoreditch
Standing tall amidst the crowded city is this amazing hotel, Nobu Shoreditch.
This luxury lifestyle hotel blends together simple Japanese elements with industrial elegance, ensuring the best experience ever.
Find more than 150 guestrooms and suites in this hotel, with king-sized beds, floor-to-ceiling windows, a minibar, and a traditional Japanese tea set.
The hotel features the Nobu Restaurant and Nami Bar.
Likewise, the hotel owner, Chef Nobu Matsuhisa, manages both the restaurant and bar.
The 'Nobu Style' of the menu served here will render you speechless and craving for more.
Amenities of the hotel include relaxing spa services, meeting rooms, rooftop events space and a 24-hour front desk, among others!
Boundary London
Built on a converted Victorian warehouse, Boundary London is a small boutique hotel and hands down one of the best places you can stay for a vacation.
There are only 17 rooms, but each of them is spacious, individually designed to represent a designer or movement.
These rooms all have curated artworks, comfy beds, a desk, a fridge and minibar and a safety deposit box, among others.
You get access to prompt room service, a 24-hour front desk and a bar serving curated drinks.
More importantly, Boundary London's Rooftop Bar & Grill is one of the best destinations to hang out, with cocktails and snacks.
People visit the Rooftop frequently, so make reservations early.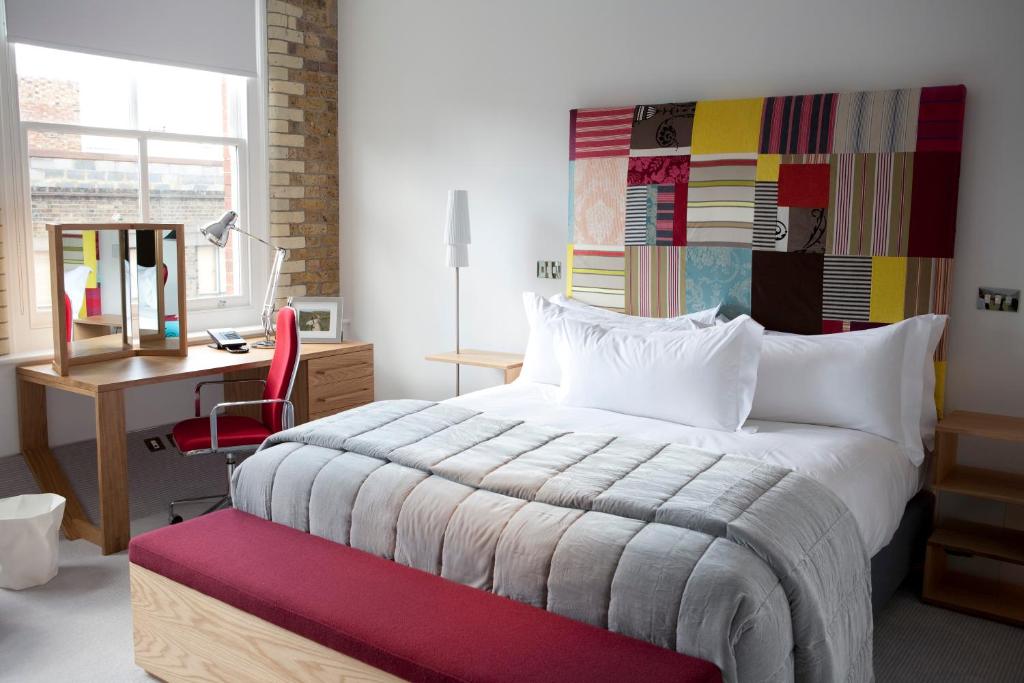 Hart Shoreditch Hotel London
When you're located in one of the busiest parts of the city, your accessibility draws the crowds.
Hart Shoreditch Hotel, a part of Hilton's Curio Collection, has got you covered.
This hotel, a converted 19th-century carpenter's house, is perfectly peaceful, giving off industrial yet chic vibes.
This warehouse feel has seeped into the pet-friendly rooms, which come with luxurious bedding, necessary amenities, and even minibars in some rooms.
Another important thing to note is that there are connecting rooms available.
The facilities include room service, a fitness centre and meeting spaces, among others.
Their restaurant, Barboun, serves exceptional Turkish dishes while TAVLA, the lobby bar, has a unique selection of drinks.
Redchurch Townhouse
Part of the popular Soho House group, Redchurch Townhouse stands proudly on the city's Redchurch Street.
The hotel's sophisticated vibes are ever-present, even in the rooms, which are available in different types and sizes.
Enjoy the king-size bed, rainforest shower, Cowshed products, Bluetooth speaker and a minibar.
These are the permanent fixtures of these rooms, along with the high-speed WiFi.
The topmost attraction of the hotel is Cecconi's, a prominent restaurant in the entire neighbourhood serving Italian dishes, gluten-free and absolutely delicious.
As for the facilities, you get a serving of continental breakfast, access to a nearby local gym, and a discount at the spin studio next to the hotel.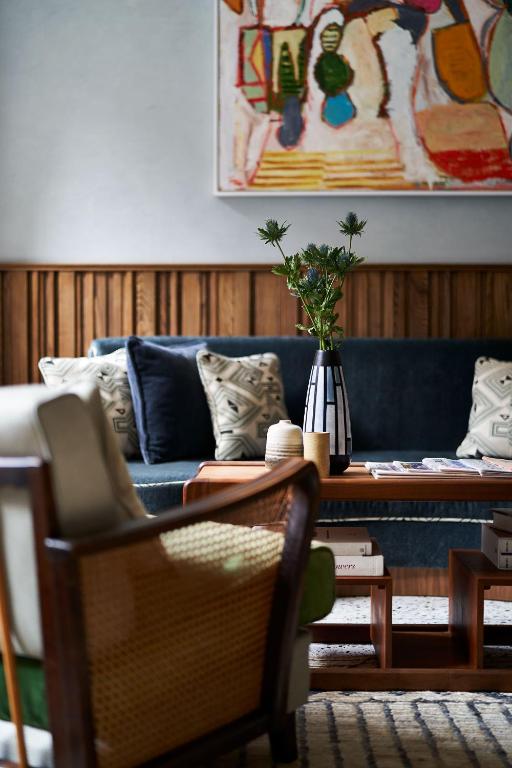 Savoy Aparthotel
Savoy Aparthotell – located on Rivington Street and a short distance away from Sky Lane and Brick Lane – offers beautiful apartments for rent.
The apartments are contemporary, immaculately clean and designed to provide comfort.
Some of them also come with a fully equipped kitchen.
However, don't worry if you get a kitchen-less room.
The hotel also has its own restaurant and a bar, serving scrumptious food and delicious drinks.
You get access to free high-speed internet, concierge and self-laundry facilities.
It's a great place for someone who's travelling with their pets because the aparthotel is pet-friendly as well.
Final Thoughts
Shoreditch definitely has an amazing selection of hotels; the ones on this list are so vibrant yet modest.
Not only are their accommodations and facilities inviting, but their hospitality and overall experience are also simply beautiful.
It is up to you now to decide which hotel best suits your tastes.
Think wisely; the choice is yours!
✍️
Find out more about Travel Lens and read our editorial guidelines
here
.