55 Best Things to Do in San Diego, CA
See also: Where to Stay in San Diego
With its pleasant temperature, 70-mile coastline, and rich cultural heritage, you're in for a treat to the best things to do in San Diego, California.
This bustling city paved the way for the establishment of California.
Formerly a Spanish colony, San Diego took its name after a saint.
Adjacent to the Mexican border, the city once became a part of the Mexican Empire in 1821.
The resultant Hispanic culture coexists with American culture and recent waves of immigration, resulting in many historically significant and must-see locations on top of the city's natural surroundings.
The city treats you to a never-ending coastline, sandy surfs, and pervasive vacation vibes.
You'll come for the beaches and laid-back community and leave with a newfound love of its stunning architecture and heritage center.
Bask in glorious weather as you explore the finest America has to offer with the list of the best things to do in San Diego, California.
Pay a Visit to Embarcadero
There is nothing more character-embracing than San Diego's Embarcadero, a laidback harbor front brimming with views, eateries, historical vestiges, and open-air entertainment.
Families, couples, and solo travelers alike will find a hoard of things to do, whether it is splashing about the interactive fountains of the Waterfront Park or watching the sunset from a restaurant's terrace.
The iconic USS Midway is also moored at the Embarcadero and the San Diego maritime Museum heritage ships.
Time your visit around summer or mid-fall to enjoy Bayside Summer Nights by the San Diego Symphony Orchestra and the San Diego Bay Wine & Food Festival, respectively.

Have Fun in Mission Beach
Mission Beach has two-mile stretch of sand, boardwalk, and nearby entertainments.
From Belmont Park's rollercoasters and various vintage amusements to simple boardwalk delights, such as playgrounds, surf shops, and palm gardens, Mission Beach, an established recreational space, will certainly astound you!
Let your hair down and go where the fun takes you!

Delve into Balboa Park
Imagine 1,200 acres bisected by the orange hues of Spanish Revival buildings, offsetting the greens of overflowing gardens and tan walkways.
Like a city of forest-wrapped landmarks, Balboa Park teems with magnificent cultural collection comprised of 17 museums, San Diego Zoo, themed gardens, and event venues.
It also features astonishing treasures (such as the Spreckels Organ, the largest outdoor pipe organ in the world), a 1915 Botanical Building with over 2,000 plants, and a butterfly haven Zoro Garden.
Additionally, Balboa Park also hosts live shows at outdoor and indoor venues.
Explore the San Diego Old Town
Wooden houses, giant-wheel barrows, and dry plantations characterize the preserved streets of San Diego Old Town.
Drawing on its roots as the first European settlement in California, this neighborhood features historic buildings from between 1820 and 1870.
Brimming with specialty shops, artisans, small museums, and authentic Mexican cuisine, you can expect a few hours of cultural immersion.
Annual Cinco de Mayo and Día de Muertos are festivals not to be missed here!
Hit up La Jolla for Seaside Vibes
La Jolla is an upscale community that mixes commercial fun with nature hotspots.
Spend some time meandering through the European-styled streets, with boutiques, cafés, and low-tiered houses, and enjoy fine dining that offers coastal views.
Or take yourself to the shoreline and dip into the small coves and sea caves that intersperse La Jolla's multiple sand strips.
If that's not enough, Ellen Browning Scripps Park comes alive on summer nights to bring you open-air concerts in balmy breezes.
Meander through the Gaslamp Quarter
Delve into the heart of San Diego and explore the historical Gaslamp Quarter on foot.
A thrumming network of 94 historical buildings spanning 16 blocks, the plethora of must-capture architectures will keep you snapping away.
Even the gateway arch that heralds this 1867 concept city center deserves attention; its bold script and teal backing is eye-catching.
The Gaslamp Quarter also caters to foodies and partygoers, as it brims with craft breweries, rooftop lounges, restaurants, and sidewalk establishments.
Experience the best of San Diego life here!

Take a Wild Ride in Belmont Park
If you're at Mission Beach, you must stop by the vintage Belmont Park.
Built by a sugar magnate in 1925, it is the linchpin of the boardwalk.
Composed of 12 rides, a mini golf course, and minuscule entertainment, Belmont Park is a ride back in time.
Take a spin on the Giant Dipper or rattle along the wooden rollercoaster!
Adrenaline junkies will certainly shriek glee on the Control Freak ride, Octotron, and Beach Blaster.
If you need to cool down, grab a character ice cream cone at the Sweet Shoppe before going another round.

See the USS Midway Museum
We are all awed by mammoth constructs, and the USS Midway moored at San Diego's Embarcadero is a military giant (albeit retired).
Commissioned in 1945 and permanently stationed since 2004, the world's longest-serving aircraft carrier once served in the Vietnam War and Operation Desert Storm.
Now, it is a museum that showcases behind-the-scenes of aircraft carriers and naval aviation.
Comprising of 30 restored aircraft such as propeller planes and helicopters, its sights extend below deck in a tour of the galley, brig, engine room, and other quarters.
Be ready to run the simulators and watch footage of on-the-spot happenings – the Midway is full of exciting stories.

Visit Little Italy
The neighborhood of Little Italy is a grove of Italian charm and table-to-mouth flavor.
A stark blue and white signboard welcomes you to what were once lucrative tuna tanneries; Italian immigrants operated them until the 1980s.
Today, the neighborhood exudes a homey, artistic ambiance, a mish-mash of galleries, quirky concept brands, pizzerias, breweries, and bodegas.
Learn the History Behind the Cabrillo National Monument
Another icon of Point Loma is the Cabrillo National Monument, which is a cast of the first European person to ever set foot on the West Coast.
Juan Rodriguez Cabrillo first named the bay San Miguel upon his landing in 1542; it was changed to San Diego fifty years later.
The original statue gifted by the Portuguese government was replaced by a replica in 1988.
To learn more about Cabrillo, scope out the adjacent visitor's center, which boasts exhibits and movies regarding his Californian adventures.
Regardless of your interest in his person, the view from the monument stretches wide over San Diego's skyline down to Tijuana!

Fly High with the San Diego Air & Space Museum
If the rounded Streamline Moderne Ford Building doesn't tip you off, the futuristic jet models poised outside certainly will.
Take a close look at the Wright Brothers' gliders or first iteration planes like the Aeronca C-3 Collegian or Ryan STA.
Keep going until you hit the sleeker Douglas A-4B Skyhawk or space-bound Boeing GPS-12 Satellite, and learn about how aerial technology has improved.
Not ambitious enough?
Hop into the flight simulators to test your piloting abilities.
Visit the San Diego Air & Space Museum!

Enjoy a Sightseeing Tour at Sunset Cliffs Natural Park
Not tired of rough, sand-rock breaks yet?
Drop by Sunset Cliffs Natural Park for more caves, natural arches, and tide pools that will make you satisfied!
Whether you're drifting down Sunset Cliffs Boulevard by car or perched somewhere within park grounds, you're guaranteed breathtaking hues as the sun sinks low into the sea.

Be One with the Wild at San Diego Zoo
Ranked among the best zoos in the world, San Diego Zoo, one of the first cage-less animal habitats, was founded by Harry M. Wegeforth!
Here, the open exhibits are generally sectioned by moats; it's a considerably innovative design for its early 1900s conception.
Take a guided tour bus around the enclosures and pay close attention to the gorilla-inhabited rainforest!
Alternatively, the Skyfari tramway is a cool way to tour the premises as well.
San Diego Zoo is also one of the four American zoos to have giant pandas, so make it a point to watch these unique animals.

Grab a Seat at Petco Park
Sporting stadiums are nothing new, but Petco Park brings an unusually chill vibe to the venue – entrance hemmed in by palm trees and water walls, it is a relatively modern but casual design of sandstone and steel.
It is a top-tier Major League Baseball stadium.
There's also an entertainment zone geared for kids and a Hall of Fame for diehard baseball fans.

Admire the Collections in San Diego Museum of Art
A fitting resident of Balboa Park, the San Diego Museum of Art takes on a Spanish Renaissance façade to match the rest.
The stunning entrance takes inspiration from the Cathedral of Valladolid, with ivory stonework intricately carved with motifs, statues, and coat of arms.
Housed within this 1926 building are paintings of Spanish Renaissance and Baroque style, featuring works of Goya, Veronese, El Greco, van Dyck, and Rubens.
Recent additions bring attention to symbolist, expressionist, and new objectivity art pieces, presenting a beautiful medley of celebrated works.
Various film screenings and cocktail evenings round off its daytime highlights.

Go Surfing either at La Jolla or Point Loma
What else can you expect from 70 miles of open coast but intense love for surfing?
Try your hand at riding the waves or test your mettle against the locals if you're more experienced; there are more than enough surf spots for you to choose the best fit.
While La Jolla and Point Loma are outfitted with rockier outcrops and reef breaks, you can expect much of San Diego's ocean front to be beach breaks.
Drop by Oceanside or Del Mar for expansive surf grounds, or have a go at popular Swami.
Visit the Old Point Loma Lighthouse
Point Loma has more than just a lighthouse.
This rock peninsula has jagged cliffs and random shrubbery that opens up to some stunning views.
It was also the landing point of the first European expedition in 1542.
Its handy lookout position, which guards west of the harbor, drew military presence since the 19th century.
It is no wonder, then, that apart from the simple Point Loma Lighthouse, the grounds of the former coastal artillery station houses the Fort Rosecrans National Cemetery.
Over 100,000 graves and significant memorials are grounded here, marking it as a solemn but historically important landmark.

Hop on a San Diego Harbor Cruise
Take in San Diego at a distance by joining a San Diego Harbor Cruise.
The hour-long ride around San Diego Bay is an excellent introduction to the city's various landmarks and heritage ships, some of which have been featured in popular culture.
An experienced guide will layer in lessons on naval history amid some information on marine conservation efforts.
You'll also come close to the San Diego-Coronado Bridge and the residents of the bay area, including wild pelicans, herons, and sea lions.

Explore Liberty Station
Formerly the Naval Training Center San Diego, the renamed Liberty Station has been redeveloped into a waterfront recreational space.
Play areas and jogging trails lead into converted office, hotel, educational, retail, and residential districts.
Most notably, visitors flock towards the Arts District, South Point, and the Quarter for a multitude of food choices.
Liberty Station also houses the San Diego Art Gallery, Women's Museum of California, and various performance art companies.
Revisit History at San Diego National History Museum
Behind the smooth, beige Spanish Revival exterior is the oldest scientific institution in Southern California.
Founded in 1874, the San Diego National History Museum can be considered a heritage site.
Taking you through California's rich pre-history through fossils, murals and dioramas, it further fosters interest via interactive stations.
You can also learn about ecosystems and explore how oceans transformed since the Ice Age.
Special exhibitions gather excavation artifacts from San Diego sites.
Check the museum's official website for the newest findings!

Shop at Seaport Village
Seaport Village is a great place to pick up some souvenirs.
Within walking distance of downtown, it is a quaint network of architectural potluck, from adobes to Victorian design.
Help yourself to handicraft shops and bay-view restaurants with a happy dose of live music during summer.
Seaport Village is a prime alternative to mainstream shopping malls.
See the San Diego-Coronado Bridge up Close
We may have mentioned the San Diego-Coronado Bridge a few times; it's a vital courier path and an integral piece of San Diego's skyline.
Built in 1969, Robert Mosher designed its curvature and specifications to fit the passage of aircraft carriers.
While a harbor cruise will take you around the bridge area, sign up for a guided kayak tour to go under the bridge.

Stroll along Pacific Beach
With the youth clustering around Mission Beach, Pacific Beach has settled into tranquility.
Foamy curls roll up the depth of the beach, its depth demonstrated by the Crystal Pier.
Stroll to the end of the elevated platform to catch the wind in your hair or edge along the water towards North Pacific Beach instead.
Gentrified, the area is mostly encased with condos, holiday cottages, and upmarket restaurants.
Have a Fun Tour at the Mission San Diego de Alcala
Witnessing many firsts, including the first Franciscan mission and Christian burial, Mission San Diego de Alcala is a site weighted with religious history.
In fact, the first Christian martyr Father Luis Jayme is laid to rest beneath the chancel.
Join a daily tour of the compound to see the 15th-century choir stalls, the remnant convent, and the bells of the campanile.
The Mission Museum is also of interest, showcasing pottery, weapons, tools, and other archaeological finds that belonged to the Native American Kumeyaay tribe.
See the Aquatic Animals at Birch Aquarium
Featuring marine life from the North West to the Indo-Pacific, Birch Aquarium is perhaps best known for its 260,000-liter kelp forest tank.
Birch Aquarium is great for keeping kids occupied, as they'll have a blast trying to spot the fishes darting about coral reefs.
The Tide-Pool Plaza is also a contender for top attractions, as visitors get close up to starfish, hermit crabs, and more shell creatures.
Pay a Visit to Fleet Science Center
Another beautiful building that houses an interesting attraction is the Fleet Science Center, which deserves mention on your San Diego checklist.
Science museum and planetarium combined, the permanent exhibitions take you from San Diego's water system to outer space, only to land on the minute universe of nanotechnology.
Its interactive displays are largely geared towards children, including a Little Learners' Lab for shape and texture play.
If you're in Balboa Park, drop in for a brief visit.
Shop at
Liberty Public Market is open all days of the week!
Grab some fresh produce, have quick bites, and see the arts and crafts that pop up in this eclectic venue.
Lobster rolls, fresh salads, juices, international street food all await you here!
Watch the Whales at Embarcadero
Kick off your whale-watching trip after some time at the Embarcadero!
Lasting up to four hours, these cruises are led by certified naturalists from the San Diego Natural History Museum, where you can learn about whales.
Whale watching season is between December and April when the California Gray Whale migrates to the warmer waters of Baja California from Northern Alaska.
You might spot dolphins, too, as well as harbor seals and sea lions.
Explore Maritime History at Maritime Museum of San Diego
At Maritime Museum of San Diego, visitors get a hands-on look at San Diego's booming waterfront era in the 1800s.
The Star of India, the world's oldest operational ship, is one of several historic boats visitors may see.
According to several recent guests, these boat trips provided an eye-opening perspective on the level of craftsmanship and expertise needed by sailors.
The small, low hallways within the ships are notoriously tricky to navigate, so prepare to wear slacks and sturdy shoes.
Art and artifacts tell the story of San Diego's maritime history in various permanent and temporary displays.
The exhibitions are enjoyable for all ages, even those under 16.
San Diego's Maritime Museum is located approximately 2 miles south of the airport on North Harbor Drive.
Take Pictures of Seals at Children's Pool La Jolla
San Diego's philanthropist Ellen Browning Scripps funded the construction of a concrete barrier in 1931 to keep youngsters out of harm's way when they went to play on the beach and swim in the ocean.
For the smaller ones, the Children's Pool offers a small beach.
The shore is popular with families and seals like spending time there.
The Children's Pool is an excellent place to cool down, although it's better to avoid the seals if they're there.
Take as many shots as you want of seals when they give birth to their pups between December and May.
However, keep a safe distance since they may display territorial behavior.
Meet and Greet Marine Creatures at SeaWorld San Diego
In the 1960s, four University of California alums had the vision to open an underwater restaurant.
They chose to develop a park instead since this proposal was judged impracticable.
Over 400,000 people visited SeaWorld's first year, despite having only a few dolphins and sea lions.
The remainder of the narrative is well-known.
Check out the peaceful creatures at SeaWorld before you depart San Diego!
SeaWorld will show you exactly how vital marine life is with its spectacular performances, aquariums, and exhibitions.
It's possible to get up close and personal with walruses, beluga, humpback whales, and other marine animals in the aquarium at SeaWorld.
In addition, there are touch pools where you can see bat rays, shovelnose guitarfish, and sturgeons, among others.
Aside from sea lions, dolphins, orcas, you'll also catch thrilling entertainment.
Look Back on Heroism at Mormon Battalion Historic Site
It was created in 1847 to commemorate the Mormons who engaged in military service in the Mexican-American War.
An interactive video tour in each chamber features real-life Mormon missionaries who will lead you around the historic landmark.
Learn more about the Mormons' migration and unit and their hardships during the Great War.
The Mormon Battalion Historic Site includes demonstrations that everyone may participate in, in addition to the video snippets that make up one complete film.
Activities like gold prospecting, building bricks, and posing for photos in the old-fashioned style are just a few unique offerings.
The best part is that they're all completely free!
If you're looking for affordable, family-friendly vacation spots without sacrificing quality, "pay a visit" to our page!
Have a Date at South Bay Drive-In Theatre
If you're wondering what to do in San Diego tonight, go no further than this list.
It's time for an old-fashioned drive-in movie.
This drive-in theater isn't only a throwback to simpler times.
It was a backyard favorite for neighborhood youngsters and adolescents in the 1950s when the South Bay Drive-in Theatre started.
Your parents probably had a romantic notion of what a drive-in movie theater was like, and South Bay Drive-in Theater recreates that experience for you.
To put your fears to rest, the drive-stereo in's transmitters and Technalight projectors will show you that you're incorrect.
The drive-in offers a snack bar with candy, popcorn, and nachos if you can't bear to go without them!
A movie and a view of San Diego Bay are the best way to spend the remainder of the night.
Catch a Stellar Performance at The Old Globe
Old Globe Theatre took inspiration from its London counterpart.
It lies in Balboa Park in the heart of the city.
On its own, the stunning theater is a draw, but it is the performances held inside that shine.
As a result, several performances at the theatre have gone on to win Tony Awards on Broadway.
The Old Globe and San Diego's vibrant cultural scene benefit from these awards' international exposure.
The Old Globe Theatre offers 15 mainstage shows each year, ranging from Shakespeare to modern works, including the yearly family musical Dr. Seuss' How the Grinch Stole Christmas!
Cruise San Francisco Bay on Coronado Ferry
Since its inception in 1915, the Coronado Ferry has transported passengers between Coronado and downtown San Diego.
At the Embarcadero, where there's already a lot to see and do, Broadway Pier is an ideal location.
The boat to Coronado departs and arrives at Broadway Pier, offering it a doorway to even more of San Diego's top attractions.
Take the Coronado Ferry for 15 minutes to see the whole of San Diego Bay.
San Diego's skyline and access to a resort city inside San Diego County come with affordable admission.
Beaches, cafés, and stores will greet you.
Take in Some Sun at Presidio Park
Once called El Presidio Real de San Diego, the park opened to the public in 1769.

It was once home to a European colony and mission.
Until the mission abandoned Presidio Hill, the fort served as a base for the Spanish invasion of California.
In 1925, a private owner invested in the park's restoration and built the Junipero Serra Museum and other structures in the Spanish Revival design.
The park is now great to meander around and enjoy a sunny day in San Diego!
Explore San Diego with Old Town Trolley Tours
On a two-hour, fully narrated trolley tour of San Diego and Coronado, experience "America's Finest City" and the history of "America's Finest City" itself.
It's a two-hour trip that spans 25 miles and more than 100 areas of interest.
Guests can jump on and off at a few points during the day and take their time.
San Diego's Old Town, Marriott/Convention Center, Seaport Village, Gaslamp Quarter, Hotel Del Coronado, Little Italy, and Balboa Park are all included in the tour's stop locations.
History, comedy, and colorful tales are part of the Old Town Trolley's city tour experience.
The Old Town Trolley Tour is a must-do when visiting San Diego.
Have Fun with Mission Bay Stand Up Paddle
San Diego's stand-up paddle boarding (SUP) is one of the few year-round water sports in San Diego that does not involve getting submerged in water.
You may find plenty of spots to paddle and a few sandy beaches in and around the bay area.
Regarding paddle boarding in Mission Bay, San Diego, Mission Bay Stand Up Paddle is one of the top outfitters in town!
From SUP rentals, SUP Yoga Sessions, and guided SUP tours to SUP instruction, our certified will be sure to point you on the correct route.
Ventura Cove, Crown Point Shores, and Santa Clara Point are just a few locations from which you may launch in Mission Bay.
Play Bowling at Mira Mesa Lanes
Mira Mesa Lanes aims to provide a fun, family-friendly environment while introducing new fans to bowling.
Mira Mesa Lanes has been serving the greater San Diego region for decades, focusing on providing an enjoyable and memorable bowling experience for bowlers of all skill levels, including those in leagues and individuals.
You may pick from various leagues at our facility, varying in age and ability level.
It also hosts several bowling events since we take great satisfaction in promoting the sport of bowling.
Every year, it also grants tens of thousands of dollars in scholarships to deserving high school and college students around the country.
In addition, the facility helps better prepare young athletes for national competitions and the possibility of being recruited by colleges for their bowling teams.
New proprietors have just taken over the Mira Mesa Lanes bowling center, so that you can expect a brand new, better service.
Grab New OOTDs at Fashion Valley
Fashion Valley, with its Spanish-style building, palm palms, and recognizable fountains, first opened its doors to the public in 1969.
Head to Fashion Valley, San Diego's biggest mall, if you've had your eye on shopping there for a while.
This luxury outdoor shopping and dining destination has over 200 shops and 30 restaurants, attracting upwards of 18 million annual visitors.
There's something for everyone at Fashion Valley, whether you're seeking something elegant, informal, edgy, athletic, or avant-garde in your wardrobe.
There are several eateries in the area to satisfy your hunger after all that shopping.
Shop at Kobey's Swap Meet
Visit the Kobey Swap Meet if you like thrifting, garage sales, or looking for the best price possible.
The flea market takes up the whole San Diego Sports stadium.
Avoid getting lost in the labyrinth of antique furniture, one-of-a-kind artwork, secondhand clothing, and jewelry stalls.
The Kobey Swap Meet is open every Friday through Sunday, unlike many flea markets that only operate for one day.
Arrive early to avoid missing out on the most extraordinary things because of a stampede of eager buyers!
Go Antique-Hunting at San Diego's Largest Vintage and Antique Mall
San Diego's Largest Vintage and Antique Mall features nearly 110 vendors.
The market is San Diego's most extensive and eclectic collection of vintage and antique items.
Its warehouse has 40,000 square feet of shopping pleasure.
It provides an ever-changing range of high-quality goods.
For the most current trends, we provide weekly updates on our merchandise, which allows us to give you the most accurate information possible.
Repurposed and salvaged relics, furnishings, Mid-century modern records, jewelry and watches, ephemera, and vintage clothing are some of the items available for sale.
Grab Fresh Produce at Ocean Beach Farmers Market
In contrast to other farmers' markets I've gone to, the Ocean Beach (OB) farmers market celebrates the hippy atmosphere of the area.
Most farmers' markets are a few blocks full of vendors offering food, vegetables, and handicrafts.
Although the festival closes at 8:00 p.m., the celebration typically continues down on the boardwalk.
Until dawn, catch entertainers dance, sing, fire-toss, and create art.
When it comes to Wednesdays, this is a great spot to eat and see a show.
Explore and Discover More Wildlife at San Diego Zoo Safari Park
Home to over 3,000 animals with almost 400 species, San Diego Zoo Safari Park is more expansive and open than the San Diego Zoo.
It houses animal species from  Asia, Africa, North and South America, Australia, and Europe, and has the world's largest hoofed mammals collection.
In addition to these rare and endangered animals, the safari park also houses about 3,500 botanical species.
Explore San Diego Zoo Safari Park, have a safari tour, ride the zipline, tram, and hot-air balloon, and simply enjoy learning more about flora and fauna at the park!
Formerly known as San Diego Wild Animal Park, the safari park was opened in 1972 on a 1,800-acre property.
Get Your Cup of Coffee at James Coffee Co.
Coffee is also a breeze in San Diego, especially when you try the fresh cup at James Coffee Co. on India Street in San Diego.
The coffeehouse specializes in handcrafted artisan-roasted and single-origin coffee with unique blends that have been San Diego's favorite.
Whether you want a latte, mocha, espresso, or any of its signature espresso-based drinks, it's certain you can have a cup of specialty coffee served in a great atmosphere with warm smiles.
James Coffee Co. roasts its own beans in-house, which means you can buy a bag of coffee if you brew at home.
Start your day in San Diego with your favorite cup of coffee and enjoy your adventures!
Pick Up Unique Gifts and Souvenirs at The Cave of Wonders
If you want to pick up some items as a gift or souvenir for this trip, browse the unique finds at The Cave of Wonders.
This charming gift shop features beautiful gems and crystals to add to your collection, or for crafting unique stuff.
There are local artworks, handcrafted jewelry, books, kaleidoscopes, incense, sage, home decor, candles, and a lot more.
It's a perfect spot to grab nice stuff for your loved ones back home or for yourself.
Drop by The Cave of Wonders at Ray Street.
Enjoy a Good Read at the San Diego Central Library
If you're looking for a good read on a fine afternoon in San Diego, look no further than the San Diego Central Library, which is the main branch of the San Diego Public Library System.
The library has more than 5.3 million collections of printed materials and digital resources.
It features an open-air terrace with a great view of downtown San Diego while you're enjoying a new book.
It has a bit of everything for all ages from books, audiobooks, magazines, e-books, newspapers, movies, and more.
Visit the San Diego Central Library at Park Boulevard.
Dine at Water Grill San Diego
One of the best spots to grab a delicious meal is Water Grill San Diego, which specializes in seafood.
Its mouthwatering lobster rolls, Chilean sea bass, halibut, swordfish, black cod, crab cakes, clam chowder, cioppino, and bread pudding are all a must-try.
The restaurant also features a raw bar if you love oysters, sushi, and more.
Also, don't miss out on its specialty drinks to pair with your delicious seafood.
If you're a sports enthusiast, the bar has TVs to watch sports while enjoying a drink.
Water Grill San Diego is located off J Street.
Other Things to Do Nearby
Enjoy the Nature at Torrey Pines State Natural Reserve
With 2,000 acres of coast and plateau that redefine 'pitted cliffs,' Torrey Pines State Natural Reserve unreservedly presents sweeping views of the Pacific coast.
Wear your most comfortable shoes and set off through its eight miles of trails, some of which lead you to empty beaches!
Named after the endangered Torrey Pine that grows in the area, there's probably less greenery than you would expect.
Nonetheless, it is a charming natural reserve!
Sunbathe on Coronado Beach
Why not take up two-in-one by traversing the great San Diego-Coronado Bridge for a day at Coronado Beach?
Protected against Pacific swells by Point Loma, Coronado Beach is perfect for those hoping to swim the heat away or looking towards calm paddling.
The long, glistening stretch has long been attributed to its shimmering quality!
With the unique red, cone-shaped Hotel del Coronado in the background, the beach entices both visually and via simple comforts.
Rent a pedal cart and cruise down Ocean Boulevard to take in its entirety.
Relax at Mission Trails Regional Park
Just pushing city limits, Mission Trails Regional Park is 5,800 acres of lush woodlands, canyons, and wilderness.
If your adventurer's spirit is calling for some sweat and grime, take to the 60 miles of hiking trails.
Even better, explore the natural preserve by bicycle or a horse!
For spectacular views over San Diego County, challenge the summit of Cowles Mountain at 486 meters high.
Peruse the Various Shops on Coronado Island
Coronado Island is one of the city's most popular tourist destinations just off the coast of San Diego.
These sandy beaches are popular with surfers and beachgoers all summer long, especially on the island's west side.
Numerous boutique stores and restaurants line the streets of the town.
The historic Victorian Hotel Del Coronado stands on the island.
The hotel was built in 1888, and it is now one of the most popular places to stay and eat in San Diego.
Final Thoughts
San Diego is a great place to explore your interests, whether you're there with your family or on your own.
This city features plenty of activities for all ages, sizes, and shapes.
Try new things while you're here and come out of your comfort zone.
Discover More of San Diego
Best Restaurants in Gaslamp Quarter, San Diego
Things to Do in Pacific Beach, San Diego
Things to Do in Mission Bay, San Diego
Things to Do in North Park, San Diego
Things to Do in Hillcrest, San Diego
Things to Do in Balboa Park, San Diego
Things to Do in Mission Beach, San Diego
Things to Do in Gaslamp Quarter, San Diego
Things to Do in Ocean Beach, San Diego
Things to Do in Old Town San Diego, CA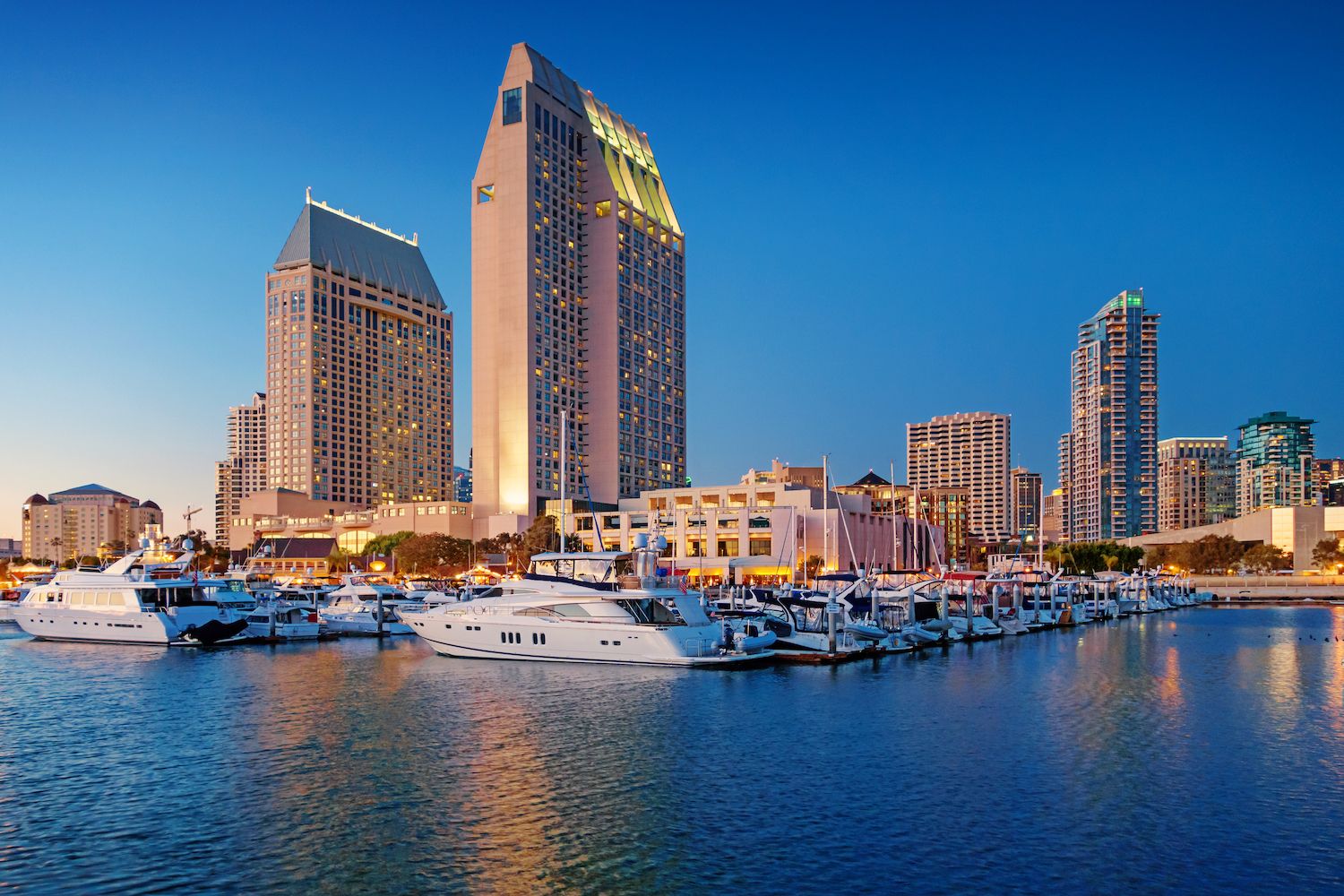 ✍️
Find out more about Travel Lens and read our editorial guidelines
here
.