20 Best Things to Do in Downtown Phoenix, AZ
The lively central business district at the heart of Arizona's capital city, Phoenix, has many urban attractions to experience.
It's strategically located in the Phoenix metropolitan area, famously marked as the Valley of the Sun and the county seat of Maricopa County.
The city thrives as a corporate district with rows of high-rise buildings that houses major banking institutions like JP Morgan Chase and Wells Fargo.
It also has a vibrant character with hosts of brewpubs, bars, restaurants, and cafes, especially around the Arizona State University campus.
Downtown Phoenix is not only the region's center of economic, government, and financial institutions.
It's also home to numerous arts and cultural sites that travelers and families can enjoy.
This cityscape has plenty of exciting happenings and places to discover whether you're traveling alone, touring with a group, or taking a vacation with your family.
Here are the best things to do in Downtown Phoenix, AZ:
Enjoy Learning at the Arizona Science Center
You can easily find the Arizona Science Center at East Washington Street's Heritage and Science Park.
One of the museum's magnificent highlights is the full-dome Dorrance Planetarium which offers a uniquely immersive experience through 3D images combined with rich sound effects and music.
Enjoy the permanent exhibits like All About Me, which details how our body parts function or learn about Arizona's flight history at the Flight Zone.
Experience earth's natural wonders at the Forces of Nature exhibit and get a hands-on science experience at the Get Charged Up exhibit.
Kids can learn early about financial literacy in a fun and simple way at JPMorgan Chase & Co.'s Making Sense of Your Dollars and Cents exhibit.
Discover technological evolution at My Digital World, understand the complex human brain at the W.O.N.D.E.R. Center, and learn more about solar and renewable energy at the APS Solar Gallery.
Take a Relaxing Stroll at the Japanese Friendship Garden
The 3.5-acre Japanese Friendship Garden is a joint project of sister cities Phoenix and Himeji, Japan.
The stroll garden is named Rohō-en in Japanese.
RO stands for heron, the symbolic bird of Himeji City; HO symbolizes the mythical Phoenix; EN is the Japanese word for garden.
The city of Phoenix named it one of the Phoenix Points of Pride.
Have a relaxing stroll in the Garden and visit the tea garden and tea house.
Take time to breathe fresh air and connect with nature in the stone and courtyard gardens.
Enjoy the peaceful setting of the stone footbridges, lanterns, and over 50 varieties of landscaped shrubs, trees, and blooms.
You'll feel more relaxed with the sight of flowing streams, the flowing 12-foot waterfall, and the koi pond filled with colorful koi fish.
Watch an MLB Game at Chase Field
Chase Field is the country's first stadium built with a retractable roof over a grass field.
It's also the home of the Arizona Diamondbacks, the state's Major League Baseball team since 1998.
Besides the field, the sports center has a signature swimming pool with a retractable roof.
Chase Field is now one of baseball's most distinguishable landmarks and central to the city's sports activities.
Have a homerun experience seeing the Arizona Diamondbacks in action, or join a guided tour around Chase Field.
After seeing a great ballgame, you can eat at the different restos like A-Zona Street Tacos, have some beer at Beer Portables, and grab some hotdogs by Big Dawg.
Then, go to the Black Rock Coffee Bar or enjoy desserts and frozen treats at Dessert Ice and Dessert Carts.
Don't forget to drop by the Team Shop for excellent and exclusive merchandise.
View the Victorian Architecture of the Rosson House
The Rosson House will capture your attention with its classic Queen Anne Style Victorian architecture.
Built in 1895, the historic house gets its name from its original owners Dr. Roland Lee Rosson and his wife, Flora Rosson.
Then, Phoenix bought the house and restored it to its original state.
The National Register of Historic Places then added it in 1971.
As you enter the Rosson home, you'll see various collections of well-preserved artifacts and items that reflect the late Victorian era, when Arizona was still in its early statehood.
See Doctor Rosson's office with different medical supplies and materials he used during his practice.
Take a peek inside the Sewing Area and find Flora's valuable items like hair work jewelry, an antique treadle sewing machine, portrait hair work, and more.
Visit the Attic and Bathroom to see more Victorian pieces and old-fashioned items.
See Law Enforcement Exhibits at the Phoenix Police Museum
The Phoenix Police Museum is a specialized museum that features the history of the Phoenix Police Department.
Catch a glimpse of the city's first Marshal's Office and Jail and learn about law enforcement from the early periods of the Arizona Rangers, the World War II era, up to the present.
See "Old Liz," a Ford 1919 convertible police car model, police motorcycles, and a full-size helicopter used in air patrol.
Your kids can also play in a full-size police car.
Check out old law enforcement technology like the first radio microphone, a bomb robot, computers, and tasers.
View a kid-friendly Crime Scene Investigation exhibit where they can learn about the methods of gathering evidence and investigating crime scenes.
You can also find a tribute exhibit to women enforcers, including Jeri Williams, the first female Phoenix Police Chief, memorials for fallen police officers and the 9-11 tragedy.
Check out the extensive collection of uniform patches and badges from the worldwide city and Police Departments.
Kids can also get sworn in as police officers and wear a Phoenix Police uniform with goodies to take home.
Catch Great Performances at the Orpheum Theater
Constructed in 1929, the Orpheum Theater continues to bring entertaining shows and events to the people in the city of Phoenix.
At the time of its opening, it was the only theater between the cities of Los Angeles and Denver large enough to accommodate vaudeville shows touring the country.
After sitting in disrepair for many years, the city acquired the Baroque-style theater building in 1984 and restored it.
In 1985, the National Register of Historic Places added it to the record; then, it became the home of opera in Phoenix in 1997.
The 1,300 plus-seater venue is a work of art, with detailed frescos adorning the stage and a gorgeous interior.
Catch an outstanding Broadway production, performances by Ballet Arizona, classical concerts, or opera shows.
You can also join a guided tour if you'd prefer to look around.
Discover Arizona's History and Culture at the Arizona Capitol Museum
The Arizona State Capitol used to house the three branches of Arizona's state government.
Today, it focuses on the state's colorful history and culture.
The institution educates the public and visitors about Arizona's political, social, and cultural history and heritage.
See the exhibit that features the state's symbol, the USS Arizona, which sunk during the Pearl Harbor bombing, a historical turning point for the nation.
Join a tour of the Governor's Office, where executive business, meetings, and laws are executed and conveyed to the legislative branch.
Take a look at the minerals native to the area and learn facts about the state's historic mining industry.
See the fantastic seven-foot Lego Flag created with 114,006 Lego pieces representing Arizona's total land area in square miles.
Visit the Martin Luther King Jr. exhibit in honor of the Civic Rights leader, including his recorded speech at Arizona State University in 1964.
Enjoy the Urban Civic Space Park
In 2009, the urban Civic Space Park opened in Downtown Phoenix.
One good reason you need to visit this attraction is to see the sky-high public artwork.
For example, you can check out Janet Echelman's sculpture titled Her Secret Is Patience.
This floating sculpture consists of coil metal threads that follow the blowing winds in the daytime and turn into a spectacular sight with rolling colors lighting the night sky.
Explore a peaceful urban green space at the Civic Space Park, where you relax, take a walk, or have coffee.
Learn about Irish Culture at the McClelland Irish Library
The city of Phoenix owns the McClelland Irish Library, which holds significant collections featuring Celtic culture and genealogy.
This library will stimulate your interest as you arrive at the building designed like a Norman castle.
You'll see over 6,000 books and artifacts about Irish culture and vast genealogical resources.
See an exhibit about the 1916 Easter Rising entitled Remembering the Easter Rising: Historical Context and Cultural Legacy and explore 17th century to present accounts.
Visit the Saint Patrick Exhibit located in the Cottage that presents the life and legacy of St. Patrick.
Likewise, discover the history of the St. Patrick's Day Parade and Faire in the state.
See the Fantastic Animals at Phoenix Zoo
The Phoenix Zoo is the country's largest non-profit and privately owned zoo, located in the Papago Park area.
Robert Maytag founded the zoo on a 125-acre property, which the city recognized as a Phoenix Point of Pride.
It's home and sanctuary to over a thousand animals, offering 2.5 miles of themed walking trails.
Visitors can take the Arizona Trail, Africa Trail, the Tropics Trail, and the Children's Trail, which allows kids to pet some animals.
The zoo also operates as a sanctuary for many exotic, endangered, and threatened animals.
You and your family can see safari animals like the African lion, zebra, and giraffe.
Meet tropical animals like the orangutan and Asian elephant, unique creatures like the cotton-top tamarin and Mexican gray wolf, and the komodo dragon.
Visit Archeological Sites at the Pueblo Grande Museum Archaeological Park
The Pueblo Grande Museum Archaeological Park presents the ways of life and culture of the Hohokam people through indoor and outdoor exhibits.
The park offers visitors a tour of archeological locations, prehistoric ruins, mounds, and irrigation sites.
Take the outdoor exhibit trails to see the Adobe Compound, the Pit Houses, the Agricultural Garden, the Platform Mound, the Ball Court, and the Desert Oasis.
All of these exhibits represent the Hohokam people's lifestyle and community.
The Museum has three galleries on display.
One describes the Hohokam population that inhabited the area from A.D. 450 to the 1450s.
It also features Hohokam agriculture, arts, and architecture.
View the photomurals and artifacts.
Children can also try a hands-on archeological experience at the Children's Gallery.
Enjoy Some Downtime at Encanto Park
Another Phoenix Point of Pride, Encanto Park, spans over 200 acres, offering great outdoor activities.
The millionaire philanthropist William G. Hartranft got the idea for Encanto Park, envisioning a park similar to San Diego's Balboa and San Francisco's Golden Gate.
There are plenty of fun activities for the whole family at Encanto Park.
You can fish on the 7.5-acre lagoon, walk the nature trails, or stay at the clubhouse or boathouse.
Take a dip at the pool, play some active sports at the complex, or play golf.
Of course, you and your family shouldn't miss Enchanted Island, an amusement spot with enjoyable rides, exciting games, concessions, and a miniature train ride.
View Visual Art at the Phoenix Art Museum
View various art expressions through displays at the Phoenix Art Museum.
The largest visual arts museum in the Southwest houses extensive collections of modern and contemporary art and fashion designs from North America, Asia, Europe, and Latin America.
The museum was once a community center in 1959, featuring live performances, festivals, art films, and various educational programs.
See the exhibit entitled The Hub: The James K. Ballinger Interactive Gallery.
View photography exhibits in collaboration with the Center for Creative Photography, and walk along with the beautifully landscaped Sculpture Garden.
Visit Yayoi Kusama's Firefly Infinity Mirror Room.
Take time for art appreciation with works from community artists partnering with Free Arts of Arizona to support adults with dementia.
Let Kids Enjoy Learning at the Children's Museum of Phoenix
Little tots and small children can have loads of fun at the Children's Museum of Phoenix, where play and learning come naturally.
The museum provides an environment for active, imaginative play and creative learning with themed play areas, exhibits, and programs.
Let them express themselves creatively at the Art Studio: Creative Expression.
Get them to build with colorful blocks at BlockMania!
Small kids can read and get comfy at the Book Loft or make something out of raw materials, beams, columns, and more at Building Big.
Let them enjoy the Grand Ballroom, where balls scatter around the place, making sounds.
You can let your kids' imagination go further with The Market: Role Play Paradise and play at the outdoor Move It!
The area runs through the Noodle Forest and tests their balancing skills at Pedal Power.
Your kids can enjoy other learning activities: the Pit Stop, Place for Threes and Younger, The Climber, Texture Café, and the Whoosh!
Find Street Murals at Roosevelt Row
Roosevelt Row presents a series of hip and Bohemian-themed frescos and a walkable art spot where the Downtown Phoenix art community comes together.
You can catch these murals on building walls and spot vivid sculptures that decorate the streets.
You can easily catch these artistic murals on each corner created by local artists like La Morena, Thomas "Breeze" Marcus, Ashley Macias, and Lalo Cota.
Take some cool snapshots at the Shadow Play sculptures or pose at the geometric benches.
The colorfully landscaped Roosevelt Row is also home to lines of art galleries, boutique shops, restaurants, and bars.
Stay in Downtown Phoenix on the first Friday of the month to catch the festive First Friday Art Walk.
Check out pop-up food trucks, artisans selling their wares at open-air market stalls, and live music.
Grab a Meal at Mancuso's Restaurant
For over 40 years, Mancuso's Restaurant has served hearty and signature dishes in Downtown Phoenix.
The family-owned and operated establishment has made a mark in fine local dining.
They serve delicious authentic Italian and American cuisine and specialties.
Since their family migrated to Arizona, Fran Mancuso has kept her traditional family dining legacy intact.
Try mouth-watering lunch meals with starters like bruschetta and stuffed mushrooms.
Likewise, try some house salad and get your fill of gnocchi and meatballs or capellini Pomodoro.
You can also order filling sandwiches like the grilled mahi-mahi tacos or the open-faced rib eye prime steak sandwich.
Explore their dinner menu and try the Chilean sea bass, Atlantic salmon, or paella.
You can also enjoy their Happy Hour Menu and check out their Wine List.
Watch a Concert at Arizona Financial Theater


Arizona Financial Theater is one of the best places in Phoenix to watch a concert, especially rock n' roll.

The theater is particularly famous for its concerts because of its state-of-the-art sound and light facilities, boasting amazing technology that lets you really immerse in music.

This makes it a popular venue for famous bands, with Shinedown being some of the most frequent to use it.

Live music concerts aren't the only thing Arizona Financial Theater is good for, as there are plays here as well.

Comedy skits and other acting gigs are also held here, with Kevin Hart being some of the most prominent figures to grace the auditorium.

You can find Arizona Financial Theater along West Washington Street.


Have a Blast at Valley Bar


If you're into the more hipster locations in Downtown Phoenix, Valley Bar is a can't-miss destination for you.

It's an unassuming bar that features a ton of late night activities, such as spoken word skits, comedy shows, and live music performances.

It's also a place to play games—there are a lot of fun bar games here like billiards, darts, and skeeball among its several board games.

Of course, the drinks and food don't disappoint too; they're a  perfect complement to the vibrant atmosphere at Valley Bar.

You can find this along North Central Avenue.


Check Out Events at The Duce
The Duce is another famous late night attraction in Downtown Phoenix, mostly in large part because of its festive atmosphere.

It's many things in one, but it's most prominently known as an event space for parties and even corporate events.

That said, be sure to check out announcements on their website for any cool events that are open to the public—it might be just right up your alley.

If you're feeling hungry, The Duce is also a famous spot for some culinary creations that you may want to try; drinks are also available along with a nice lounge for hanging out.

You can find The Duce along South Central Avenue.
Splurge at Arizona Center
Arizona Center is one of the best places to do some urban exploration and get a feel of the dining and shopping culture at Phoenix.

It's packed with so many restaurants, shops, and other unique local establishments that's sure to keep you busy on a late afternoon.

There's a lot of alfresco areas at Arizona Center as well, making it a desirable place to do some shopping while enjoying the outdoor beauty of its downtown area.

There are a lot of bars here as well that come alive at night, boasting live events that can easily take up your entire evening.

Overall, it's a fun place with lots to see, so give it a visit along North 3rd Street.


Watch the Orchestra at Symphony Hall
One of the most attractive destinations for classical music lovers, Symphony Hall is a grandiose theater that's home to several high-ticket music performances.

It's the home of the Arizona Opera and Phoenix Symphony Orchestra, utilizing its state-of-the art facilities that create a memorable experience for any music lover.

Huge and stunning, the architecture and interior design alone warrants a visit to the Symphony Hall.

It also features other performances here, such as ballet shows from Ballet Arizona.

Book your tickets at Symphony Hall and give it a visit along North 2nd Street.


Final Thoughts
Downtown Phoenix is a bustling city with plenty of attractions you can enjoy.
The metropolitan area has lines of excellent urban spots and tourist locations just right for the family.
Just a little farther from the downtown area sits exciting attractions where you can discover other cultures and get in touch with nature.
Explore these lovely travel scenes and much more of Downtown Phoenix.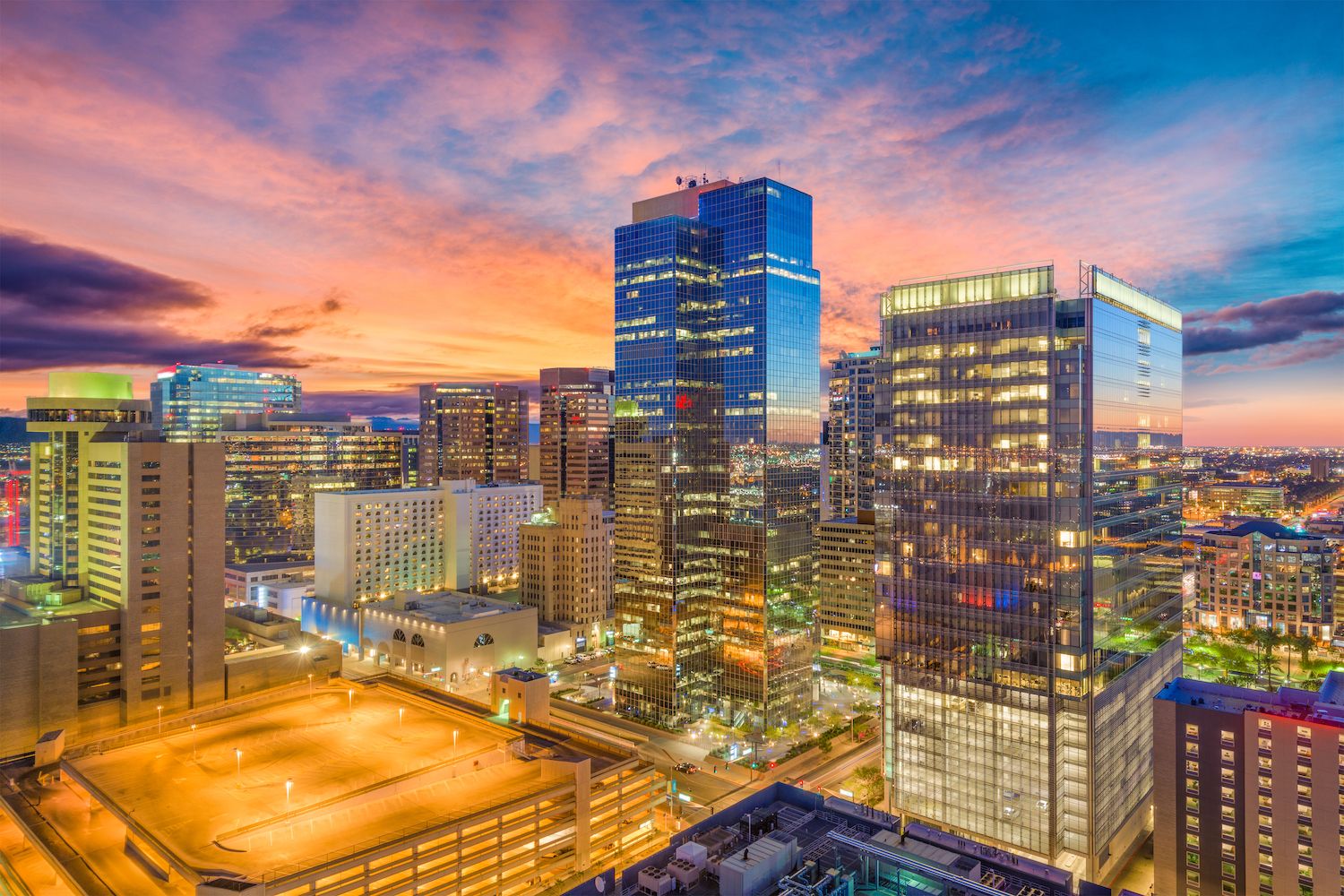 ✍️
Find out more about Travel Lens and read our editorial guidelines
here
.