15 Best Hotels in New York City with an In-Room Jacuzzi
New York City is easily one of the best places to find luxurious hotels.
Regardless where you stay, you should find a hotel that best fits your needs.
In all five NYC boroughs—Queens, Manhattan, Bronx, Brooklyn, or Staten Island)—you will find a hotel you will love.
If you're looking for premium hotel rooms with Jacuzzis, some of the best are in Manhattan.
Whether you want to pamper yourself at night or spend intimate time with your family, these hotels have amazing hot tubs that'll make your stay more memorable.
To give you a wide range of options, check out this list of the best hotels in New York City with a Jacuzzi in the rooms.
Affiliate Disclosure: As a Booking.com affiliate, I earn a small commission when you book through links on this page.
Equinox Hotel
Equinox Hotel is one of the most stylish hotels in New York City, offering a variety of suites with different amenities.
However, if you want to splurge, their Penthouse Suite is easily one of the best places to enjoy the city skyline while you soak in their jetted tub.
The rooms here are dark and cool, promoting sleep and stress reduction.
While the rooms can get pricey, staying at the Equinox Hotel is a once-in-a-lifetime experience, perfect for couples celebrating their anniversaries.
This hotel is at 33 Hudson Yards, overlooking New Jersey and the Hudson River.
Park Hyatt
Park Hyatt is another five-star hotel you've probably heard about because of its global prominence.
Their residential suite has a spa-like Jacuzzi with an elegant modern design and a fantastic room to splurge on.
Park Hyatt is also located strategically across Carnegie Hall, just a five-minute walk from Central Park.
If the hot tub in your room isn't enough, you can also enjoy their spa services and heated indoor saltwater swimming pool.
With Park Hyatt, your New York City adventure will be complete.
Iberostar 70 Park Avenue Hotel
Iberostar 70 Park Avenue Hotel is another Manhattan mainstay known for its suites offering jetted tubs.
Located along Park Avenue near the Morgan Library Museum, Iberostar Hotel is another strategic way to plan your New York City itinerary because of its proximity to many of the city's main attractions.
Book their Suites or Presidential rooms for the Jacuzzi rooms.
The Presidential Suite is a perfect honeymoon room because of its luxurious amenities that won't break the bank.
Iberostar 70 Park Avenue Hotel is an excellent option whether you want to celebrate a special occasion or want to experience a fun Jacuzzi.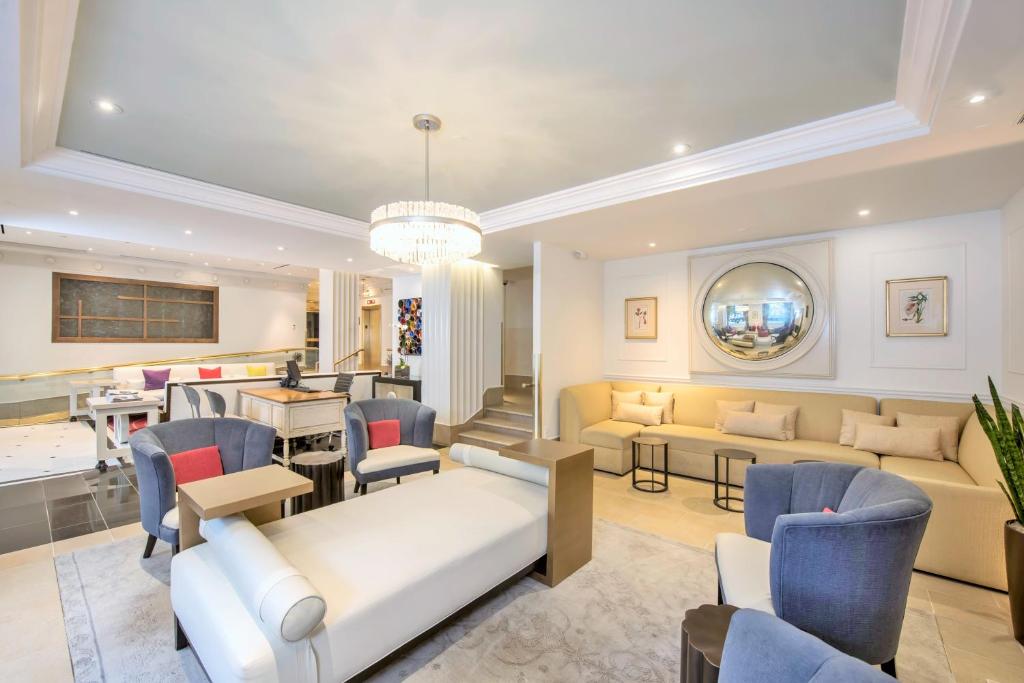 Holiday Inn Express
Holiday Inn Express is one of the most balanced hotels in New York City.
The hotel offers a room with a Jacuzzi for your friends or family.
Holiday Inn Express is a global brand known for its pedigree as a business and travel hotel.
It is one of the safest options for first-time travelers, especially those from foreign countries.
Located in Chelsea, Manhattan, the hotel gives you quick access to Madison Square Garden, only a few blocks away.
To access their jetted tubs, reserve their king room which also offers elegant views of the city.
Their pricing is decent and allows for a lot of flexibility when budgeting your trip to New York City, making it a perfect option for week or month-long tourists.
Holiday Inn Express is along Manhattan's West 29th Street.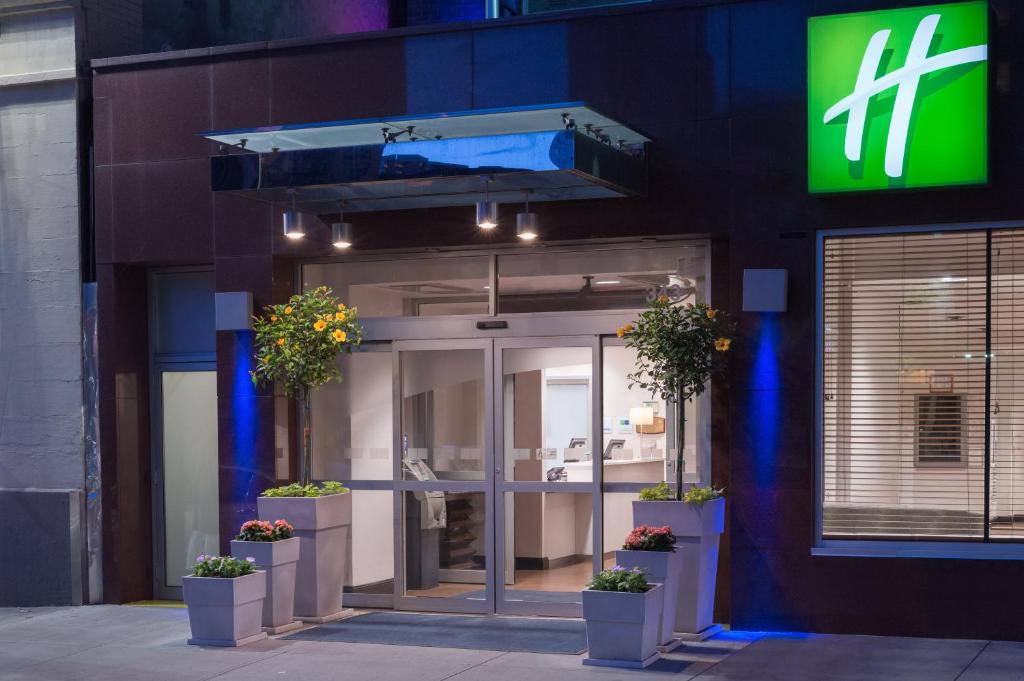 Hilton Garden Inn Tribeca
Another Midtown Manhattan hotel you'd want to consider is Hilton Garden Inn Tribeca.
You can find this hotel along 6th Avenue near Hudson Park and Little Italy.
Hilton Garden Inn Tribeca's jetted tubs are as straightforward as their suites.
The Jacuzzi hotel room can only fit one person, so it's a great option if you want some peaceful alone time.
Their rooms are beautifully designed according to the contemporary business style.
It's perfect for couples and those planning short-term accommodation.
Hilton Garden Inn Tribeca isn't a big hotel, so their service crew will also have an easier time attending to your needs.
Kimpton Hotel Eventi
Kimpton Hotel Eventi is an upscale, four-star hotel that has stylish hotel rooms that should give you a sense of premium comfort.
The hotel is highly rated by travelers thanks to its stellar amenities and excellent customer service.
Likewise, it caters to all sorts of customers: families, couples, or those checking in solo.
If you want their rooms with Jacuzzi, give their suites a look.
Some rooms also offer convertible billiard tables and veranda access.
Their Jacuzzis are some of the biggest in the city, great for couples or parents and children.
Located along 6th Avenue, this 46-story skyscraper offers stellar views of Manhattan.
Kimpton Hotel Eventi is an excellent option if you're looking for a premium experience.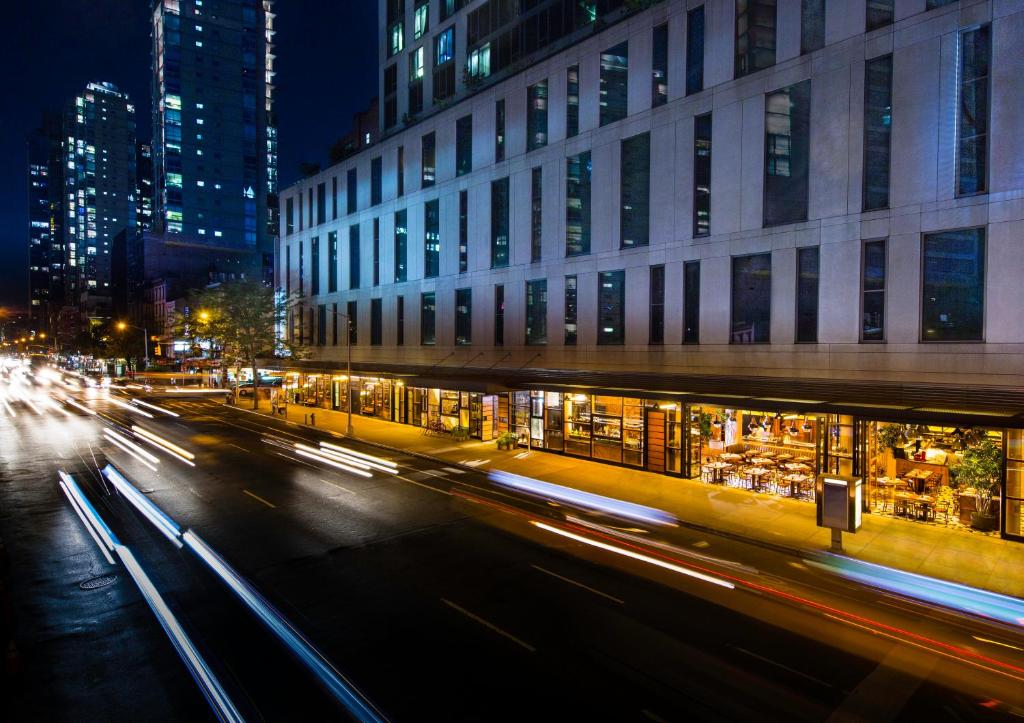 Avalon Hotel
Avalon Hotel is another boutique hotel in Midtown Manhattan that you should consider when traveling with a large group on a budget.
They have several spacious rooms that provide excellent accommodation for families and groups of friends.
All of their suites here have state-of-the-art Jacuzzis, so it's just a matter of choosing which suite is best for you.
Some suites here are smaller.
Some have balcony access, while others resemble a New York City loft-type residential suite.
Regardless of your choice, you'll be guaranteed to have a relaxing stay at Avalon Hotel.
Located along East 32nd Street, Avalon Hotel is close to tourist hotspots like the Empire State Building, Times Square, Rockefeller Center, and the United Nations Headquarters.
Akwaaba Mansion
Located along MacDonough Street, Brooklyn,  Akwaaba Mansion is the first Brooklyn hotel on this list with Jacuzzis rooms.
It's not an ordinary hotel room, however.
Akwaaba Mansion's building dates back to the 1860s, built according to gorgeous Italianate Villa architecture.
Of course, the room interiors are also designed to match this vintage 1860s look.
The suites are full of regal fixtures, such as built-in fireplaces, vintage hardwood beds, and elegant curtains and artworks that complete their look.
The Jacuzzi is perfect for couples, as it can accommodate two.
The bathrooms are also stylish and will make you feel like a king or queen with the overall ambiance of the hotel suite.
If you want premium and vintage accommodation in Brooklyn, look no further than Akwaaba Mansion.
Northern Lights Mansion
There are a lot of fantastic hotels in Harlem, too, like the Northern Lights Mansion.
This place offers a much lower price for exceptional amenities than hotels in Downtown and Midtown Manhattan.
Regarding jetted hot tubs, Northern Lights Mansion is one of the best.
Their executive suites have large hot tubs that can easily fit two people, making it an ideal room for couples.
Their Queen Suite also has an infrared cedar sauna, an excellent addition to your rest plans.
The best thing about Northern Lights Mansion is that it's close to some Harlem landmarks.
It's just a few walks away from the Apollo Theater, Marcus Garvey Park, and the northern end of the world-famous Central Park.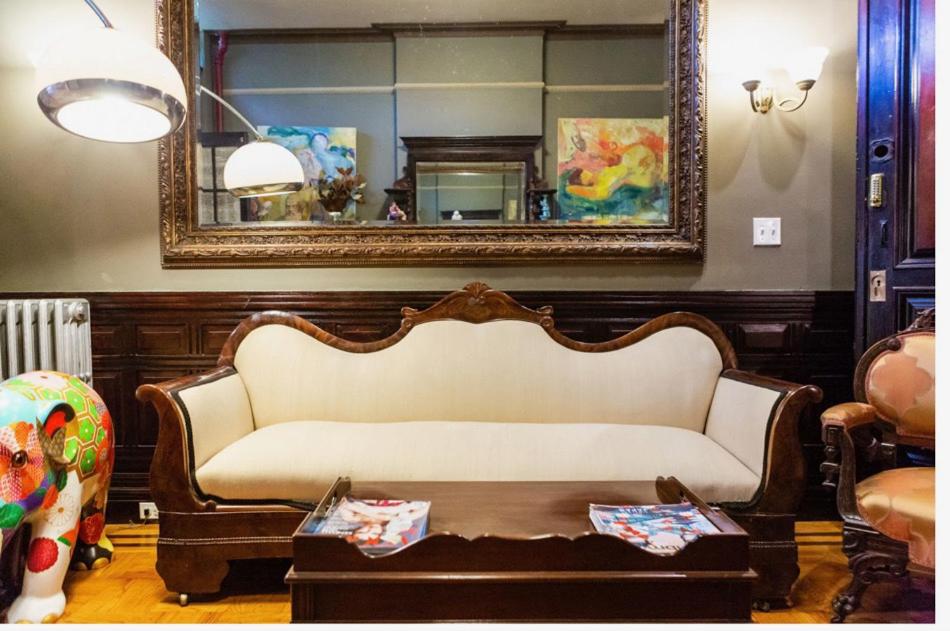 The International Cozy Inn
The International Cozy Inn is also good to consider if you want another Harlem option.
The rooms here are attractive, with plenty of exciting decor and layouts not commonly found in hotels.
Its aesthetic takes influence from jazz and 1990s culture, making it Instagram-worthy.
Check out its unique linen, chandeliers, plant fixtures, and furniture.
For their Jacuzzi rooms, you'll need to book Suite 101, which has a separate shower room on top of its heart-shaped Jacuzzi that can easily fit two people.
Conveniently located along Malcolm X Boulevard, a few steps from Marcus Garvey Park, International Cozy Inn will show you an experience to remember.
Best Western Queens Gold Coast
Best Western Queens Gold Coast is the first Queens hotel on this list with a Jacuzzi.
As a US staple, the Best Western Hotel brand has earned its status because of its proven service, especially for foreign tourists.
Best Western Queens Gold Coast also offers affordability for budget travelers.
While you're not exactly close to the must-visits in Manhattan, staying in Queens through this hotel can save you a lot of money.
Its rooms can go as low as $150 per night.
For their Jacuzzi rooms, book their King suite with amazing jets for the ultimate relaxing bath.
Best Western Queens Gold Coast is along Northern Boulevard in Bayside, Queens, where Oakland Lake is nearby.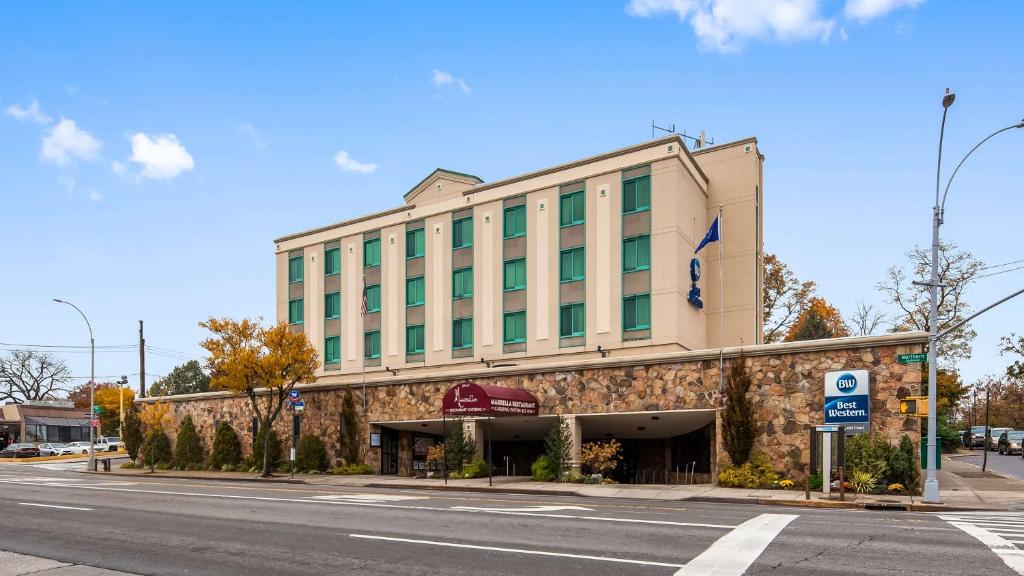 Condor Hotel
Condor Hotel is another Brooklyn-based hotel offering some of the best Jacuzzis in the borough.
While having a lot of luxurious amenities, Condor Hotel is also a great option if you're looking for affordability in your New York City getaway.
While it's not particularly close to many landmarks in Brooklyn, it's in a quiet neighborhood along Franklin Avenue.
Their Luxury Suite, their most expensive room, has a large Jacuzzi that can fit one to two persons.
Likewise, a premium shower massage function also comes with the Jacuzzi, soothing you after a long day.
Condor Hotel is an excellent option if you're looking for a straightforward hotel in Brooklyn without compromising comfort.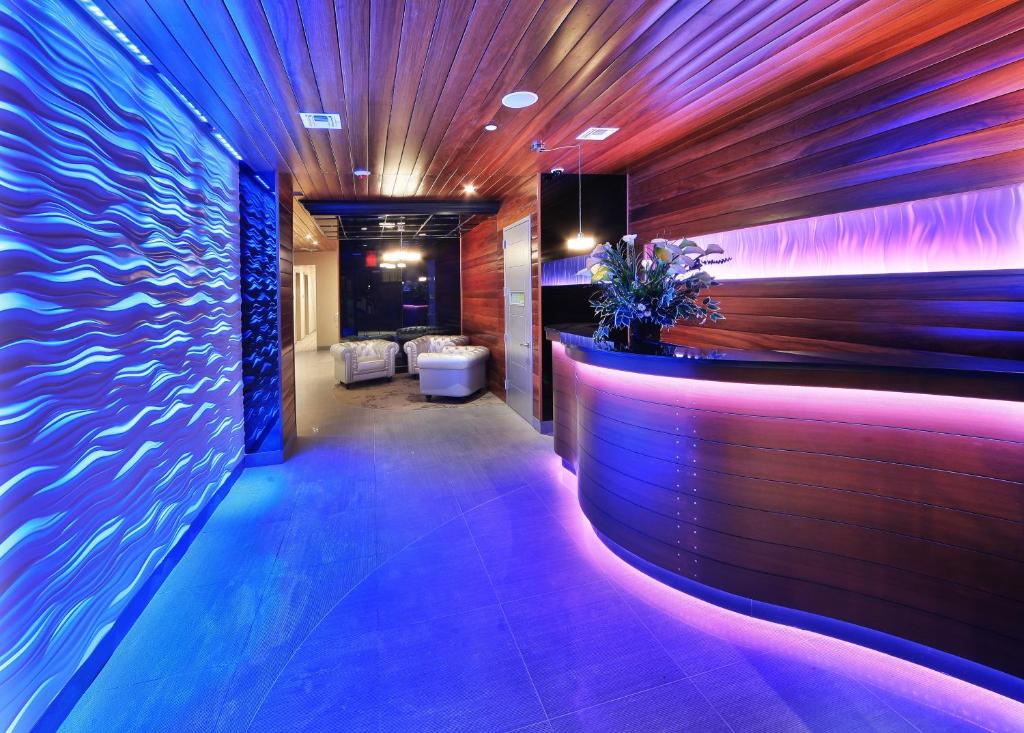 Ramada by Wyndham
If you're looking to stay in the Bronx and want a jetted tub, Ramada by Wyndham is one of the best in the borough.
Besides its comfortable rooms, the strategic location of Ramada by Wyndham puts you close to many Bronx attractions like the Yankee Stadium.
Likewise, you can easily reach various entertainment centers and dining districts.
While their Studio Suite isn't the biggest in the borough, the hotel makes up for it by highlighting its Jacuzzi.
It's right in front of the room's king-size bed, giving it an intimate vibe perfect for couples on a romantic New York City adventure.
The room rates here are affordable, making Ramada by Wyndham easily one of the city's most affordable hotels with stellar Jacuzzis.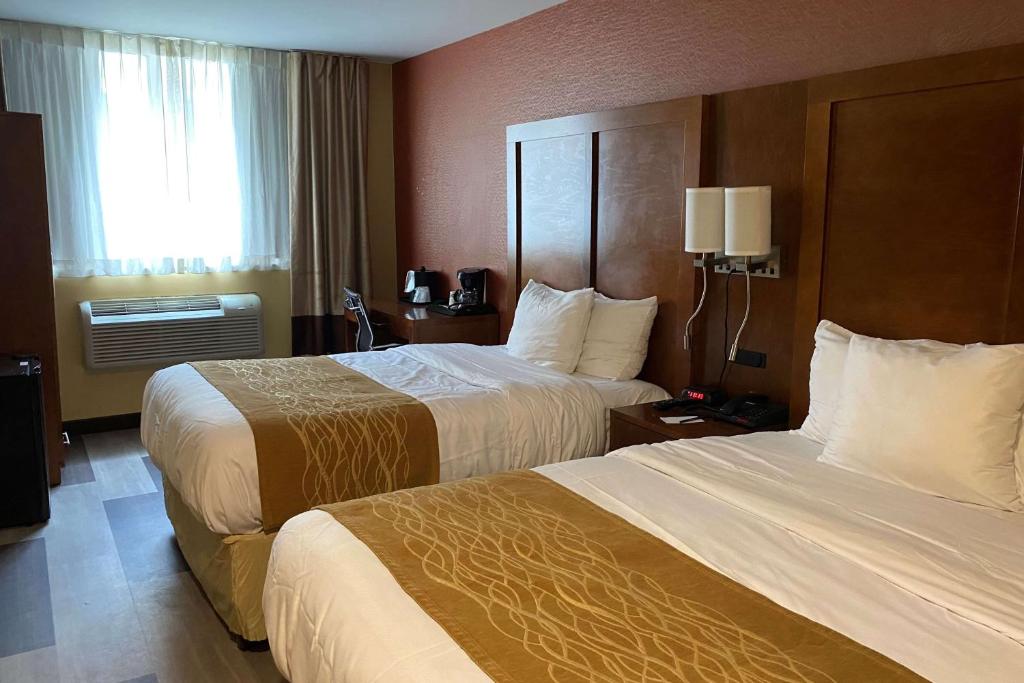 The Kimberly Hotel
When traveling to New York City, Manhattan should be your priority since it has some of the best attractions in the city and the world.
Located in the heart of midtown Manhattan along East 50th Street lies The Kimberly Hotel, a luxurious boutique hotel with some of the city's best Jacuzzis.
Their rooms here are spacious and elegant, offering amenities such as a mini bar, private balconies, and high-speed Wi-Fi.
A great bonus is that L'Occitane bath accessories complement its hot tubs for the best experience.
Staying in Midtown Manhattan is strategic because it gives you quick access to places like Madison Square Garden, Times Square, and the Empire State Building.
If it's within your budget, give the Kimberly Hotel a try.
The Louvre Hotel NYC
The Louvre Hotel NYC is a three-star hotel in Queens, located along Horace Harding Expressway near the Queens Museum.
If you're looking for an affordable hotel room with a large jacuzzi in Queens, the Louvre Hotel NYC's Red Jacuzzi Room is a great option.
Right next to their king-size bed, the Jacuzzi is enclosed and full of jets and other settings to give you a relaxing bath.
It can also accommodate couples.
The rooms here are clean, too.
Likewise, the hotel boasts a convenient location, especially if you're driving around New York City.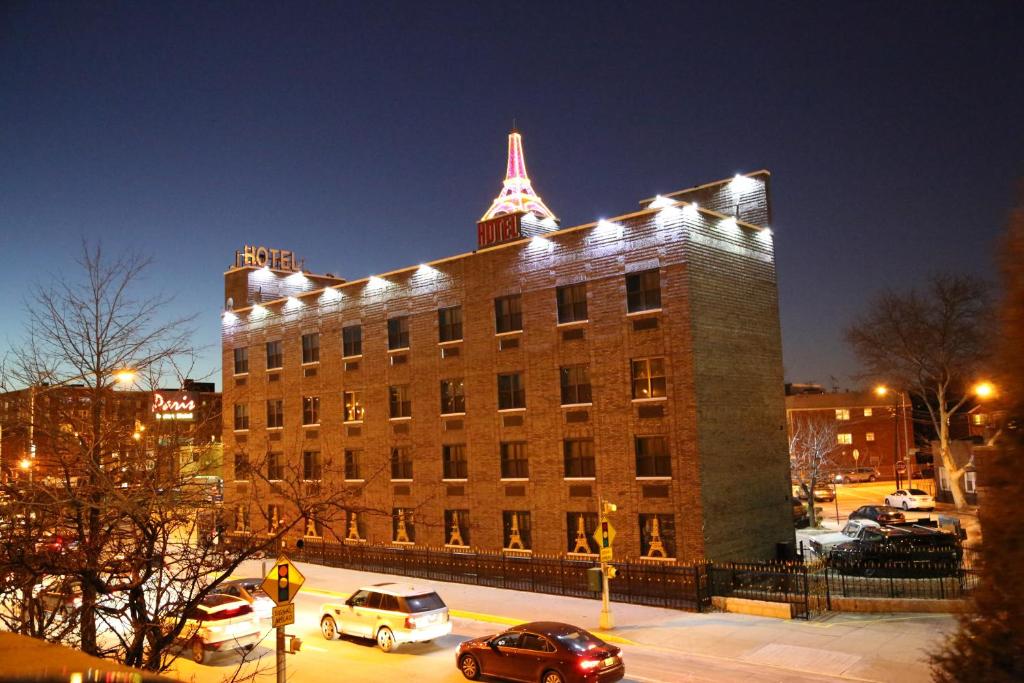 Final Thoughts
New York City is without question one of the world's best cities in terms of tourism.
It attracts all kinds of adventurers, making it a haven for some of the best accommodations in the world.
If you're a big fan of jetted hot tubs, the city has a lot in store through its diverse library of hotels and inns.
This list of the best hotels in New York City with Jacuzzis in the rooms should help you kickstart your Big Apple adventure.
✍️
Find out more about Travel Lens and read our editorial guidelines
here
.