15 Best Hotels in Wildwood, NJ
Are you trying to find the best hotels in Wildwood, NJ, for your holiday getaway?
We've got you covered!
Located on the state's East Coast, Wildwood, New Jersey, is like a time machine that takes you back to the 1950s.
In the 1950s and '60s, Doo-Wop architecture was a popular resort architecture, characterized by classic hotels, eateries with neon signs, and plastic palm palms.
Whether it's the beach, a funfair, or the historic center of Wildwood, you can all get there by walking down the boardwalk, which connects each community.
Families are flocking to Wildwood and Cape May these days, in large part because they are so inexpensive.
The neighborhood has a wide variety of accommodation options to choose from for convenience and comfort.
Let's have a look at each one!
Affiliate Disclosure: As a Booking.com affiliate, I earn a small commission when you book through links on this page.
Blue Palms Resort
The Blue Palms, a Morey Resorts property, is located just a few blocks from the ocean in Wildwood's downtown area.
Be sure to take advantage of the large heated pool and fire pits while you're here.
On the other hand, the Blue Palms has an aquamarine color scheme and false blue palm trees that flank the property's perimeter.
The rooms of the Boardwalk Bungalow, which is located next door to the main resort, feature a turquoise color scheme, as do the accommodations in the main resort.
The phrase "Wildwood" is painted on the wall above the beds in certain rooms.
If you stay in a King Room, you will get a 32" TV, a microwave, and a mini-fridge in your unit.
Apart from that, there are other advantages to residing in this particular location.
Discount tickets for mini-golf and a hot tub at the adjoining Starlux hotel are offered to guests, who can also take advantage of these facilities.
Like other Morey Resorts locations, there is a play-and-stay option for cheap rides and access to a tramcar.
Because of the abundance of freebies, your low-cost stay is made even more affordable.
A free breakfast every morning, free use of the neighboring beach, bikes, and boogie boards are just a few of the many amenities available to guests.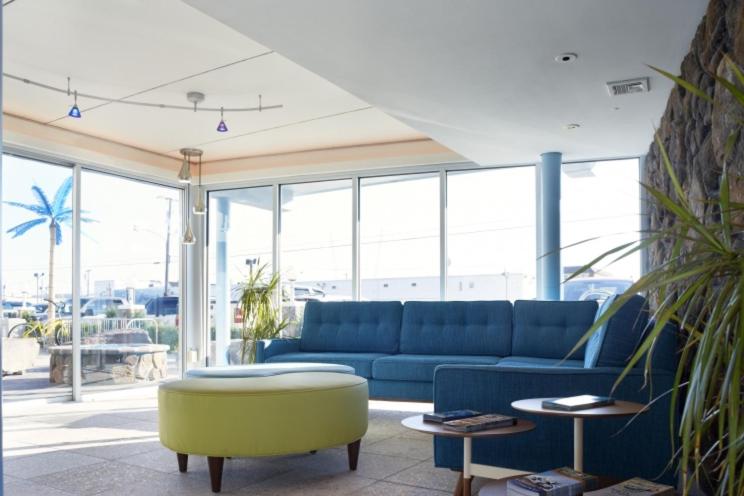 Bolero Resort & Conference Center
One of Wildwood's best hotels, the Bolero Resort, has been there for more than half a century and is still going strong.
As a small hotel on Oak Avenue, the Bolero Resort had evolved into a well-known Wildwood icon since its refurbishment in 2003, including South Jersey's first indoor rooftop pool.
This Wildwood hotel is in the thick of the action, only a few feet from the beach, boardwalk, and all the other island attractions you could want.
The Bolero Resort & Conference Center has a restaurant, spa, and gym.
Its Blue Water Grille restaurant serves fresh seafood, steaks, and Italian fare to guests of the resort who choose to dine in.
Refrigerators, microwaves, TVs, and ice machines are all included in the accommodation facilities.
The hotel also offers daily housekeeping and parking. The resort's fitness facility has standard gym equipment.
Along with the gym, there's a spa with a Jacuzzi and a steam room as well.
Double, single, and king-size beds are available in luxury and type-2 suites at the Bolero Resort & Conference Center.
Bands such as the Juliano Brothers, Dane Anthony, and Cousin Oliver perform at the resort regularly.
Calypso Boutique Hotel
If you're planning a trip to Wildwood, New Jersey, this is a good option that's both affordable and accessible.
To help you recharge for the day ahead, this little motel charges less than $100 a night for its rooms.
On the rooftop of this Wildwood, NJ hotel, you'll find a sundeck complete with lounge chairs.
We're about a five-minute walk away from Moreys Piers And Amusements.
Every room at the Calypso Boutique Hotel has a microwave, fridge, and satellite TV.
Kitchenettes and eating areas are available in some of the hotel rooms.
Access to the hotel's complimentary WiFi is available in all areas.
Guests have access to the on-site BBQ, 24-hour reception, and an outdoor pool just across the street.
The hotel also provides discounts and a schedule of daily activities in the neighborhood for local restaurants and sights.
It is less than a half-mile away from the Jersey Shore hotel to the Wildwood Convention Center.
The Splash Zone Water Park is five minutes walk away.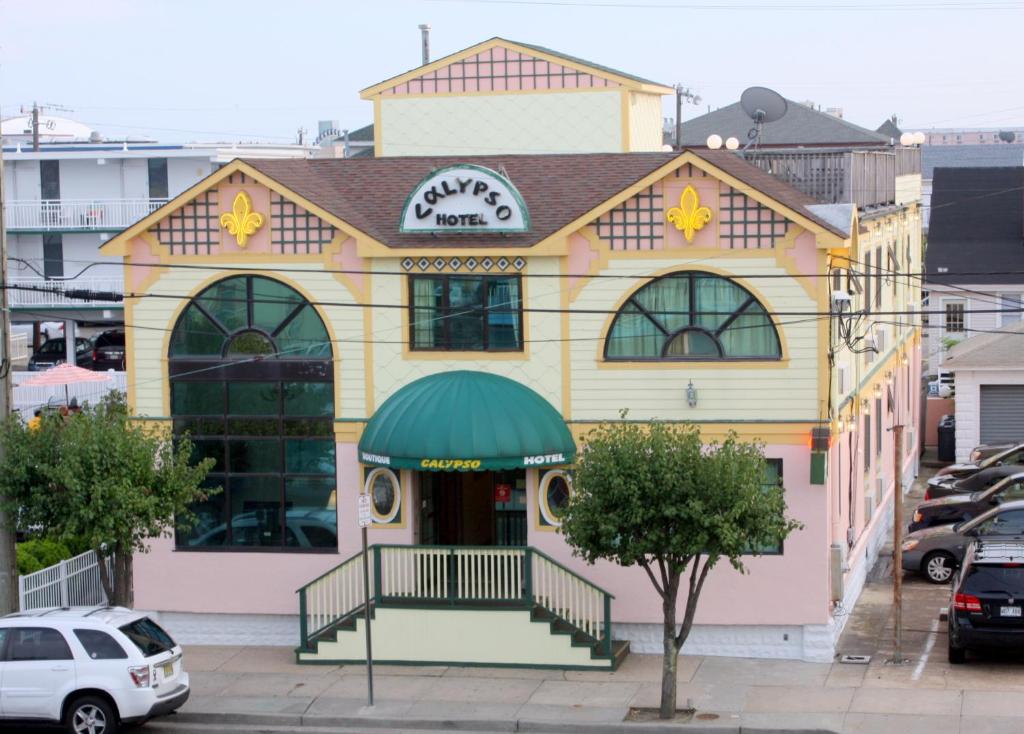 Days Inn & Suites by Wyndham Wildwood
Stay at Days Inn & Suites by Wyndham Wildwood after a day of fun in the sun on the Jersey Shore.
If you want to get the most out of Wildwood, this seaside hotel is the right location.
It is just a short drive from Cape May County Park and Zoo and Morey's Piers and Raging Waters, and you'll have access to facilities including free parking and an outdoor pool.
Its outdoor pool and sundeck are the perfect places to start your day.
In addition, it provides free newspapers, free parking, on-site guest laundry.
You may eat at one of the numerous restaurants in the area, or you can relax on our barbeque deck with your family.
Safes are also available for a small nightly cost.
Daytona Inn & Suites
The Daytona Inn & Suites is one of the area's most convenient motels, situated just a block from the beach and other attractions in the area.
The Daytona boasts a classic 1950s Miami Beach hotel, replete with a retro neon sign and faux palm trees.
On the other hand, the rooms have sleek shades of the gray color palette.
Accommodation options vary from a room with a queen-sized bed to a three-bedroom unit with a kitchenette.
Rooms at this Wildwood hotel offer a view of one of two pools surrounded by socially separated lounge chairs, allowing guests to unwind after a hectic day of sightseeing.
This hotel is privately owned and regularly sees the proprietor around the premises, ensuring everything is functioning properly.
The workers also meticulously clean the premises every day to ensure that no curtain is out of position.
Le Voyageur Hotel
Le Voyageur, a Red Collection hotel in downtown Wildwood, is just a few blocks from the beach and boardwalk, as well as a short drive from the area's most prominent tourist attractions.
The rooms are large and tastefully decorated, but its location is its most significant asset.
It's common for adults to relax at the two sundecks near the outdoor pool, popular with children.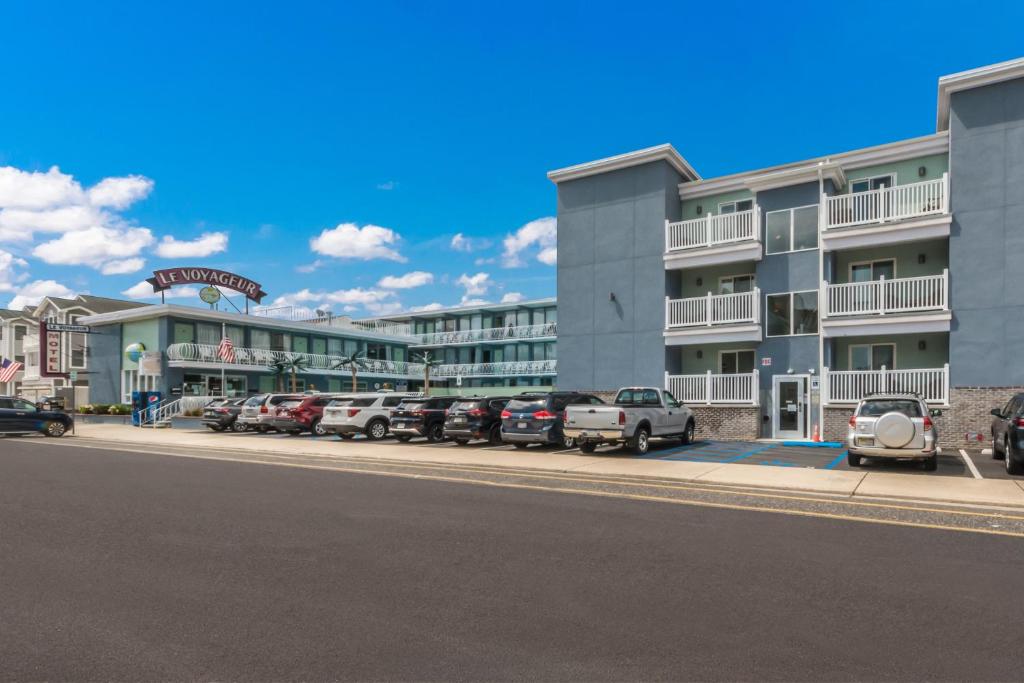 Monaco Motel
At the Monaco Motel, Wildwood Boardwalk is just a short walk away.
One block from the Wildwood Convention Center, the Doo Wop Museum, and the Vietnam Memorial's future location.
Ocean Avenue is just a few blocks away.
Its air-conditioned rooms feature flat-screen TVs, refrigerators, and complimentary Wi-Fi.
Meanwhile, some have coffeemakers and two-burner stoves.
There are a variety of restaurants and shops nearby and several amusement piers and water parks.
Bike rentals and tennis courts are just a short walk away.
Perfect for romantic getaways, family vacations, and special event weekends or festivals.
Newport Beach Resort
This hotel in Wildwood, NJ, is just a short walk from the beach and boardwalk.
Its rooms have private balconies overlooking the sea.
Deluxe motel rooms, two-room efficiency suites, and two-bedroom suites are available at Newport.
It has the best spot in Wildwood and guest laundry, ice machines in the elevator, cable TV, and freezers in every room.
Subway is located on-site.
The mattresses are cozy, and the bathroom is a good size for individuals who want to do their morning routines in there.
If you're not a fan of sand, it also offers a beautiful pool that you may utilize during great weather.
Thanks to the abundance of beach chairs and towels, everyone may enjoy the sun here without dealing with sand.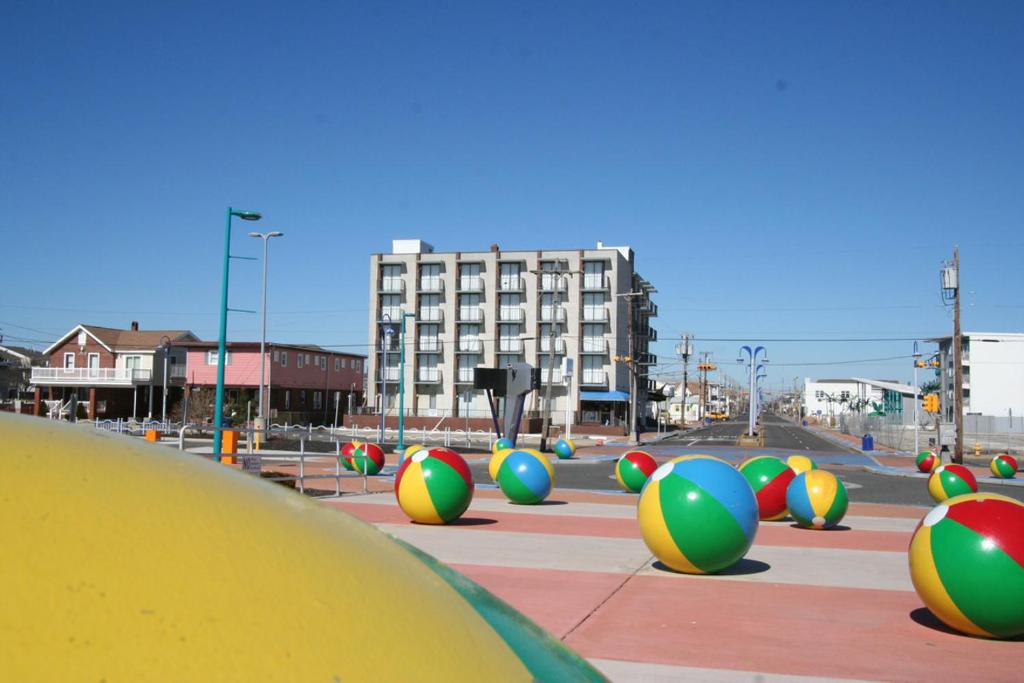 Paradise Inn NJ
The George F. Boyer Historical Museum is only 601 meters from the Paradise Inn in Wildwood, New Jersey.
All three Wildwood attractions are within a few blocks from the inn.
The inn provides free Wi-Fi, an outdoor pool, and a 24-hour front desk.
Each room also has a seating space, flat-screen TV, air conditioning, a cabinet, and a private bathroom with complimentary amenities and a bath.
The nearby airport, Atlantic City Airport, is just 35 miles away.
Royal Court Motel
Several Wildwood hotels and motels along the New Jersey coast, but the Royal Court Motel stands out because of its central location, just a few blocks from the beach, boardwalk, and Wildwood Convention Center.
Near the boardwalk in Wildwood, New Jersey, the Royal Court Motel is the best place to stay due to its proximity to the convention center, beach, and boardwalk rides and activities.
Unlike many Wildwood hotels, the Royal Court Motel is within walking distance of eateries and a convenience store, making it an ideal location for vacationing families.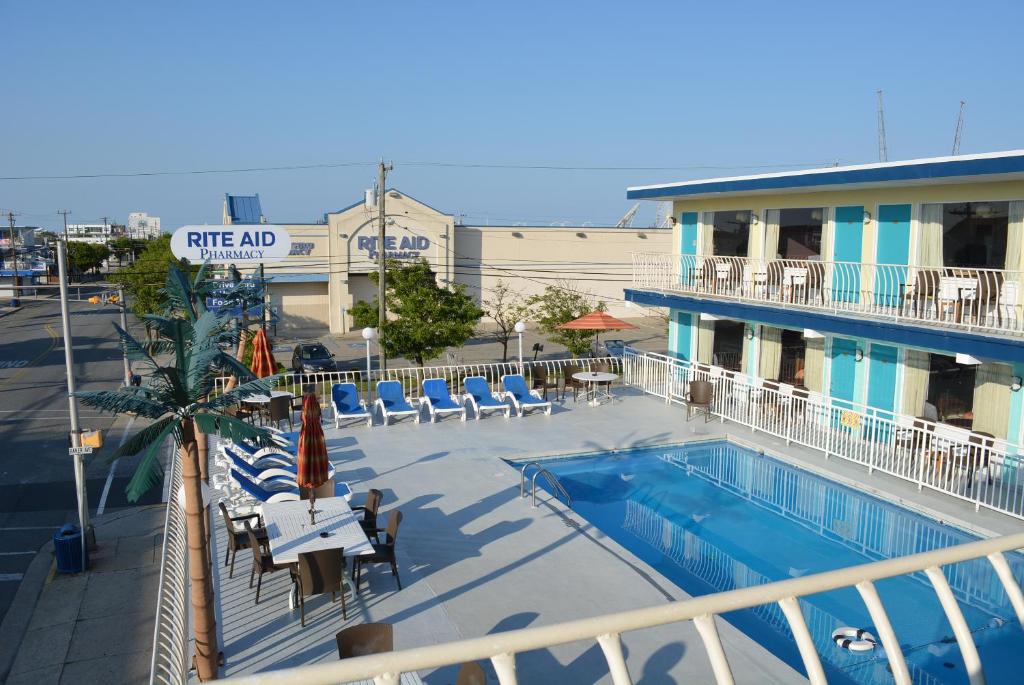 Sand Box Motel
Sand Box Motel is committed to providing excellent service and exceeding guests' expectations.
Wildwood Beach is just a short walk away, and the pool and heated tub are also heated.
This Wildwood, New Jersey motel's exterior, hot tub, and heated pool make it stand out from the others!
Aside from free WiFi, there are also microwaves and refrigerators.
The Sand Box Motel is your best choice for lodging in Wildwood, New Jersey.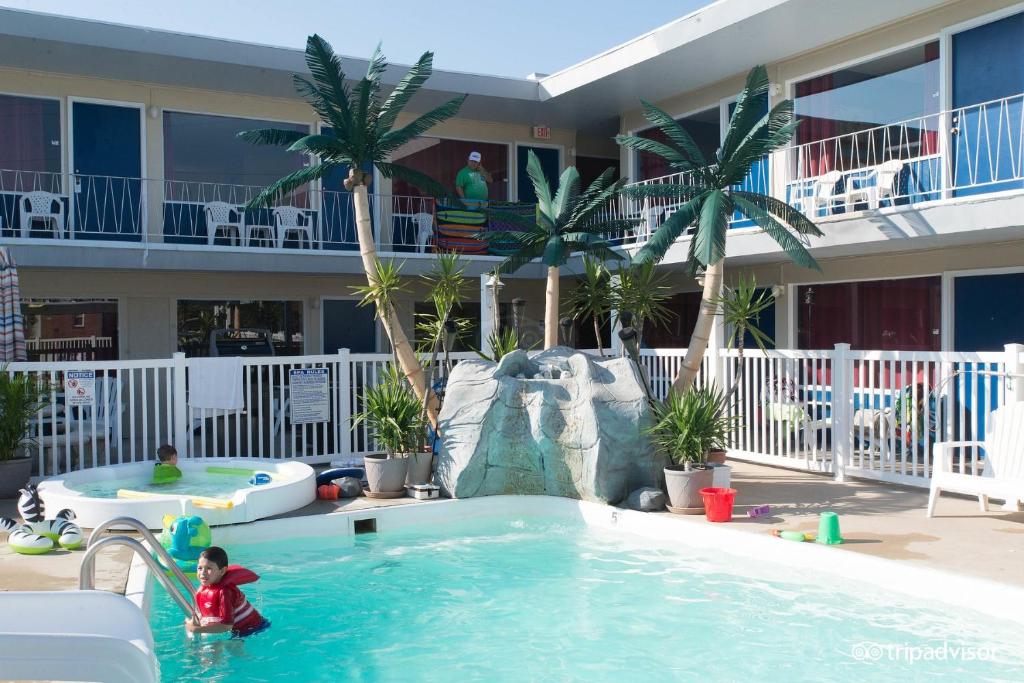 Sea Gull Motel
One block from the beach and boardwalk and one mile from Morey's Piers and Beachfront Waterparks and Adventure Pier, this modest seasonal hotel has been in the same family since 1964.
If you're planning on staying in Wildwood for several days, consider staying at the Seagull Motel.
Rooms are large enough to accommodate many guests, and the location is convenient to the town's attractions.
Cable TV and free WiFi are provided in the simple rooms, including mini-fridges and microwaves.
Separate living spaces and full kitchens are provided in the apartments, accommodating up to four people.
Pools for adults and children are available, including sundecks, barbeque areas, and picnic areas.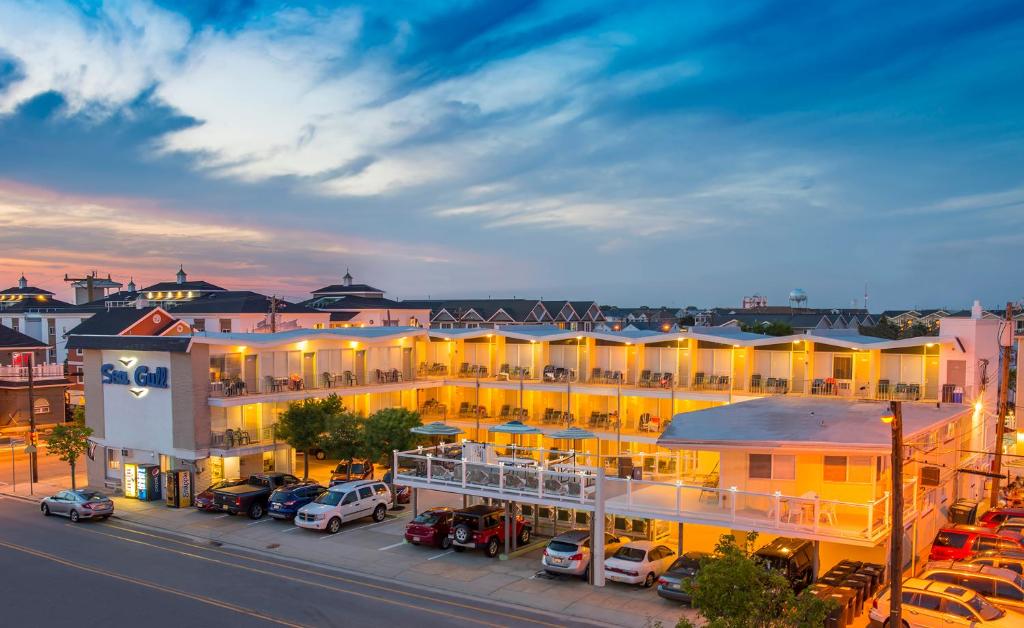 Starlux Hotel
The classic Starlux Hotel brings a smile to your face even when you are not sleeping there.
This establishment screams "fun" with its retro atomic emblem etched on the structure and lit up at night in neon.
Huge plastic marine animals, artificial palm trees, and dunes decorate the grounds.
Guests of the Starlux are assured a fantastic time because the resort is a part of the Morey Resorts company, which also operates the amusement park.
This room features a midcentury wood-burning fireplace, butterfly chairs, and plenty of board games for rainy days.
Kohr Brothers Frozen Custard, a local institution for 101 years that's known for its frozen custard, operates an ice cream parlor on the premises.
A standard room has two queen-sized beds, while a two-bedroom suite has three queen-sized ones.
The unique design in the public areas extends into the rooms with retro-style lights and animated wallpaper.
Any hotel with a lava light next to each bed is a winner.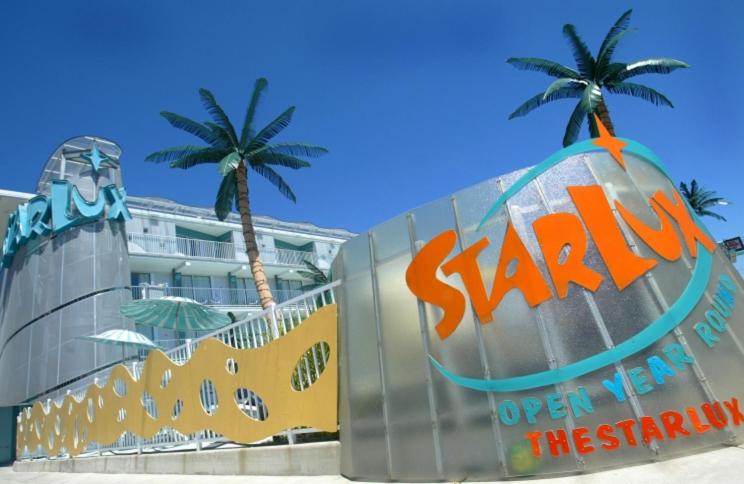 Sunset Beach Hotel
The Wildwood Boardwalk amusement park, Wildwoods Convention Center, and Atlantic City Airport are all within a 5-minute walk of Sunset Beach Hotel, located on the street dotted with informal eateries.
Guests may enjoy free Wi-Fi, TVs with cable channels, kitchenettes, and communal patios in the basic rooms.
The addition of dining spaces and living areas with pull-out sofas makes these suites more informal.
If accompanied by an adult, children under the age of 11 are free of charge.
There is no charge for the covered parking.
Additionally, there is a place to cook outside.
Wildwood Inn Hotel
The Waves Hotel in Wildwood, New Jersey, is a boutique hotel packed with all the facilities you'd expect from a high-end establishment.
You're welcome to use the hotel's free Wi-Fi.
Its guest rooms are equipped with a flat-screen TV, a microwave, and a coffee maker.
Its receptionists are ready around the clock to answer your queries and help you get the most out of your stay.
You can count on these and other unique features from a hotel that encourages guests to venture off the beaten path.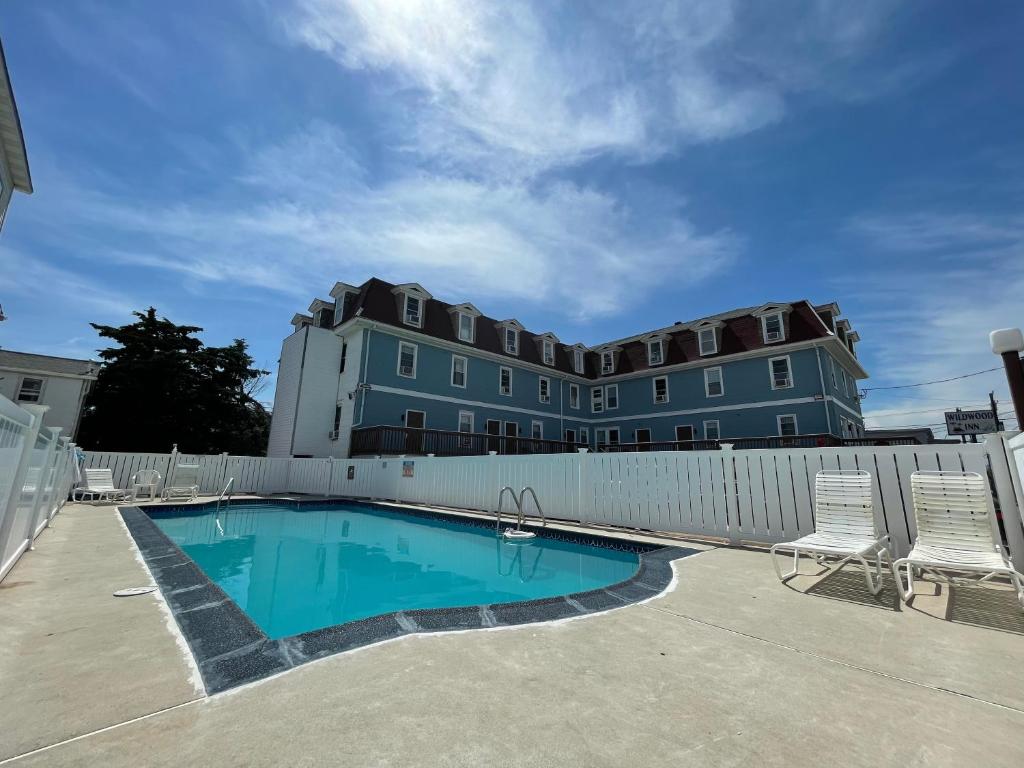 Final Thoughts
Take into consideration that this is an oceanfront location, and most of the hotels here are not what you'd expect.
They'll look like something straight out of a time warp to some.
However, they make up for their lack of slick threads with great character and charm.
When it comes to five-star hotels and resorts, you're better off searching elsewhere.
Staying in the best hotels in Wildwood, NJ, is like stepping into another age, one that is more laid back and carefree.
✍️
Find out more about Travel Lens and read our editorial guidelines
here
.