18 Best Hotels in Wellsboro, PA
Approximately 52 miles from Williamsport, Pennsylvania, is the borough of Wellsboro in Tioga County.
The town lies on the Appalachian Mountain foothills.
During the early 20th century, Wellsboro served as a regional commercial hub and shipping terminal for a vast area.
In the little town of Wellsboro, you'll discover Pine Creek Gorge, regarded as the Grand Canyon of Pennsylvania for its abundance of natural splendor and outdoor activities.
Dotted with breathtaking scenery and awe-inspiring falls, its tranquil evenings come with the charming lifestyle of a small community that retains a 1960s downtown flair.
This town is also a retail, eating, and entertainment hotspot.
Take a booklet from the Tioga County Visitors Bureau and conduct a stroll to the town's most important landmarks to get the most out of your visit.
Of course, a single day will not be enough time to see everything that wonderful town has to offer.
Staying comfortable and resting is easy when you know where to find the top hotels in Wellsboro, Pennsylvania!
As booking.com affiliates we may earn a small commission when you book through the links on this page
Penn Wells Hotel
The Penn Wells Hotel, located in downtown Wellsboro, is the town's oldest and most historic building.
It's a few miles away from the Rockwell Museum of Western Art and Cherry Springs State.
Restaurant dining is available at Penn Wells Historic Hotel. The bar/lounge is a great place to end the day.
Flat-screen TVs are available in each of its 159 air-conditioned rooms.
In addition to cable television, it has complimentary WiFi for every room.
Complimentary toiletries are also available in the bathrooms.
Each room also has a phone, but you can only make local calls, and a cleaning service is available daily.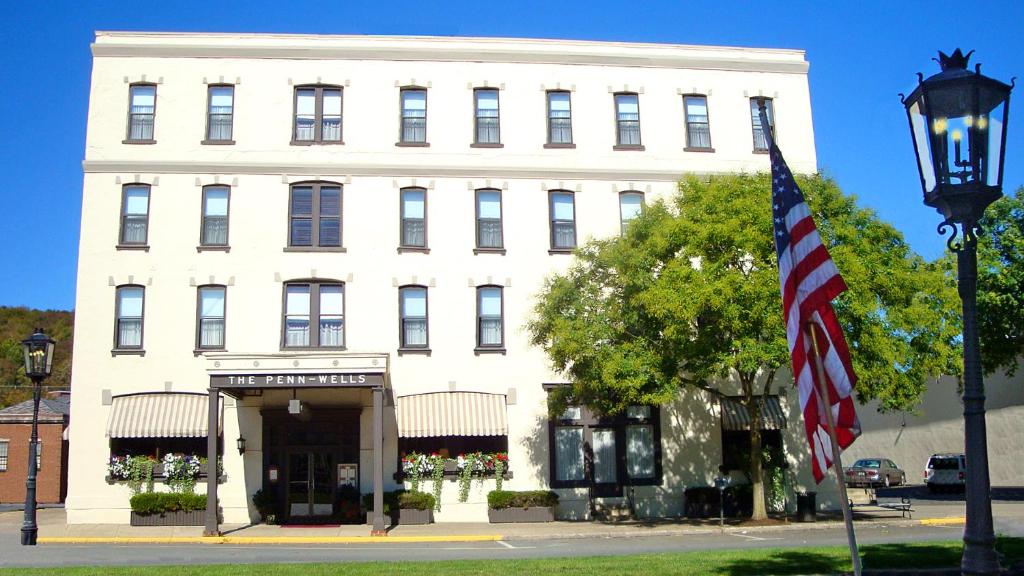 Sherwood Motel
You'll be only 7.9 miles from Hills Creek State Park and 10.1 miles from Leonard Harrison State Park when you stay at the Sherwood Motel in Wellsboro.
Its 42 air-conditioned rooms provide microwaves, flat-screen TVs, phones, coffee/tea makers, irons, and ironing boards.
All rooms also come with free wireless Internet and digital programs for your enjoyment.
Pine Creek Gorge is 10.5 miles away, while Colton Point State Park is 13.5 miles away.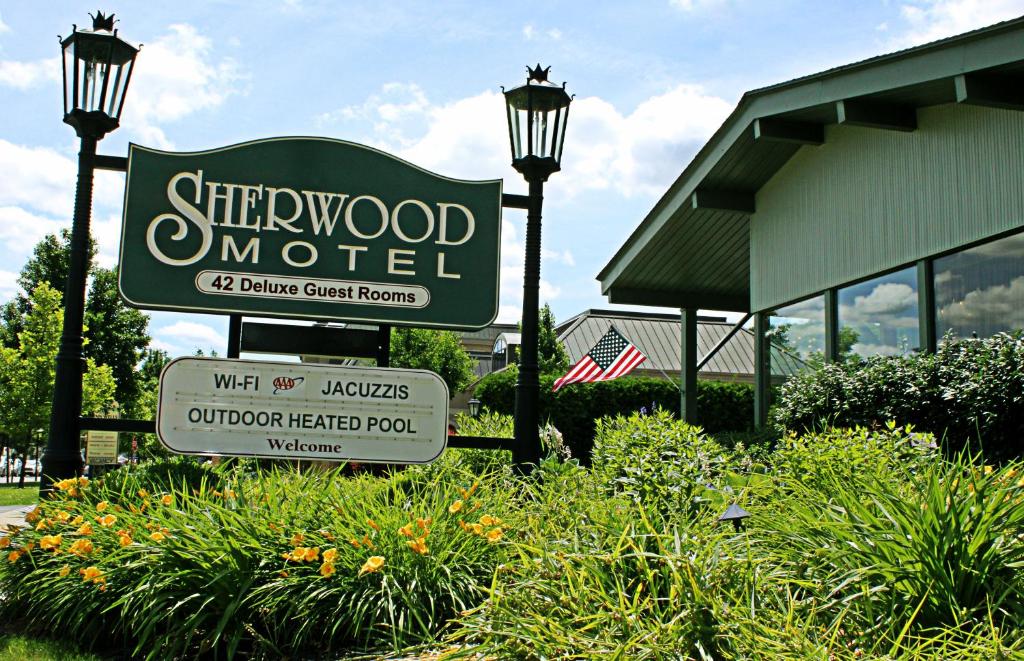 The Canyon Motel
According to online reviews, the Canyon Motel is the best-rated hotel in Wellsboro.
Many tiny town businesses and restaurants are easily accessible by foot.
The Canyon Motel is one of a kind since it offers standard hotel rooms, such as single queens and two-bedroom suites and kitchen suites, ideal for guests who wish to stay for an extended period of time.
It's a little lacking in facilities, but the rooms and indoor pool are in excellent condition.
All three of these amenities are available at the hotel.
Refrigerators, microwaves, flat-screen TVs, and coffeemakers are standard in all rooms.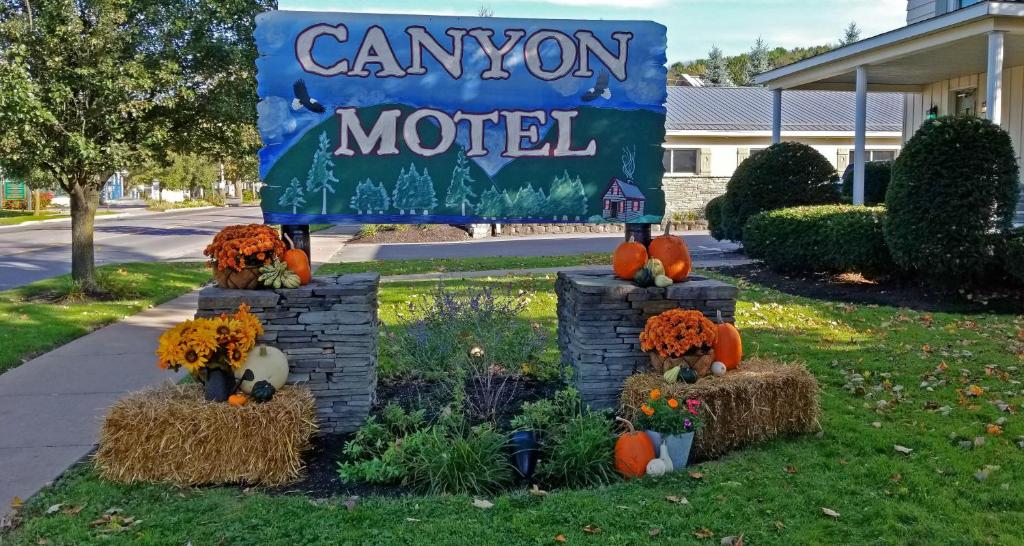 La Belle Auberge Bed & Breakfast
A Belle Auberge is a grand Victorian home, a B&B, and a full-service spa.
Wellsboro's gas-lit boulevard is only a short walk away.
The Rails to Trails biking trail and the Pennsylvania Grand Canyon are only a short drive away.
The Old Wellsboro Post Office is six minutes away, while Packer Park is eight minutes away.
The hotel's four luxuriously designed rooms contain antiques, rich hues, and luxurious furniture.
Electric fireplaces and cable TV are available in every room; some have jacuzzi tubs; two have private balconies.
Eat breakfast on your terrace or the wraparound porch, surrounded by the lush garden, at the hotel's home-cooked breakfast service.
Coach Stop Inn & Tavern
A decent but straightforward motel on Route 6 near Wellsboro is called the Coach Stop Inn and Tavern.
It's adjacent to Pine Creek, making it a good choice for a Grand Canyon hotel in Pennsylvania.
Colton Point and the Pine Creek Rail Trail are just a short drive away at six miles each.
Twenty-three miles separate you from Interstate 99.
The motel rooms have flat-screen televisions and complimentary WiFi.
They also microwave ovens, minifridges, tea and coffee making facilities, and other conveniences.
With a kitchen and a couch bed, a stone cottage may sleep up to four people.
There is no charge for parking.
Its outdoor swimming pool and a bar serve barbecued meats.
The first level of the inn has a restaurant and bar, as the name suggests.
Penn Wells Lodge
Just a few steps away from the Penn Wells Hotel, you'll find the contemporary Penn Wells Lodge, which has everything you might want in a comfortable hotel room.
Despite the absence of the hotel's historical allure, the rooms are rather pleasant.
In addition, there is a fantastic pool on the property.
Even though Penn Well Lodge isn't a well-known hotel, it is the nearest lodging option in the vicinity of Wellsboro.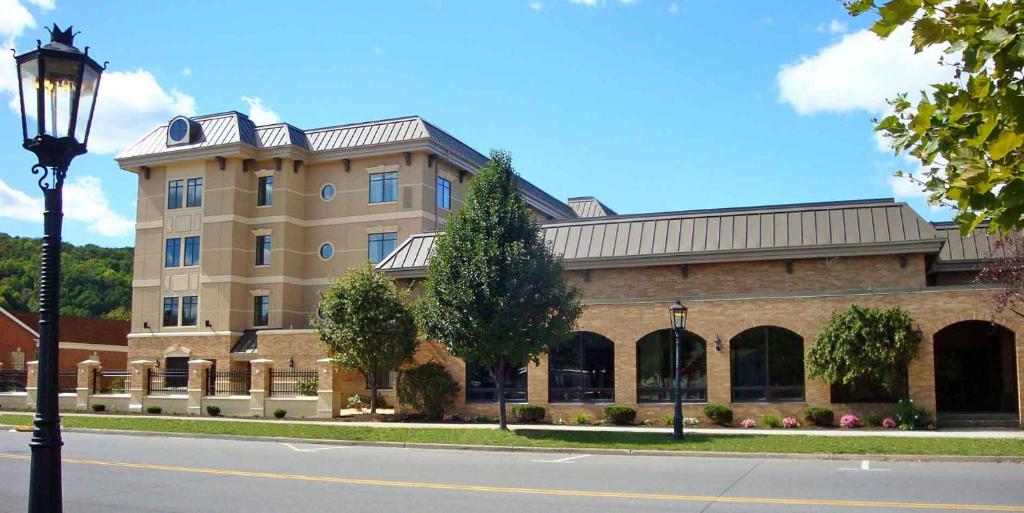 Colton Point Motel
Thirteen miles from Wellsboro, the Colton Point Motel is convenient for all of your favorite pastimes.
A total of 14 rooms are available at its rustic rural lodgings, all of which include comfortable living quarters complete with all the necessities.
Breakfast and coffee are available for purchase in its dining area.
That will certainly get you going on your day of exploration.
If you're looking for an opportunity to catch and release fish, you'll find it here.
It features a sandy beach for swimming and paddle boats.
There are walking paths, a horseshoe pit, gas grills, fire pits, and plenty of areas for picnics and ball activities.
It's pet-friendly, too!
Pets are welcome; however, there is a charge per night per pet.
Grand Canyon Motel Resort & Campground
Rooms at the PA Grand Canyon Resort are clean and pleasant, and the air is free of pollution.
There are king beds, queen beds, and even kitchenettes in some of the accommodations.
Coinless payphones, satellite TV/VCR, a refrigerator, a microwave, a coffeemaker, and air conditioning are standard in every room.
For those who want to dine and drink after their day of hiking, the park also has restaurants and a bar.
Terrace Motel
The Pennsylvania Grand Canyon is a short drive from the Terrace Motel in Wellsboro, only two blocks west of Route 6 from the city center.
Vacations, fishing, hunting, hiking, motorcycling, and the Dickens of a Christmas are just some of the activities you may enjoy here.
Its newly rebuilt facility features large, clean rooms, hotel apartments, suites, and cabins.
Complimentary wireless Internet is available in all of its accommodations and at the restaurant next door and various other amenities.
Old Wellsboro Inn Bed and Breakfast
Downtown Wellsboro is approximately 20 minutes on foot from this bed and breakfast.
Nearby Woodland Park, the hotel is a 25-minute walk from there.
Separate toilets, a dining space, and individual temperature control are all provided for guests.
In the restrooms, there is a dryer, robes, and towels.
The hotel offers complimentary wireless Internet access to all guests.
There is free, on-site parking available for private vehicles.
The Old Wellsboro Inn extends a cordial invitation to stay with us.
Construction on this magnificent home began in 1821, and it functioned as the town's original Stage Coach Stop and Tavern until 1902.
The inn's beauty and comfort have lasted over two centuries.
Bear Mountain Lodge
This quaint rural resort is only five miles from Pine Creek Gorge and seven minutes from downtown Wellsboro.
There are four cozy rooms with air conditioning, televisions, private toilets, and Keurig coffeemakers.
Free WiFi and a private hot tub or whirlpool tub on a veranda with forest views are standard amenities in each room.
Its sitting area creates a log cabin feel.
In addition to complimentary minifridges filled with yogurt and bottled beverages, a daily breakfast basket includes muffins, fruit, and other small goodies.
Each accommodation has a daily discount coupon for a local restaurant.
Bear Meadows Lodge
At Bear Meadows Lodge, the fun times never end, no matter what time of year it is.
It's a big room with a great outlook.
Go hiking in Pennsylvania's Canyon Country, then relax in peace on your porch or in the warmth of your lodge room after a long day.
The private balcony is the most excellent aspect of each accommodation.
The terrace is a great place to start your mornings, and it's a great place to finish your nights, watching the birds and other animals.
Every day, the hotel's charming staff makes sure your room has an ample supply of treats.
131 Main Guest House
131 Main Street stands in the middle of downtown Wellsboro, which is a great area.
It has original full-length windows and other fantastic architectural characteristics.
It's only a short walk to restaurants and stores, and you can cruise the gas lights on the avenue and relax on its porch or in its front room.
Only two rooms are available at this inn, each with a king-sized bed, a private bath, quiet air conditioning, a flat-screen TV, and free WiFi.
Back in the Day Guest House
The Back in the Day Guest House is only a short walk from the historic and gorgeous downtown area of Wellsboro and just a short drive from Pennsylvania's Grand Canyon and Tioga State Forest.
A bungalow-style property with two rooms and a kitchenette complete with all the essentials is available for rent.
This 1,200-square-foot guest home is ideal for the solitary explorer, couple, family, or business visitor who desires a more comfortable lodging option than a hotel room.
Other Places to Stay Nearby
Microtel Inn & Suites by Wyndham Mansfield
In Mansfield, Microtel Inn & Suites by Wyndham Mansfield, Pennsylvania, is 17 minutes from Wellsboro.
This motel is within 7.2 miles (11.6 kilometers) of Hills Creek State Park and 12.6 miles (20 kilometers) of Endless Mountains.
Breakfast is offered from 6 a.m. to 9:30 a.m. on weekdays and from 6:00 p.m. to 10:00 a.m. on weekends.
All the hotel's 85 bedrooms have flat-screen TVs.
The hotel includes free WiFi access, as well as cable television programs.
Complimentary hygiene kits and hair blowers are available in the restrooms.
Desks, coffee/tea makers, and telephones are among the amenities available.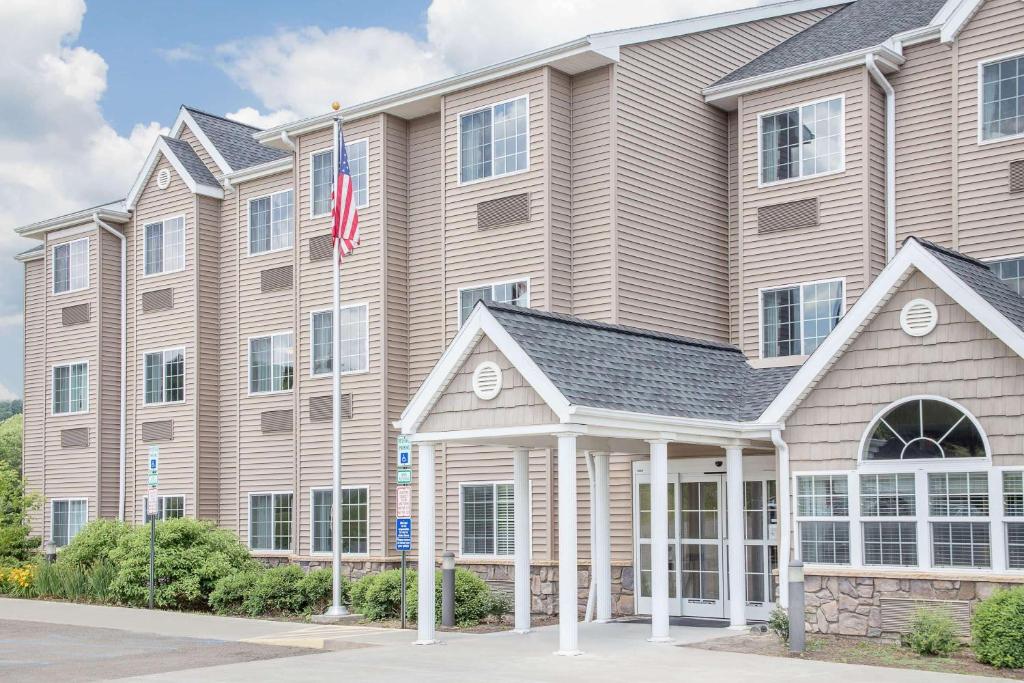 Hampton Inn & Suites Mansfield
Hampton Inn & Suites Mansfield stands 12.5 miles (20 kilometers) from Endless Mountains and 14 miles (23 kilometers) from Armenia Mountain.
It is just a 17 minutes' drive from Wellsboro.
The Hampton Inn & Suites Mansfield guests may stop by the on-site convenience shop for a snack.
Come to the bar/lounge and enjoy your favorite beverage.
It also serves complimentary breakfast for your comfort.
Refrigerators and microwaves are available in each of the hotel's 83 rooms.
With cable TV and free wireless Internet, you'll never miss a thing.
Quality Inn & Suites
Also, 17 minutes' drive away from Wellsboro, Quality Inn & Suites in Mansfield stands about 7.5 miles (12.1 kilometers) from Hills Creek State Park and just 12.5 miles (20.1 kilometers) from Endless Mountains.
Come to the bar/lounge and enjoy your favorite beverage.
Breakfast is available from 6:00 a.m. to 10:00 a.m. every day.
The hotel's 100 air-conditioned rooms have conveniences, including refrigerators and microwaves.
The hotel has a free wireless Internet connection, and each room has cable television for your amusement.
There are complimentary amenities and hair dryers in the bathrooms of private rooms.
The Woods
The Woods Bed & Breakfast, twenty minutes away from Wellsboro, is a Pennsylvania bed and breakfast that caters to the needs of business travelers and vacationing couples alike by providing exquisite and peaceful rooms.
The Woods Bed & Breakfast stands in one of the most extensive wilderness areas between New York and Chicago, near the Grand Canyon and magnificent wilderness regions of Pennsylvania.
One of the best places to stay in Tioga County, Pennsylvania, is this bed and breakfast, surrounded by spectacular scenery, including changing seasons, stunning sunsets, and wildlife in all its forms.
Final Thoughts
It's hard to believe that Wellsboro hasn't changed since the days of the Grand Canyon.
Despite this, there are still enough activities to keep you and your family busy and entertained, as well as a unique charm that will offer you and your loved ones both tranquility and adventure.
Make the most of your time in Wellsboro, Pennsylvania, by booking a hotel today.
✍️
Find out more about Travel Lens and read our editorial guidelines
here
.