15 Best Hotels in Kansas City, MO
Kansas City might be the largest city in Missouri, but it is so much more than that!
Two cities – Kansas City, KS, and Kansas City, MO – come together across the dividing Missouri river to form the Kansas City metropolitan area.
The city was noticed in 2001 by the world, especially because of the Kansas Speedway and then Village West.
And to handle this crowd frequenting the ultimate destination for sports and shopping lovers, Kansas City offers the most unique and best of hotels to cater to your needs!
Now let's look at the 15 best hotels in Kansas City.
Affiliate Disclosure: As a Booking.com affiliate, I earn a small commission when you book through links on this page.
Hilton President Kansas City
Make your way downtown, and you'll stumble across this majestic and vintage hotel, Hilton President!
A proud establishment of Hilton Hotels & Resorts, it has been around since 1926 and is also recognized by Historic Hotels of America.
The hotel provides fancy yet comfortable guest rooms and suites, featuring soft bedding, coffeemaker, HDTV, and free Wi-Fi.
As a guest, you can take advantage of the well-equipped fitness center, the business center, and the number of meeting rooms.
More importantly, this charming hotel has an on-site restaurant, including Drum Room Lounge, Providence, Walnut Room, and the local-favorite Starbucks Coffee Bar.
With its convenient location, impressive amenities, and comfortable stay, the hotel is a great choice!
The Raphael Hotel, Autograph Collection
The Raphael Hotel, Autograph Collection is Kansas City's original luxury boutique hotel, dripping with European style and charm.
There are more than 120 rooms and suites, characterized by modern amenities and contemporary décor.
The hotel also comes with a restaurant, Chaz Restaurant and Lounge, promising an exciting menu and live entertainment.
As if this isn't impressive enough, the hotel also provides several amenities, including cleaning services, an on-site market, service front desk, ATM, fitness center, and conducive meeting space.
The Raphael Hotel is, as you can see, simply amazing!
Crossroads Hotel
What makes Crossroads Hotel stand out among all Kansas City hotels?
The answer lies in the fact of how it brings together the modern and history to provide the best of the experiences for you!
The rooms and suites are rather impressive, equipped with different types of comfortable bedding, complimentary Wi-Fi, a working desk, and so on.
Replenish yourself at the hotel's restaurant, Lazia, rooftop bar, Percheron, and XR, a café.
What is even more exciting about the hotel is its gallery – filled with beautiful art from local artists – which is all free for you to explore.
Not only that, but it also offers an artist-in-residence program, a running club every Wednesday, yoga classes, and some similar community activities!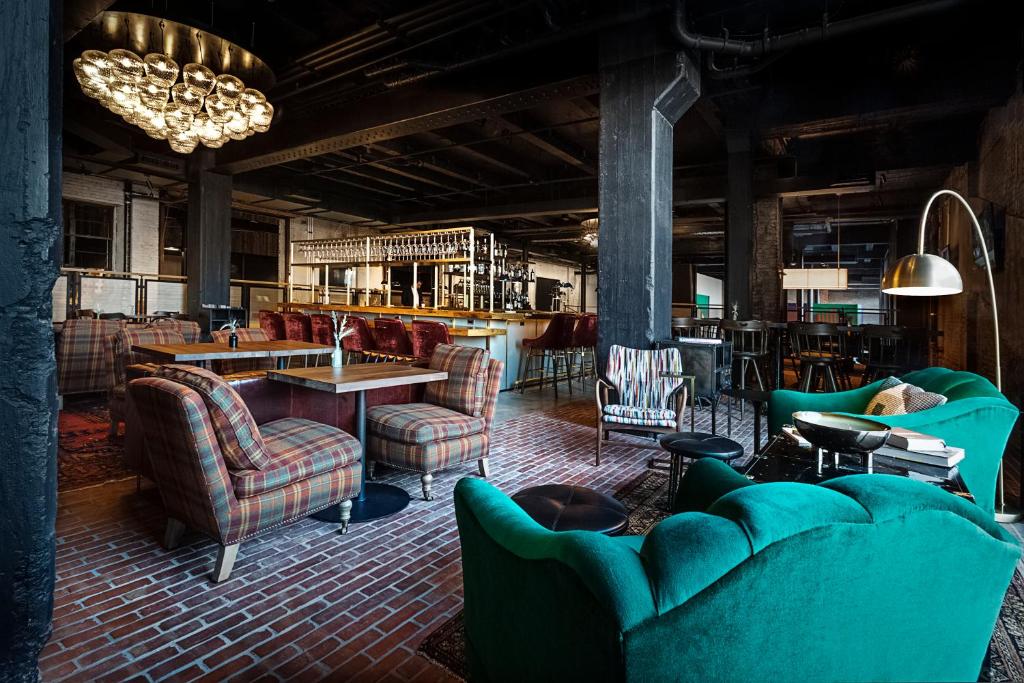 The Fontaine
Nestled in the heart of Kansas City is this beautiful hotel, known as the Fontaine.
It is a simple and sophisticated stop, ideal for every kind of tourist!
With marble floors, tile mosaic on the floor, and Renaissance artworks all around, the hotel is simply a dream to live in.
More than 130 guestrooms and suites are available for you to occupy, all adorned with necessary fixtures and sprinkled with artworks.
You can dive in their rooftop swimming pool, make use of their business center and work up a sweat at their fitness center – the amenities are endless!
The dining options are just as impressive, including the Bar | Lounge, Nine Zero One Igloo Bar, and Solarium Espresso Bar.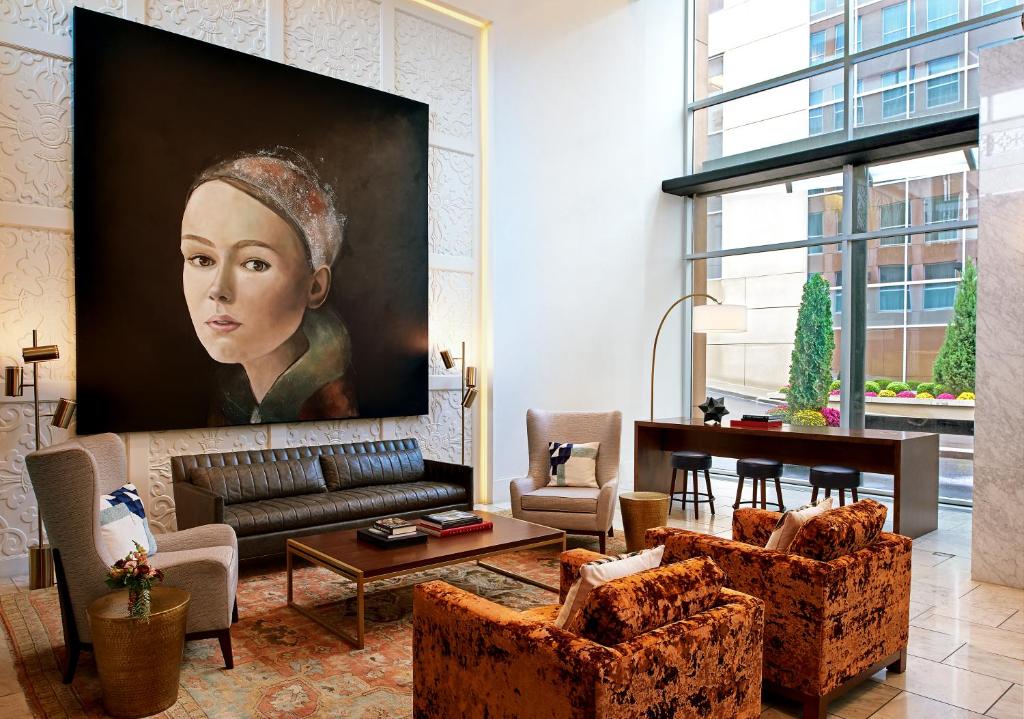 Argosy Casino Hotel & Spa
You don't have to travel to Las Vegas to enjoy the casino – Kansas City got you all covered.
Argosy Casino Hotel & Spa is an award-winning hotel that features one of the most exciting gaming floors you'll ever come across.
But that's not all, as the hotel also provides the facilities required for a perfect stay, including guest rooms, dining options, and a spa even.
The rooms are well-equipped with premium bedding, a private bathroom, a little workspace, in-room massage, and a coffee/tea maker.
The spa is equally amazing, offering different services and customized packages for your benefit.
More importantly, there are five different dining spots on the premises, not failing to serve delicious dishes.
A full package, indeed!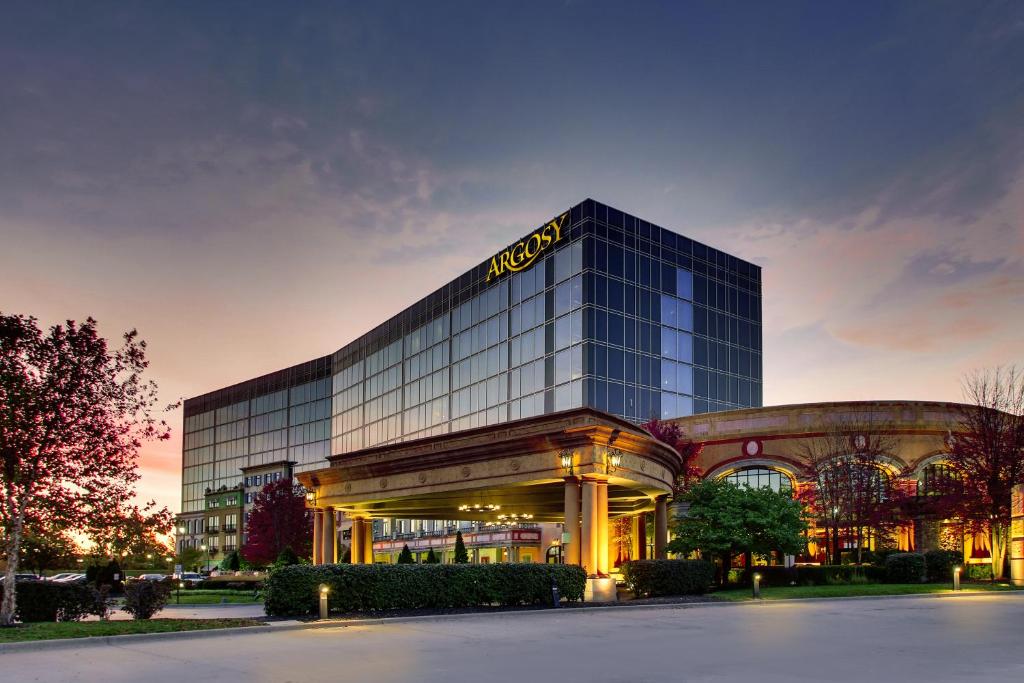 Sheraton Kansas City Hotel at Crown
Featuring contemporary guestrooms, exciting facilities, and top-notch dining, Sheraton Kansas City Hotel is one of the best the city has to offer.
The living quarters are filled with premium bedding, a comfortable workspace, a mini-fridge, and a coffee maker.
Spectators, the hotel's signature restaurant, is always ready to serve the best local dishes and barbecue as well.
The Sheraton is hooked up with free high-speed Wi-Fi and also offers several amenities, including a concierge desk, vending machines, on-site laundry, car rental, fitness center, golf course, heated outdoor pool, and biking and hiking trail.
And as if that's not impressive enough, the hotel is also surrounded by many restaurants, shops, and entertainment options!
Hotel Phillips Kansas City, Curio Collection by Hilton
Hilton's Curio Collection is filled with premium hotels, all of them offering the best experiences – and Hotel Phillips happens to be one of this prestigious collection.
Located in the downtown area, the hotel is heaven to stay in, especially for art lovers.
It was established in 1930, with every nook and cranny boasting of the vintage art deco style.
The guest rooms and suites are filled with necessary yet modern amenities, all in place to make your stay comfortable.
The on-site restaurants - P.S. Speakeasy and Tavernonna Italian Kitchen - are something you shouldn't miss out on!
What's more, you can also take full advantage of the business center, meeting rooms, and the fitness center that they provide.
InterContinental Kansas City at the Plaza
InterContinental Kansas City at the Plaza is amazing for many factors.
More than 350 guestrooms and suites await you here, filled with tasteful décor, luxurious amenities, and comfort.
The hotel is also ready to satiate your stomach with their local-favorite restaurant, American Slang Modern Brasserie, and seasonal pool bar.
The hotel's services are many, some of them being a well-equipped business center, daily housekeeping, laundry valet, a fitness center, an outdoor pool, and pet-friendly policies.
And since it's situated in the Country Club Plaza, the hotel is just inches away from the exciting shops, restaurants, and eateries as well as entertainment options!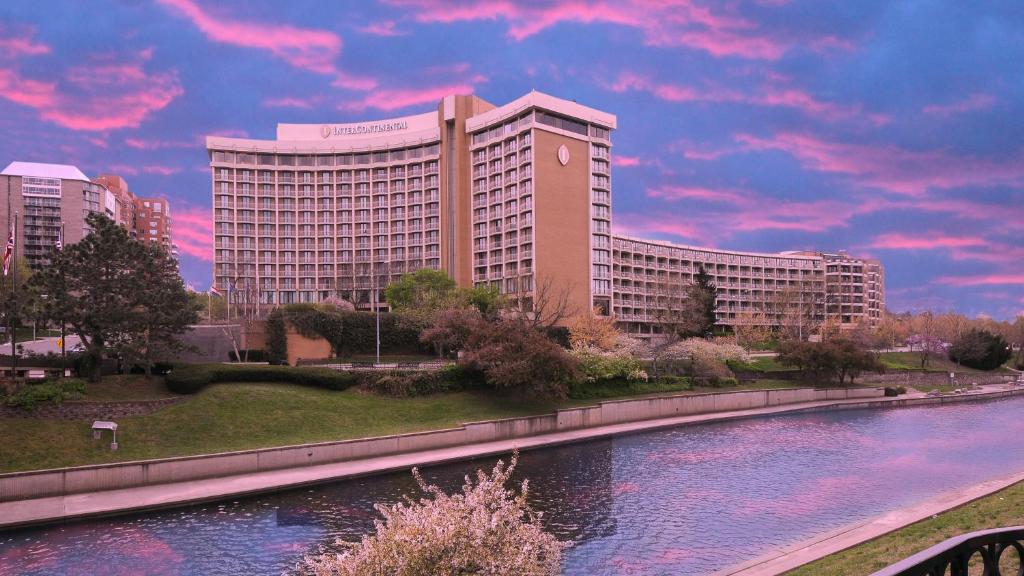 Aladdin Holiday Inn
Aladdin Holiday Inn has been around since 1925 – and is still galloping strongly towards its century mark!
Don't mistake the hotel for having Disney's Aladdin theme; the boutique hotel is themed around history, showcasing a mix of vintage Art Deco, with a little bit of modernity thrown in.
Another plus point is how conveniently located it is, with many tourist spots situated at arm's length.
The rooms are modern yet artistic and stocked with amenities.
There is also a fitness center, private parking, a lounge, a business center, a banquet room, and an on-site restaurant!
Counted as one of the National Register of Historic Places, this historic establishment offers all the contemporary comfort any visitor would need.
No Vacancy
Don't judge it over its name – No Vacancy, in fact, has a vacancy for the tourists!
The hotel is a locally-owned one and rather popular for all sorts of celebrations, including receptions, bachelor parties, and weddings, among others.
There are eight rooms in total, all different from each other but equally beautiful.
No Vacancy is also up for full buyout, where you get to rent the hotel all to yourself, in case of a large-scale get-together!
Some of the studio rooms come with kitchenettes; along with that, you get 24-hour access to their picturesque Lounge and the Inner Courtyard, as well as high-speed Wi-Fi and other toiletries.
No Vacancy is a great choice, catering to your basic needs and then some more.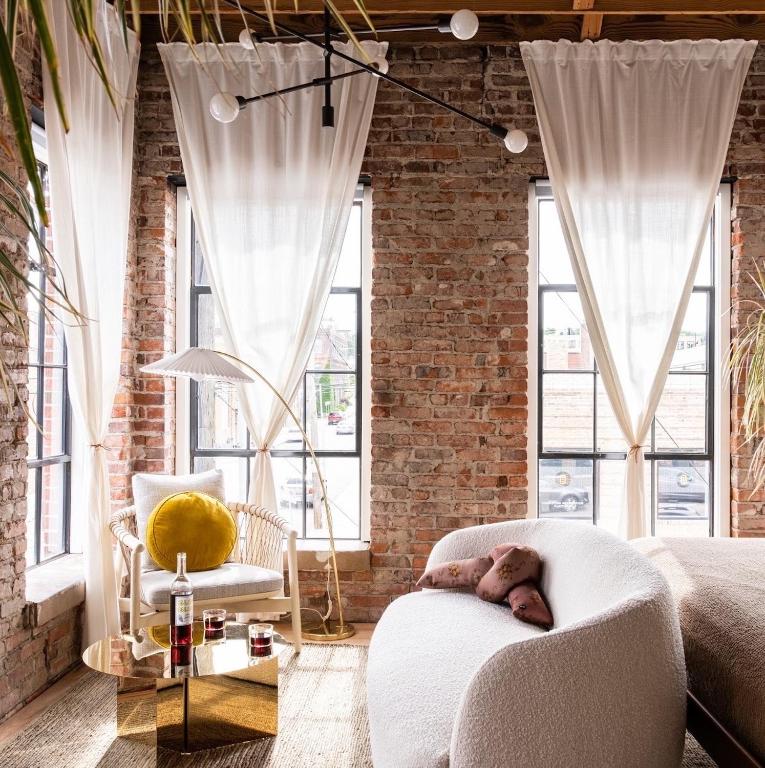 Ambassador Hotel Kansas City, Autograph Collection
Ambassador Hotel in Kansas City might have been established in 2012, but it has become one of the most preferred hotels in the city.
This hotel – a part of Marriott's Autograph Collection - has been nominated for a plethora of prestigious awards.
It boasts of having the most luxurious of guestrooms, complete with comfortable bedding, minibar, and several facilities.
The hotel's two restaurants, The American Reserve and Lonnie's Reno Club, are the perfect destinations to unwind, with its inviting ambiance, an exciting menu, and delicious wine and cocktails.
You can also take advantage of the concierge services, an event space, a jazz lounge, a fitness center, catering facilities, and the necessary high-speed Wi-Fi service!
The Westin Kansas City at Crown Centre
Don't think about Kansas City's the Westin as just one from the usual hotels' chain you see around the globe because it is so much more than that!
This Westin goes one step forward; its convenient location in the Crown Center gives you access to many exciting things, including shops, theatres, and restaurants.
Inside the hotel, you get access to a concierge desk, vending machines, a beauty shop, a fitness center, and a heated outdoor pool.
The spacious hotel rooms provide a nice contrast to all the excitement outside, providing comfortable bedding, fireplace, mini-fridge, and a wet bar, among others.
You also get to enjoy the delicious menu at the One East Urban Bar + Kitchen, as well as enjoy the Bar-B-Q and picnic/area to your heart's content!
21C Museum Hotel Kansas City
21C Museum Hotel is more unique than the rest of the hotels of Kansas City.
Why?
Because it combines the charm of a boutique hotel with that of a modern art museum, standing in the place of the former Savoy Hotel and Grill building.
There are more than 100 rooms you can choose from, all of them featuring modern furnishings as well as original artwork, high ceilings, and large windows!
The hotel also offers one of the best restaurants in the city - The Savoy, the oldest eatery in the west of the Mississippi and a local favorite ever since.
But what lures the tourists most is the museum-like setting - stained-glass windows, original vintage fixtures, curated exhibitions, and local artworks all around!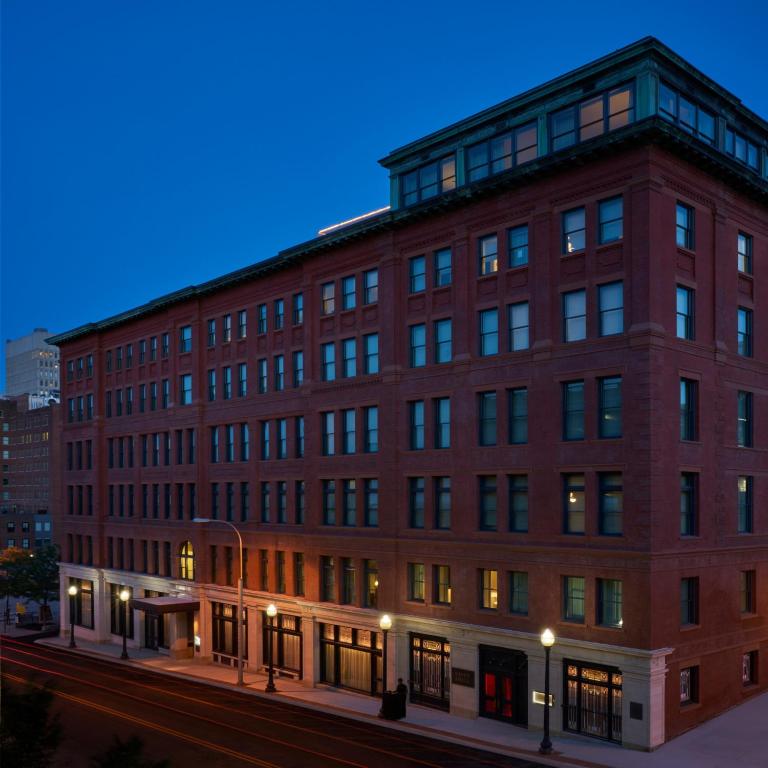 The Hyatt Place Hotel
Nestling comfortably in the popular Overland Park is this amazing hotel, The Hyatt Place.
The location is especially exciting and inviting, surrounded by different tourist spots and barbeque restaurants.
The guestrooms are designed to provide you with the utmost comfort, featuring premium bedding, HDTV, sofa-sleeper, and complimentary amenities.
The hotel also provides access to an outdoor pool, a fitness center, free parking, business and meeting services!
And tourists with pets can breathe too because the establishment is perfectly pet-friendly.
There are also a handful of dining options, such as the Breakfast Bar, which serves a selection of delicious items as a free breakfast during your stay; and The Placery, which provides a lip-smacking menu and the Market, full of grab-and-go food items.
The Elms Hotel & Spa
Admittedly, the Elms Hotel & Spa is half an hour away from Kansas City, but that doesn't stop the tourists from residing here when visiting the city.
The hotel was established in the late 1880s and promises comfort and warmth to the visitors, executed meticulously through the experiences they provide.
The living spaces are rather elegant, stocked with necessary amenities, whereas the food served by the on-site restaurants – Café at the Elms, Tavern, and 88 at the Elms – is scrumptious!
More importantly, since it is located in Excelsior Springs, the visitors get to enjoy the healing mineral waters at the spa, including hot tubs, a steam room, a lap pool, and a spa boutique.
The Elms is living amidst peace personified!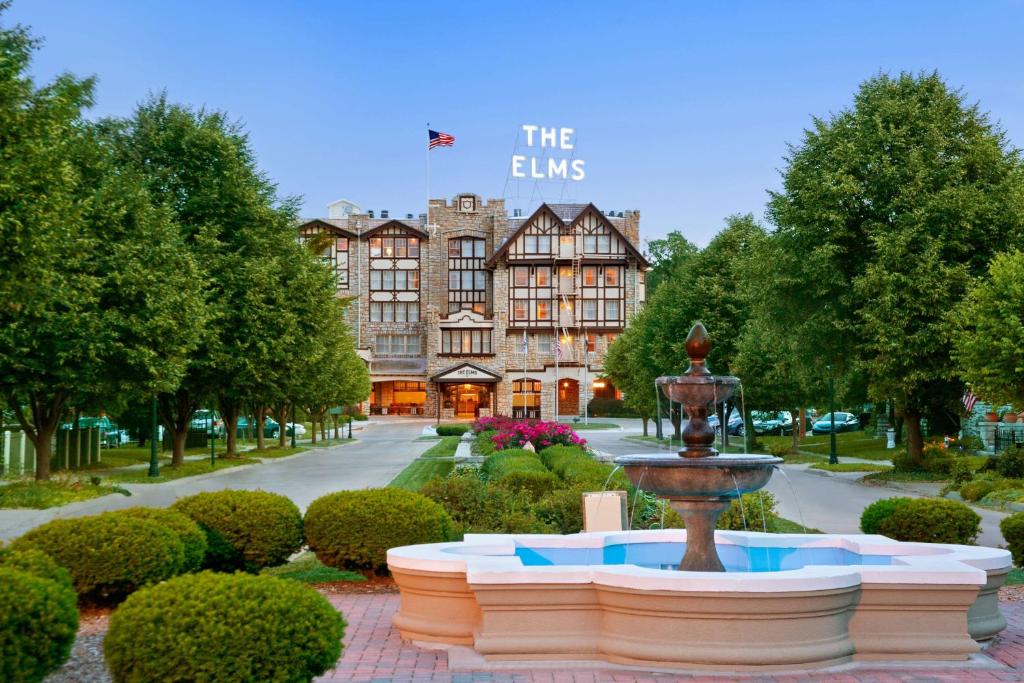 Final Thoughts
Choosing the most suitable hotel for you is very pivotal in how your trip goes.
And all the hotels mentioned above do just that – facilitating a smooth trip to Kansas City!
The hotels, as you can see, are sure to provide the best of customer service to their guests – all you have to do is kick back and enjoy your time!
Discover More of Jackson County, MO
Things to Do in Kansas City, Missouri
Restaurants in Kansas City, MO
Things to Do in Independence, MO
✍️
Find out more about Travel Lens and read our editorial guidelines
here
.