15 Best Hotels in Cupertino, CA
If one were to look closely, one would find that there's a lot more to the city of Cupertino, California than just tech innovation.
Located in the heart of Silicon Valley — and home to Apple Park and many global headquarters — Cupertino is a seriously underrated vacation prospect.
Endless entertainment options and quaint outer suburbs with lush mountains await travelers at this multifaceted destination.
It only takes a short weekend trip to uncover all of this Cupertino's best-kept secrets.
And all your vacation planning starts with choosing the right hotel for your stay!
Here, we have listed 15 of Cupertino's best hotels and what you can expect from their overall experience as a traveler!
Affiliate Disclosure: As a Booking.com affiliate, I earn a small commission when you book through links on this page.
Juniper Hotel
Located in a prime location right within the city center, the Juniper Hotel is the go-to choice for travelers looking to stay close to all major transport hubs and Cupertino landmarks.
The Apple headquarters are less than a mile away, while the Levi's Stadium and San Jose Airport are only a 20-minute ride away.
The hotel offers plenty of modern entertainment options, including a fine-dining eatery, a fitness center, and an outdoor pool.
That and curio collection rooms, all housed in a grand complex overlooking the valley.
Cupertino Hotel
A quintessential business hotel, the Cupertino is everything that you'd expect from a posh Silicon Valley accommodation.
With its central location, modern design, state-of-the-art amenities, and an out-and-out luxury experience, the hotel will ensure that guests will have an unforgettable experience in the city!
Cupertino Hotel's spacious and elegant rooms and suites — with the very modern granite countertops and vanity mirrors — make for a comfortable setting not only for business trips but also for a luxury holiday to the Bay Area.  
Complimentary breakfasts and shuttle services are added bonuses.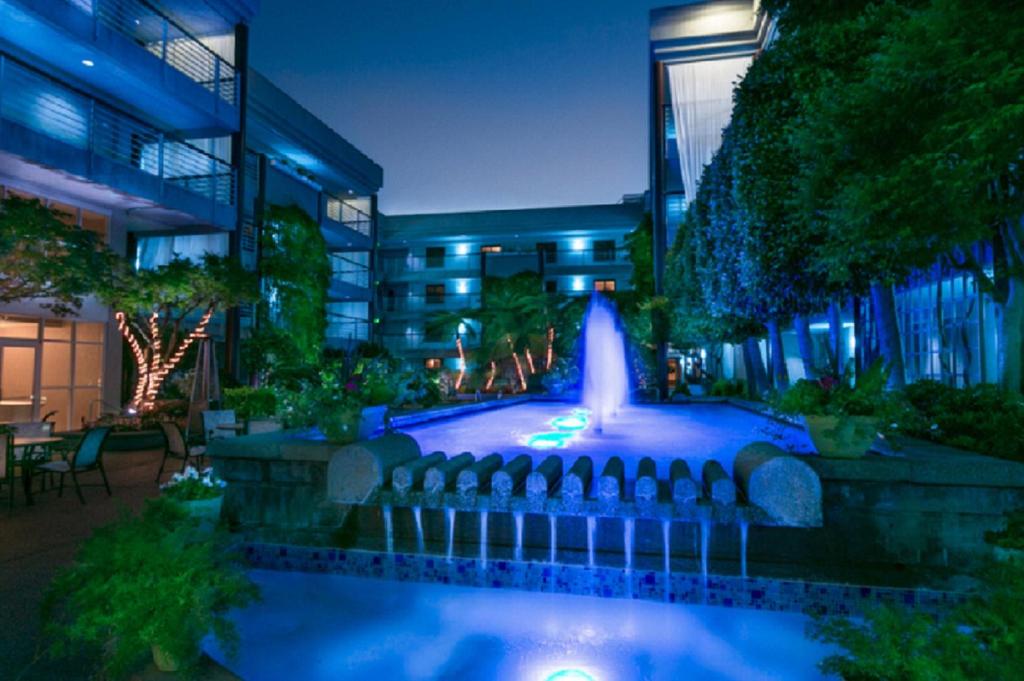 Aloft
Another popular choice for business travelers flying into Cupertino is the Marriott boutique hotel, Aloft.
The accommodation here offers minimalist-designed rooms, some of which come with their own workstations as well as mountain-facing family suites.
The hotel's location atop Santana Row ensures that you're always in the mix of things.
The Santan Row is the hub of the city's ever-growing gastronomy, and the surroundings are lined with some of the busiest restaurants.
The hotel's own diner and bar list are amongst Cupertino's very best, so you'll have plenty of options to choose from!
Courtyard San Jose Cupertino
The Courtyard San Jose Cupertino offers you a business hotel experience with its resort-like appeal.
Hotel rooms are comfortable and offer all amenities you'd expect from high-end accommodation.
However, the real draw at Courtyard San Jose Cupertino remains the vast outdoors.
The hotel complex has a charming backyard with outdoor pools and is lined with palm trees, adding a tropical vibe to the largely brick-and-mortar complex.
There are few other you'd want to be on a lazy evening.
Hyatt House Cupertino
Centrally located, Hyatt House Cupertino offers easy access to all major city landmarks.
What's astounding about this hotel is its sheer number of suites to choose from.
Staring from standard double beds rooms to a single bedroom and kitchen studios to luxury suites, the range is truly impressive.
The modern design and top amenities in the offing make all the 300 suites much more appealing.
Wild Palms
Flashier than most others, but not in an overbearing sense, Wild Palms is your ideal option for a luxury stay in Cupertino.
Bungalow-style rooms — with curated pieces and designer furniture — blend seamlessly with the hotel's relaxed island-style design, making it the go-to choice for travelers looking for a bit of a getaway.
The expansive property around the hotel complex allows plenty of room for other attractions.
Prominent amongst Wild Palm's added perks are the two courtyard gardens, a heated swimming pool with poolside cabanas and sunbeds, and a well-equipped fitness center.
Hilton Garden Inn
If you're looking to ditch the glitzy business hotels in favor of a more homely abode, the Hilton Garden Inn might just be the right pick for you.
Housed in a massive mansion with outdoor pools and an airy room that come with private tubs, this is the perfect place to enjoy a laid-back trip to Silicon Valley.
And you do not have to worry about giving up the privileges of putting up in a city center hotel, as Hilton Garden Hill is located in a prime location, only about a 10-minute drive from Apple Park.
All other major city landmarks are a stone's throw away as well, so you get the comfort of a quieter holiday without having to travel too far out of the city.
Bella Vista Inn
The Bella Vista Inn is also famous for a more intimate stay in Cupertino, slightly away from the bustling city center.
Running out of a beautiful single-story property, the hotel offers comfortable rooms that come with workstations and internet access.
Outside, you'll find plenty of room to relax around the lush lawn and an outdoor pool.
The sunbeds that sit beside the quiet poolside make for an ideal place for you to soak up the California sun during your lazy afternoons in the city!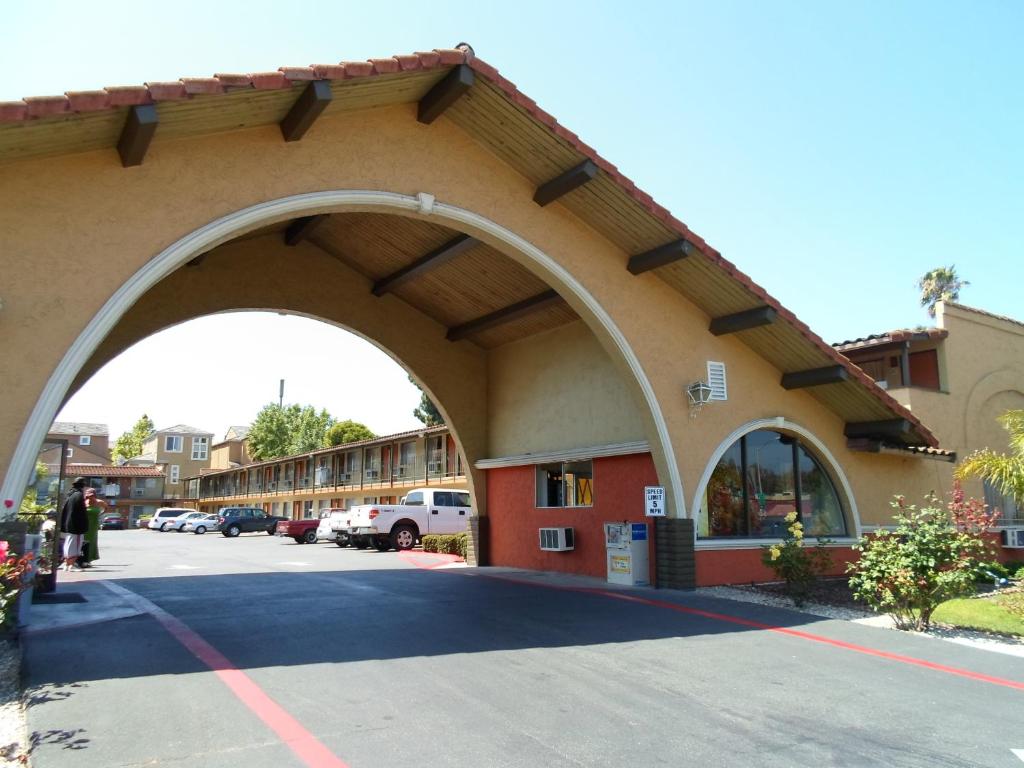 The Domain
Located at the junction of Sycamore Terrace and El Camino, The Domain's location offers accessibility not just to Apple Park but also to other major business venues, including the Googleplex and the Netflix headquarters.
Truly, it is a top choice for business travelers looking for a luxury stay.
Hotel suites and spacious and provide plenty of space to set up a makeshift office space.
The minimal natural themes that cover the lobby and rooms, world-class service, and sweeping views of Sunnyvale will help you relax.
As an aside, The Domain is also one of Cupertino's few pet-friendly business hotels.
Residence Inn Cupertino
For travelers looking for a relaxing place, the Residence Inn Cupertino is the perfect fit.
Located at the lively Main Street, the hotel — with its industrial facade — blends nicely with the neighborhood, known for its mixed-use space entertainment venues.
Residence Inn offers trendy studio apartments, most of which have kitchenettes.
Enjoy a complete Cupertino experience by shopping around the city center.
You can also head to the hotel's very own picnic/open-air barbeque area, a luxury right in the heart of the busy city center.
TownePlace Suites
If studio apartments and independent living are what you're looking for in your vacation to Cupertino, you might also want to turn to TownePlace Suites.
Located in the eastern part of the city — close to Saratoga Avenue — the laid-back hotel complex offers comfortability.
The studio apartments, most of which are complete with a small living and kitchen space of their own, come with additional shared spaces, including a dining area, a comfortable lobby, laundry rooms, and vast outdoor spaces with open-air grills for your afternoon barbeques.
AC Hotel by Marriott
Borrowing some of the free-spirited vibes from its predecessor on the list, AC Hotel by Marriott is another great option for travelers who want to socialize during their time in Cupertino.
The common areas, including the trendy bar and patio furniture lined across an outdoor fireplace, make for the perfect setting for casual get-togethers.
The rooms are spacious, which blend well with the quintessential relaxed vibe associated with the brand name.
The complimentary buffet breakfasts, high-end amenities, and hospitable staff added to the appeal.
Woodcrest Hotel
Pastel colors, walls, ocean themes, and shades of grey, the Woodcrest Hotel has a calming effect on you the minute you step on it.  
The rooms are airy and come in varied categories, from little rooms with dedicated workstation areas to the top-end penthouse suites.
The amenities provided by the accommodation are just as upmarket.
The Woodcrest hotel lounge will have your evenings covered with its selection of California wines and beers.
The landscaped courtyard, meanwhile, is sure to transport you to the French countryside altogether.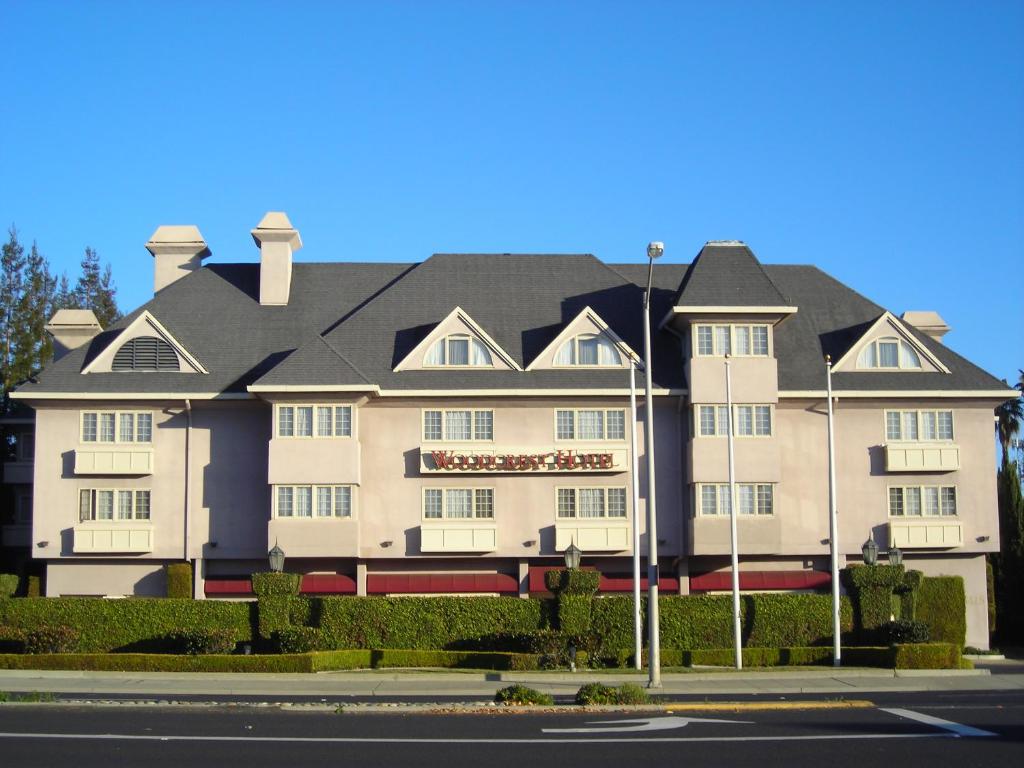 Homewood Suites
With its modern rooms laden with wooden flooring, contemporary furniture, and austere additionals, the Homewood Suites effuse an effortless charm.
The seemingly unamusing accommodation will surprise you.
Homewood Suites offers all the amenities that you'd expect from any luxury stay.
The fitness center, a lovely pool, a game room with a billiards table, and outdoor courtyards are all the things that'll make your time at the hotel complex worthwhile.
Best Western Inn
And for the last entry on the list, we bring to you the very American accommodation at Best Western Inn.
This tree-laden mansion-style hotel complex offers spacious rooms that come with workstations/small living-room areas, depending on your selection of categories.
You can also choose to relax around the common areas, including the diner, which serves big portions breakfast options of classic American delights and a European buffet comprising waffles and muffins.
The low-rise hotel complex overlooks its outdoor pool, lined with patio furniture and sunbeds.
And that's our complete list of hotel options from Cupertino.
Take your pick and get packing for your next vacation; Silicon Valley awaits!
✍️
Find out more about Travel Lens and read our editorial guidelines
here
.