15 Best Hotels in Capitola, CA
Capitola is a charming Monterey Bay city in the Santa Cruz Mountains, about 70 miles south of San Francisco.
It is well-known as the scene of a violent 1961 attack by domoic acid-poisoned shearwater birds, which inspired Alfred Hitchcock's iconic film The Birds.
Capitola is a major tourist destination; people from all over the world visit this beautiful city to enjoy a wide variety of modern seaside businesses, restaurants, and attractions as the West Coast's oldest resort.
The city offers a charming combination of colorful buildings, natural beauty, and surf culture, whether you visit Monterey Bay or admire the Santa Cruz boardwalk.
Affiliate Disclosure: As a Booking.com affiliate, I earn a small commission when you book through links on this page.
These are the best hotels in Capitola, California:

Best Western Plus Capitola By-the-Sea Inn & Suites
This award-winning central California hotel is centrally located in Capitola and offers excellent access to a range of local activities.
The hotel is conveniently located near Capitola Beach and Wharf, as well as ancient Capitola Village, which features unique boutiques, art galleries, and dining experiences.
In addition, the beach has all the ocean-related activities you might want, such as surfing, diving, boats, and whale and dolphin sightings.
Because of the moderate local environment, this place near Santa Cruz Beach and Boardwalk is ideal for enjoying the sea anytime.
Visit Best Western Plus Capitola By-the-Sea Inn & Suites and learn why this relaxing, smoke-free, and pet-free facility has earned a reputation for hospitality and friendliness!
Quality Inn & Suites Capitola By the Sea
You'll find all the facilities you expect as a business or holiday visitor at the Quality Inn & Suites Capitola By the Sea.
This hotel is perfectly positioned near beautiful beaches and the green Santa Cruz highlands.
The Santa Cruz Coastal Boardwalk, a vintage beach amusement park with over 40 attractions, namely the 1924 Giant Dipper roller coaster and the stunning 1911 Looff Carousel, is a terrific place to start.
Don't miss a tour of the University of California, Santa Cruz, if you're in town for a campus visit with a potential student.
The campus is amazing!
The Monterey Bay Aquarium, positioned on the ocean's edge, is a must-see.
After a long day, you'll go to your smoke-free room or suite for a comfortable night's sleep on soft, luxury linen.
Some rooms at the Quality Inn & Suites Capitola By the Sea include balconies and fireplaces.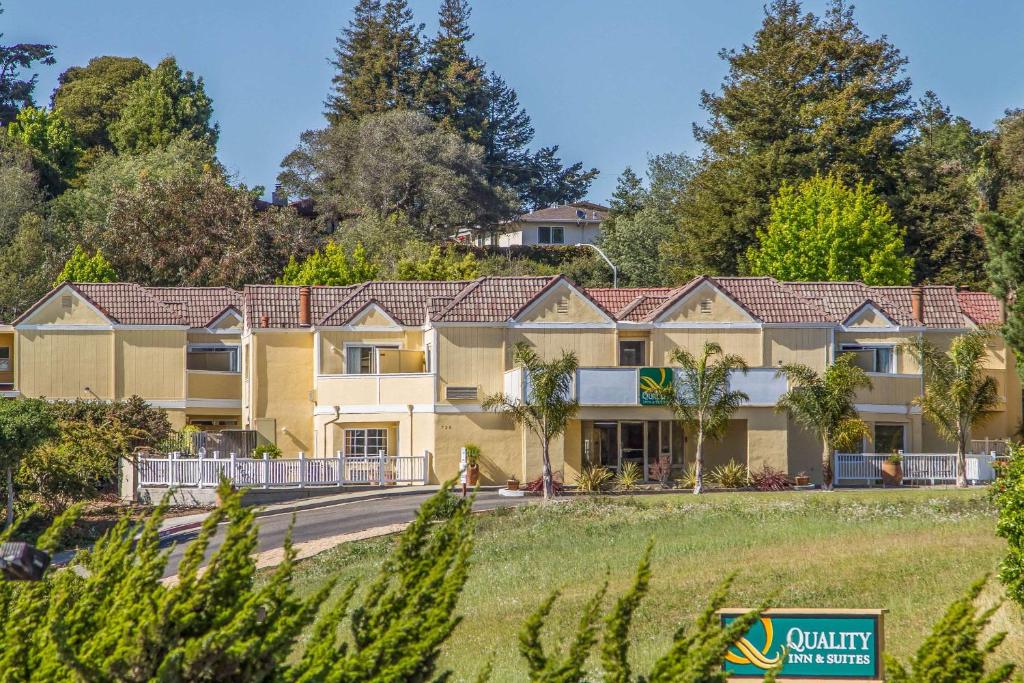 Dream Inn Santa Cruz
Dream Inn Santa Cruz, a renowned local attraction on the historic Beach Boardwalk, is a top choice for surfing, sunsets, and the tastiest seafood.
This full-service beachside property features 165 guest rooms and suites (all with ocean views) and an outdoor pool that steps out from the sand.
It also boasts a state-of-the-art meeting and event space for up to 200 guests, flawlessly enchanting longtime visitors with its vibrant colors and vintage look while delighting newbies who appreciate modern facilities and amenities.
Dream Inn Santa Cruz is a short walk or drive from some of Central California's most beloved state parks.
Explore the Big Basin or Nisene Marks forests.
Go to Club Ed's Surf Rentals on Cowell Beach to grab a surfboard or stand-up paddling equipment.
Cowells has moderate beginner-level waves.
Then, if you're feeling brave, head to Steamer Lane for the most fantastic surfing in Central California.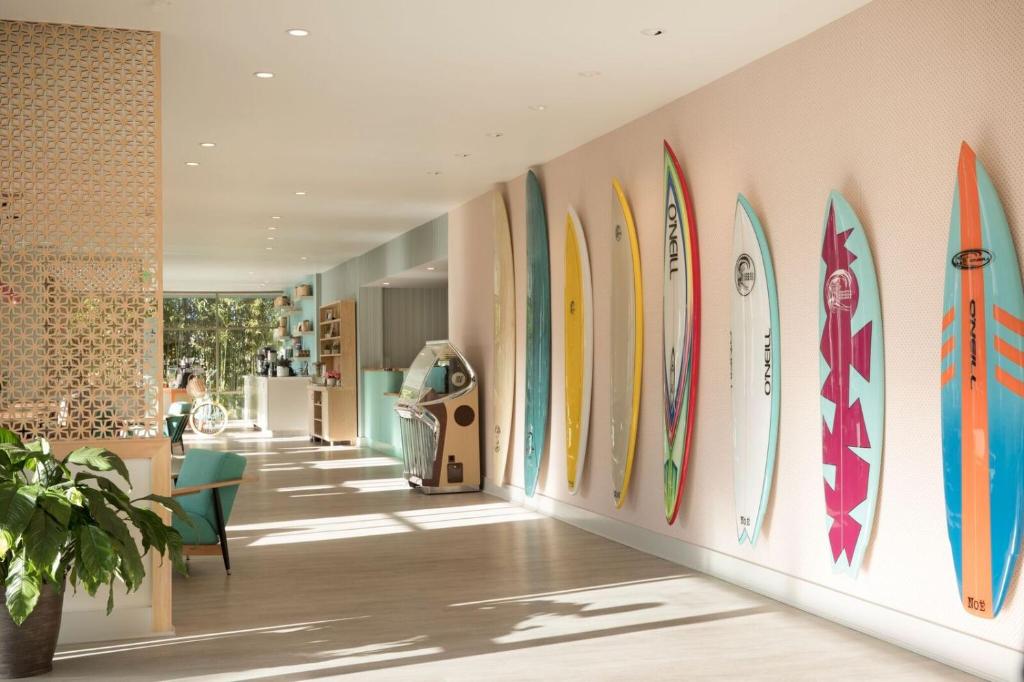 Capitola Venetian Hotel
Capitola's postcard-like image of brilliant pastel residences reminiscent of the Mediterranean shoreline is due to the Capitola Venetian Hotel's recognizable exterior.
The charming and lively hotel rooms have hand-carved Venetian doors with marine designs, views of the Pacific Ocean, and direct access to the warm sand.
The rooms and suites are only a short walk away from local galleries, boutiques, and restaurants.
Don't forget to visit a historical museum like the Capitola Historical Museum while in town.
The Capitola Venetian Hotel places the finest of Capitola right by your feet, ensuring a peaceful and delightful visit.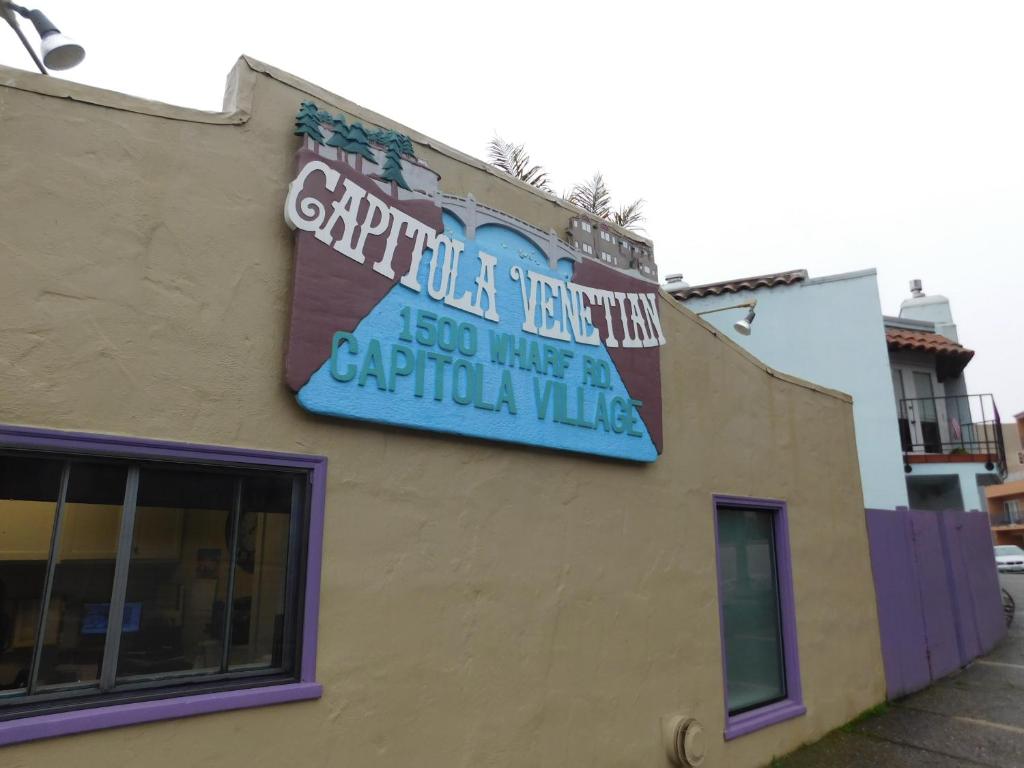 Fairfield Inn & Suites Santa Cruz - Capitola
The Fairfield Inn & Suite Santa Cruz - Capitola is a Mariott hotel nestled in Westside Santa Cruz, a rural neighborhood close to the ocean.
Shoppers can visit Ocean Street, while nature lovers can visit Monterey Bay or Henry Cowell Redwoods Park.
Also worth seeing are the Santa Cruz Beach Boardwalk and the Seymour Marine Discovery Center near Long Marine Laboratory.
Kayaking and scuba diving are excellent ways to go out on the sea, or you can seek adventure with neighboring ecotours and rock climbing.
Inn at Depot Hill
The Inn at Depot Hill, housed in a historic train depot, takes visitors beyond Capitola with amusing themed destination suites inspired by places like Paris, Portofino, Costa del Sol, and Kyoto.
Following a historic restoration in 1990, the hotel now provides 12 guest rooms and suites specifically built to replicate the elegant splendor of bygone eras of rail travel.
In-room fireplaces and luxurious bathrobes provide peace and relaxation, while Capitola's coastal hamlet is just a short walk away for additional excitement.
Every morning, guests at the Inn at Depot Hill can enjoy a complete gourmet breakfast served in the front lobby or brought directly to their room.
Enjoy wine and hors d'oeuvres in the afternoon, followed by a delectable homemade dessert in the evening.

Monarch Cove Inn
Monarch Cove Inn is situated on Capitola's historic Depot Hill.
The hotel, positioned on a coastal cliff, offers stunning views of Monterey Bay's curve.
The accommodations are set among floral beds and a monarch butterfly habitat.
Enjoy a delightful stay on this 2.5-acre estate, which features distinctively designed Victorian bedrooms and cottages that are a deliberate combination of past and now.
You can also take a trip through the Monarch Butterfly Sanctuary, which leads to New Brighton State Beach.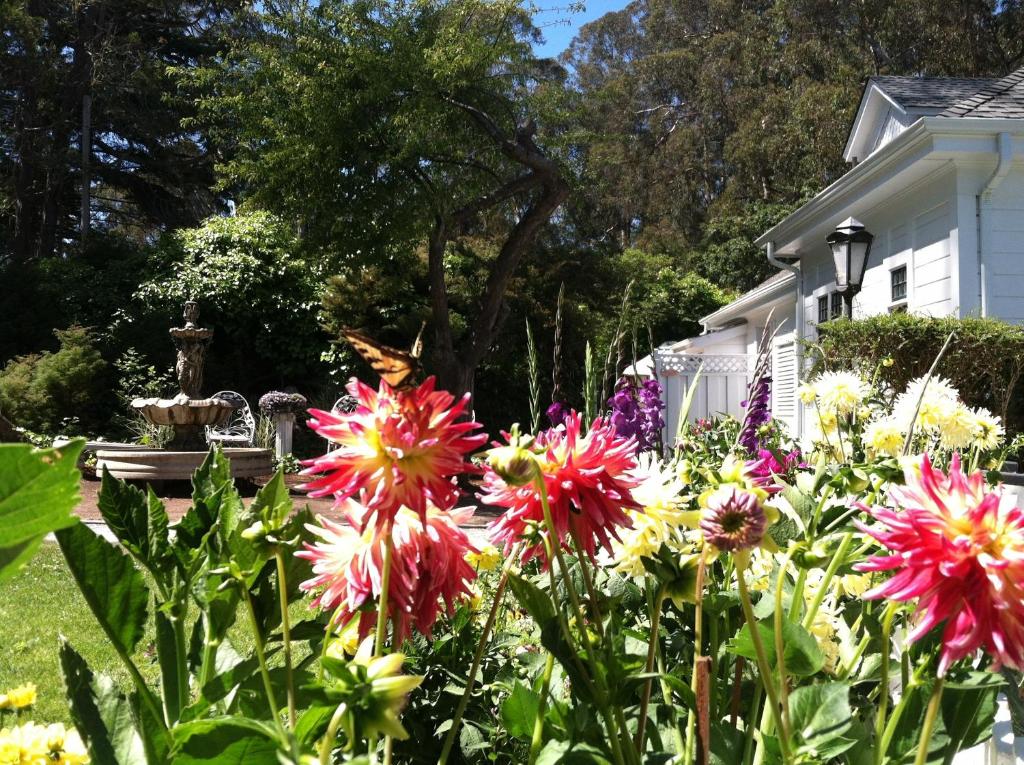 Aqua Breeze Inn
The Aqua Breeze Inn, an inexpensive pet-friendly hotel just a block from the lovely Santa Cruz coastline, wharf, and Beach Boardwalk entertainment complex, is ideal for your family's trip.
They offer a lovely place to rest after a long day of enjoying the beach and seeing everything the coastal town has to offer, with a range of clean, comfortable rooms that can accommodate up to eight people.
The Aqua Breeze Inn will make your stay a breeze, whether you're traveling on business or looking to have some fun in the sun.
Hotel Paradox, Autograph Collection
Hotel Paradox, Autograph Collection defies the usual Santa Cruz hotel experience with a strong combination of contradictions, striking the right balance between natural beauty with urban architecture.
The hotel promotes open dialogue and exploration, encouraging you to go beyond the obvious.
You'll see a distinct side of Santa Cruz here, with rocky mountains, gorgeous redwoods, and lively villages hidden in plain sight.
Head to the property's Solaire Restaurant + Bar for a one-of-a-kind outdoor nature experience, where you can eat around toasty fireplaces placed among backlit woods and starry skies.
Hire an electric bike or use Hotel Paradox, Autograph Collection's surfboard valet to wander beyond the resort.
Chaminade Resort & Spa
This hilltop resort in Santa Cruz is a peaceful, remote 300-acre fairy tale hideaway that pays tribute to California's mission tradition with vivid, colorful tiles, a grand stairway, wood floors, and Spanish arches.
Chaminade Resort & Spa is the best site to experience Santa Cruz at its most peaceful, with enough opportunities to lounge and unwind in wide open areas surrounded by beautiful green landscapes.
Relax in one of the award-winning hotel's 11 two-story villas.
Whenever you walk through one of the Redwood-lined hiking pathways, breathe in all the fresh seaside air.
Chaminade Resort & Spa is also near excellent golf courses, beachfront beaches, and vibrant downtown, making it an ideal accommodation for your next trip.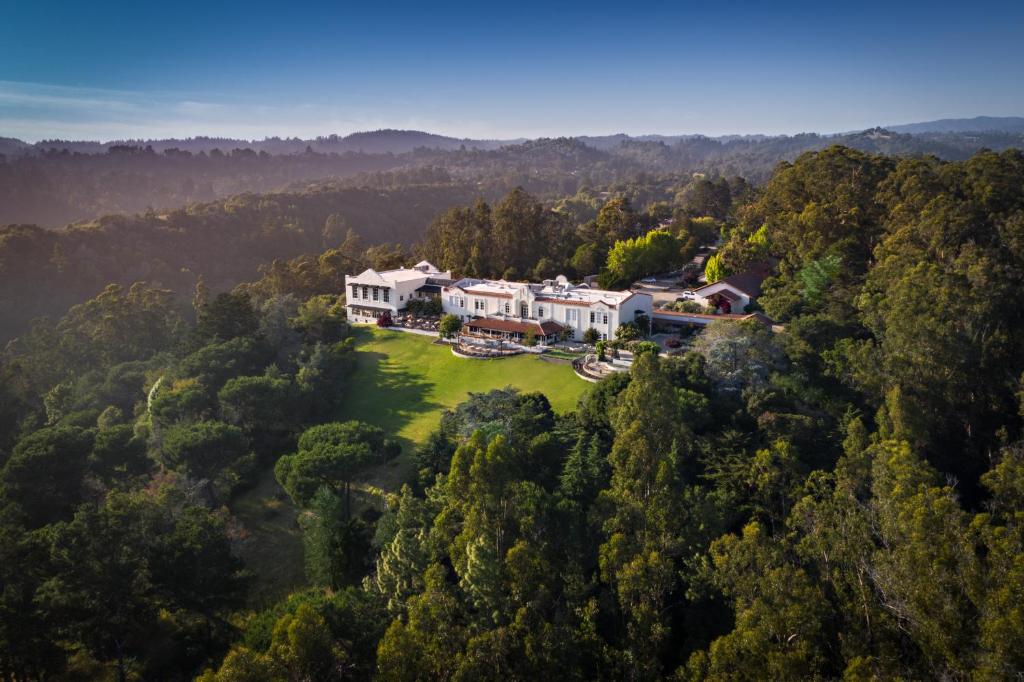 Seacliff Inn Aptos, Tapestry Collection by Hilton

Seacliff Inn Aptos, Tapestry Collection by Hilton is located approximately 10 minutes from Monterey Bay and Capitola Beach.
The in-house restaurant is superb, and you can unwind with a beverage at the bar/lounge or even in the hot tub at the end of the day.
The hotel, in the heart of Santa Cruz County, sits on six acres of beautiful grounds with meandering garden walkways and entices you inside with all-new luxury apartments.
Explore the area's water adventures, such as kayaking and parasailing, or unwind in nature through ziplining, hiking, or biking.
The property is an excellent choice for weddings and other gatherings, with amenities that can accommodate up to 150 people.
The pleasant, helpful staff at Seacliff Inn Aptos, Tapestry Collection by Hilton is eager to make your stay delightful and peaceful.
The Inn at Pasatiempo
The Inn at Pasatiempo is situated amid a gorgeous Eucalyptus forest in a woodland setting convenient to Highway 17, about four miles from Santa Cruz's lovely beaches.
Back Nine Grill & Bar is open for lunch and dining and provides American cuisine.
In addition, the hotel's private lounge bar is a great location to unwind with a drink.
Meeting rooms, a safe, and room service are among the services provided to guests at The Inn at Pasatiempo.
It also has a smoking section, a dry cleaning facility, and a business center.
At this French country inn, guests can relax on an elevated outdoor patio surrounded by colorful gardens.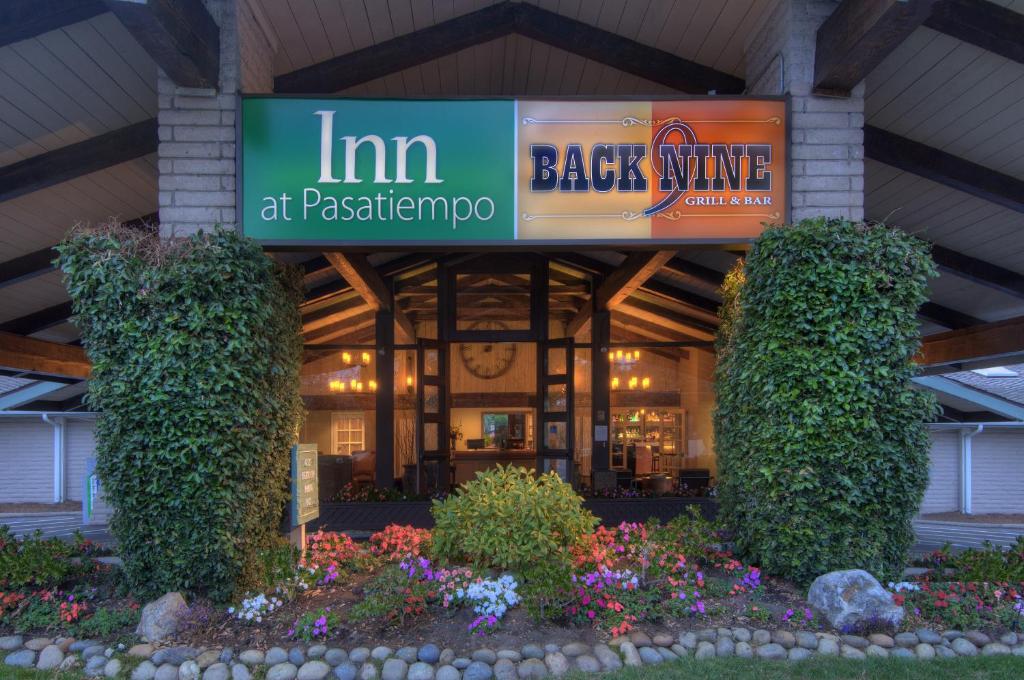 Beach Street Inn and Suites
Beach Street Inn and Suites, perched on one of the most magnificently gorgeous vantage points on the Santa Cruz coastline, provides guests with a spectacular panoramic view of Monterey Bay.
Many of the accommodations have a direct view of two of Santa Cruz's most popular beaches, Cowells Beach and Main Beach.
Beach Street Inn and Suites is the top pick among Santa Cruz beach hotels since it perfectly represents the classic oceanside lifestyle that has made Santa Cruz the ultimate beach escape for a romantic getaway or family vacation.
Just steps from the sand, it is near the legendary Santa Cruz Beach Boardwalk and the historic Santa Cruz Wharf.
The hotel has a courtyard with picnic areas, an outdoor swimming pool, and free WiFi in the guest rooms.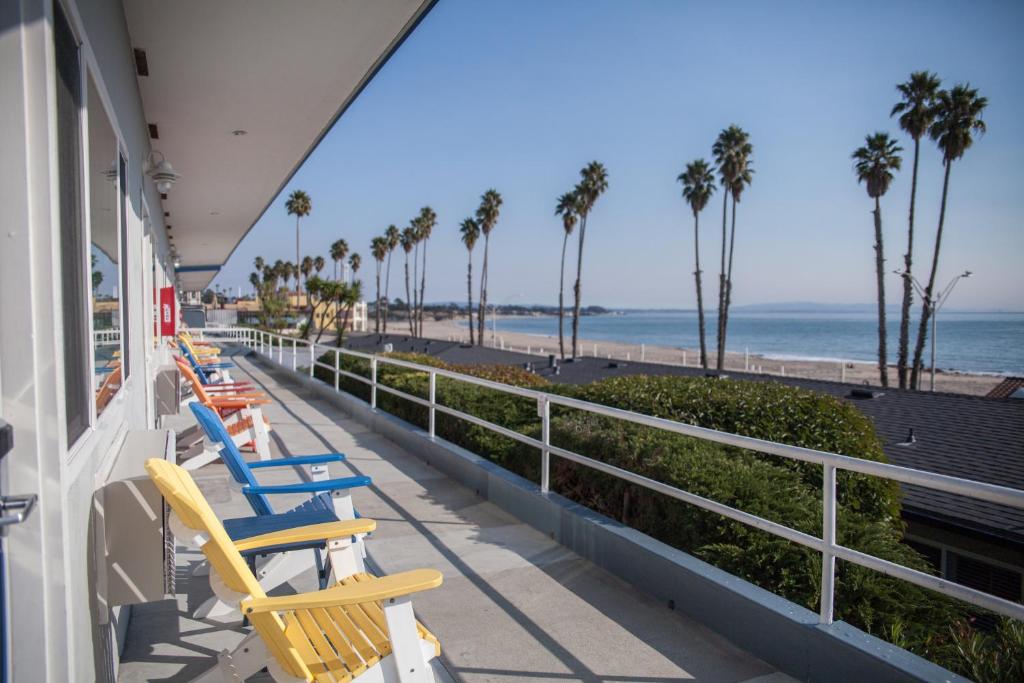 Hotel Solares
Discover the beauty of California's central coast while staying at Hotel Solares in Santa Cruz, the iconic California beach town.
There is something wonderful about this place, from its craggy mountains to its beautiful seashore beauty to its lovely downtown center.
If you want to romp in the deep blue waves of the California coastline, encounter pink-throated butterflies on a gorgeous stroll, or attend a Shakespeare performance under the stars in a romantic redwood glen, this pet-friendly Santa Cruz hotel is the place to be.
Hotel Solares provides visitors with a superior position within walking distance of the famed beach promenade.
In addition, there are several stores, cafes, restaurants, and pubs near the hotel.
While in town, be sure to visit the Surfing Museum, Natural Bridges State Beach, Roaring Camp Railroad, the University of California, Santa Cruz Arboretum, and Botanic Garden.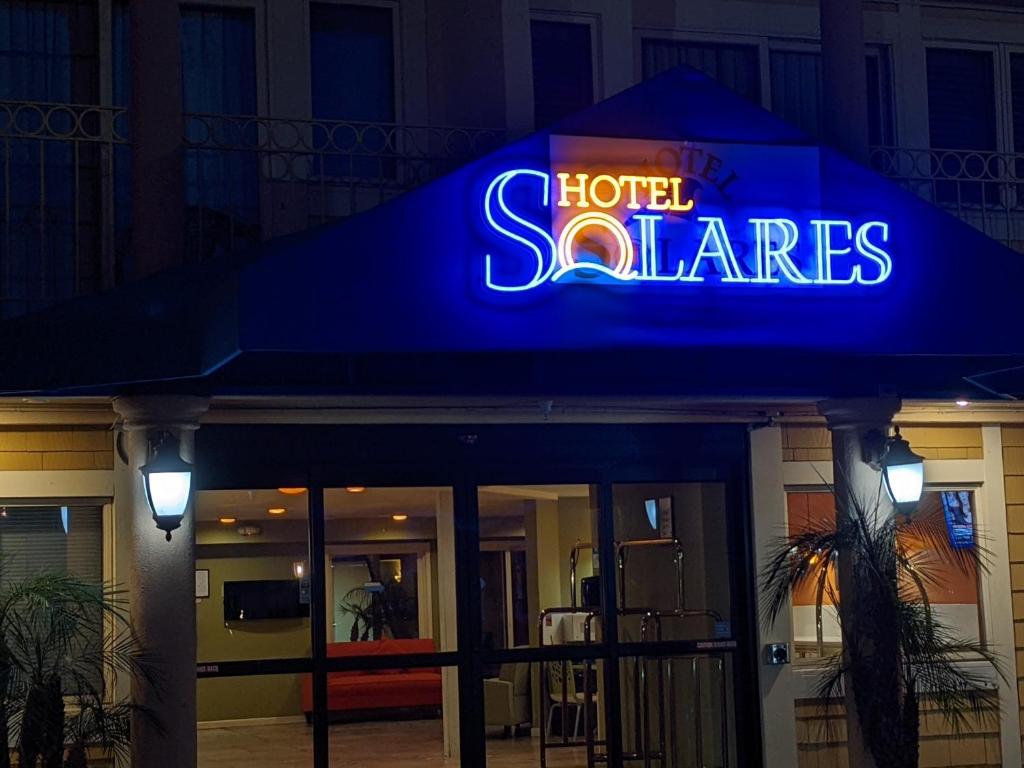 Ocean Echo Inn & Beach Cottages
Ocean Echo Inn & Beach Cottages, located just 100 steps from Sunny Cove Beach on Monterey Bay, provides an excellent vacation for couples, families, groups, and business visitors.
The hotel is often referred to by visitors as the "hidden treasure by the sea" since it is ideally placed at the end of a quiet street, allowing for a private seaside hideaway within walking distance of coffee shops, markets, and restaurants.
Just 20 minutes from the Redwoods and 45 minutes from Silicon Valley and San Jose International Airport, Ocean Echo Inn & Beach Cottages is a fantastic retreat for a quiet beach getaway and relaxation amid ocean waves.
The rooms create a delightful coastal ambiance inspired by the gorgeous surroundings for a more private escape, ideal for visitors looking for a tranquil getaway or a couple seeking a romantic trip.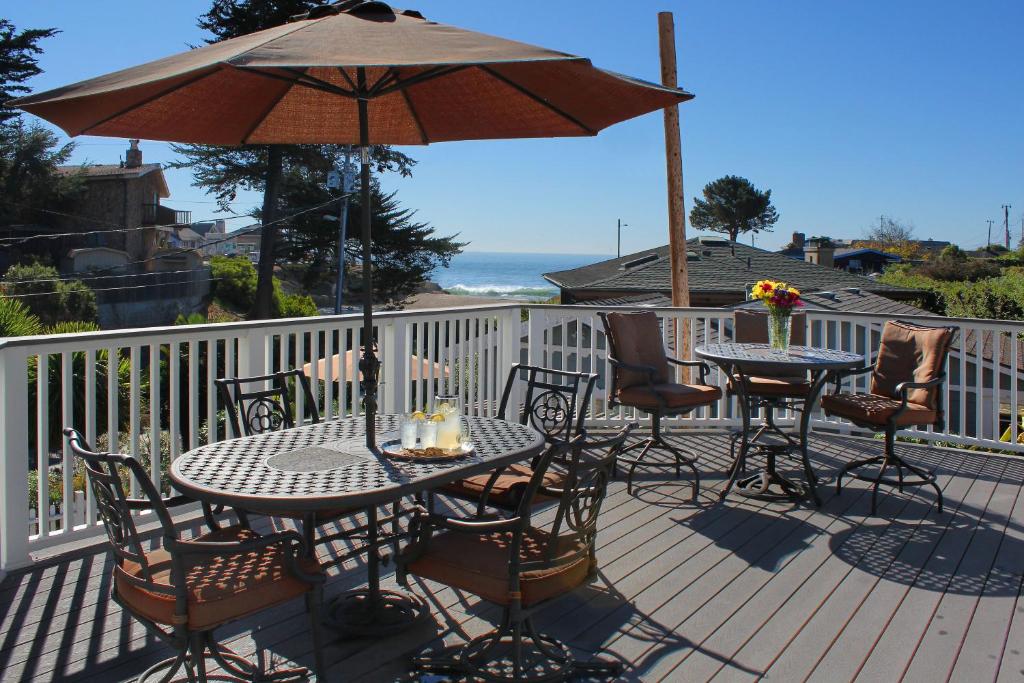 Final Thoughts
Capitola is the most famous destination for beach resorts along the West Coast, with a wide range of seaside stores, cafes, and tourist activities.
If you're looking for art galleries, a beach resort, or great breweries, check out some of the most incredible city attractions and consider staying at one of the best hotels in Capitola, California.
Start planning your getaway to this charming beach town and have a fantastic time.
✍️
Find out more about Travel Lens and read our editorial guidelines
here
.