15 Best Airbnbs in Memphis
See also: Best Things to Do in Memphis and Where to Stay in Memphis
The home of Blues, soul, rock 'n' roll music, Memphis is like Mecca to music lovers. Don't be fooled though, because Memphis is so much more than just a city with a rich and diverse musical history.
There are a bunch of places and attractions that have lured tourists from around the world, which has given rise to the number of Airbnbs dispersed around the city. Given below is a list of selected Airbnbs, all of which have one thing in common, i.e. providing the best Memphis experience!

Bee-n-Bee
If you want to live in one of the coolest neighbourhoods in Memphis, then this Airbnb is for you. It is a cottage, located in a diverse and busy Cooper-Young area, is a cosy place, complete with a living area, a small kitchenette and a bathroom.
The living room is a perfectly planned space, which comes with a queen-sized feather bed and a small library. The place is, interestingly, kid-friendly – one only has to inform the Superhosts whether they are travelling with children or not.
Superhosts Mary and Wes live quite close and therefore are available for you round the clock. With amazing restaurants and shops dispersed all over the vicinity, this Air Bee-n-Bee happens to be a fantastic weekend gateway for travellers!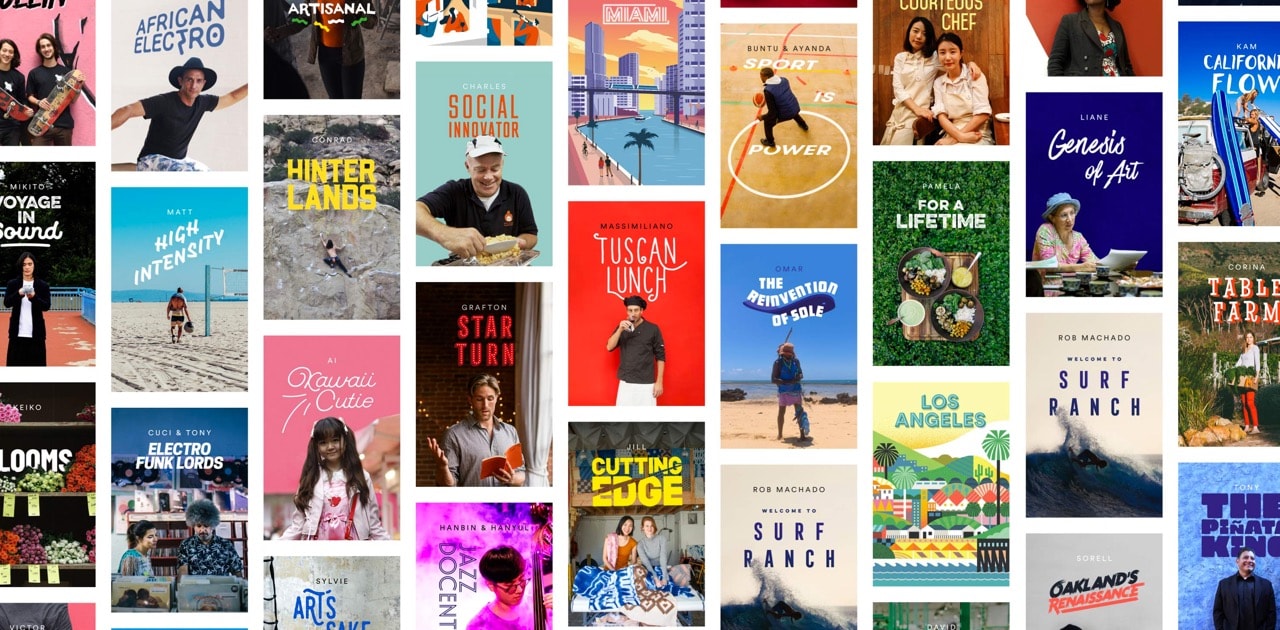 Boho Groove - urban studio with relaxing backyard
A couple of blocks away from Overton Park and Broad Avenue is the chic and fabulous Airbnb, named Boho Groove.
A spacious living room consists of a futon and a queen-sized bed, with a couple of large windows providing the much-needed ventilation. You get access to a full bath and a small kitchenette, filled with basic amenities, including a mini-fridge and a coffee maker, among others.
The outdoors is a shared space, where you will get access to the front yard, patio at the host's house and the backyard. Superhosts Jamey & Michelle live right on the property and forward some of the profit to different nonprofits.
Tasteful, pet-friendly and utterly peaceful, Boho Groove happens to be one of the best listings in Memphis.

Instahaus
Superhosts Mary and Wes have another gem hidden in the folds of the Cooper-Young neighbourhood. In fact, their Bee-n-Bee is the outhouse, whereas this Instahaus is the main house.
This Airbnb comes with a living room with Roku-equipped TV, a renovated full kitchen and a dining room, two bedrooms with queen-sized beds and a fully rehabbed bathroom. The kitchen is especially beautiful, featuring amazing dinnerware and cookware, a sleek gas stove and a microwave, and not to forget, a custom mosaic backsplash.
The house takes its inspiration from the different cities the Superhost has travelled to, especially the Middle East and Italy. Every nook and cranny of the house whispers calm and comfort, thus making it one of the top Airbnbs of Memphis.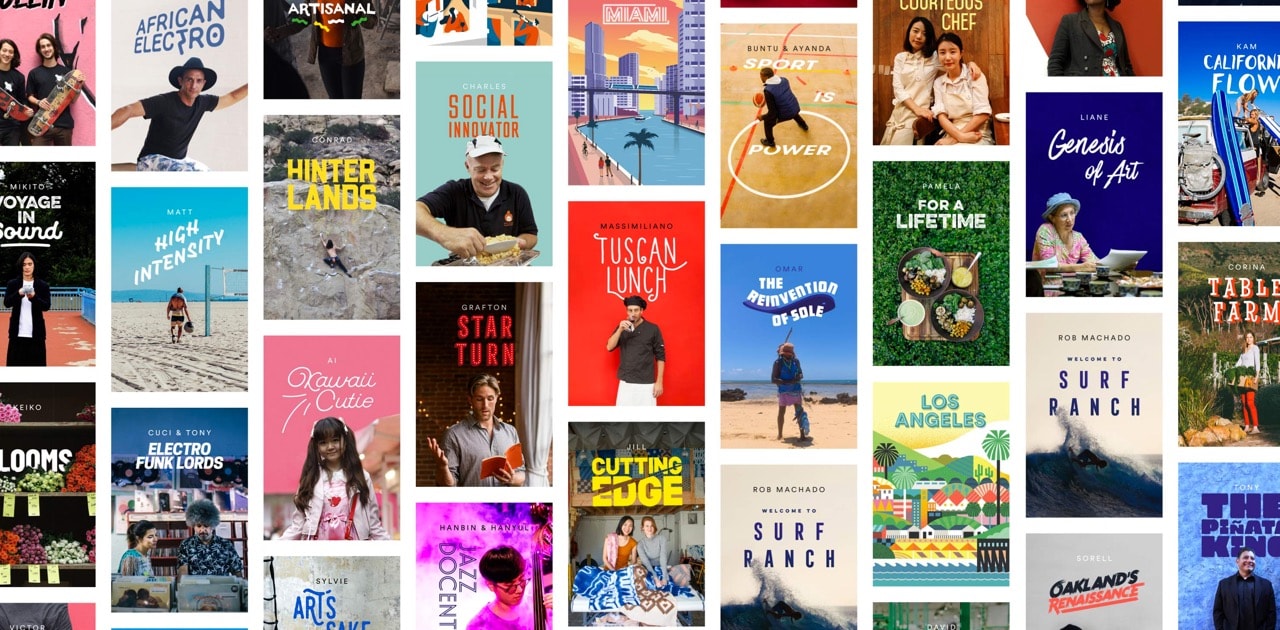 Sunny & Soulful
This cheerful Airbnb is as soulful as Memphis, its history and its culture, with a dash of Memphis' nightlife surrounding the place.
Situated in the heart of the neighbourhood of Cooper-Young, it is renovated 111-year-old house, featuring colourful décor, contemporary artworks and plenty of sunlight. When you step into the property, you are greeted with a comfy seating arrangement and a wall-mounted TV.
Along with this, there is a full kitchen, a dining room, a bedroom and a bathroom. Superhost Matthew is great at communication and makes sure that your stay is as comfortable as possible. Your life will be easy there, with the number of exciting cafés, shops and entertainment options around the Airbnb, such as Café Ole' and Java Cabana, among others.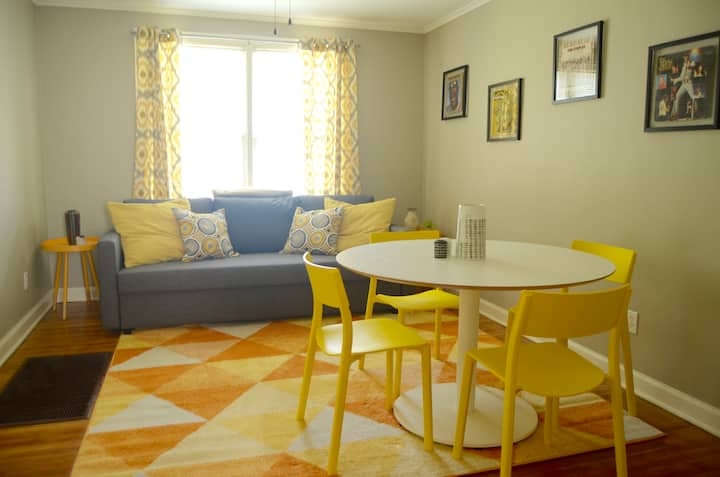 Private home with 2 bedrooms/2 bathrooms
Located in the vicinity of University District Alliance is this cute private Airbnb, able to accommodate around eight people at the same time. It comes with a living room, a kitchen and a laundry room as well as a master suite with an attached bathroom, a second bedroom with a queen-sized bed and a full bathroom.
The house is characterized by wooden floors, lovely wooden furniture and flowy curtains. Not only is the place pet-friendly, but also comes with an easy self-check-in. It is because the Superhost Rachelle works out of Memphis and could only be reached by phone.
However, that doesn't mean the Airbnb is neglected – in fact, Rachelle has compensated for her absence, making sure that her place provides a seamless living experience for her guests!
Cozy Urban Cottage
How can a cottage be urban? The answer lies in Superhost Jacob's Airbnb. Nestling in the folds of Midtown Memphis is this cosy, one-bedroom home, complete with a living space, a bedroom area, a full kitchen and a nice bathroom, which is soon-to-be renovated to accommodate extremely tall guests. Perfect for two people, you will get access to the patio, BBQ grill and backyard.
This place is filled with beautiful artworks, a handful of books for leisure reading and comes stocked with basic amenities. Jacob's cabin happens to be the best basecamp from where you can explore the city to your heart's content. It also helps to see that it is within a walking distance from everything exciting Memphis has to offer.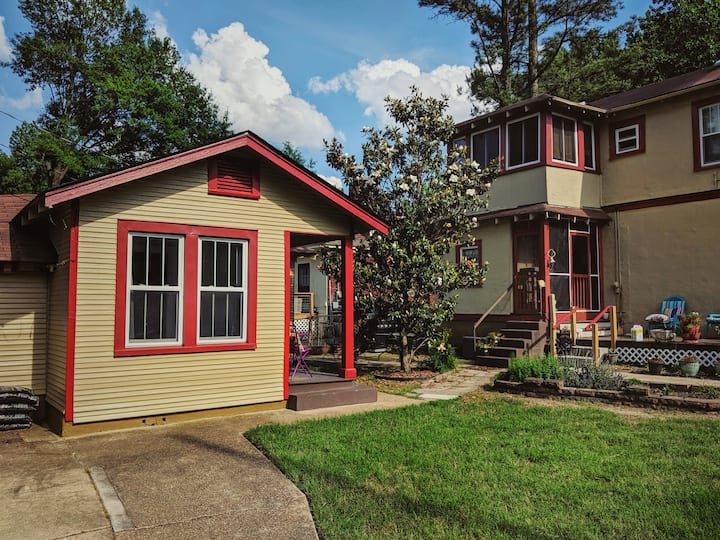 Renovated Carriage House in the Heart of Memphis
The first thing that you'll blurt out after checking this Airbnb out, would definitely be, "Wow!". A cosy renovated back-house of the main house, it is perfectly ideal for solo travellers or a romantic couples' trip.
The place comes with a large space, adorned with a beautiful big bed, a couch and a full kitchen, along with a bathroom. The place features brand new furniture, soft pastel shades and more than just basic amenities.
Located in the quiet and beautiful neighbourhood of High Point Terrace, it is quite close to Memphis' popular areas - meaning you get easy access to literally everything! Superhost Ashley lives in the main house and is as excited for your trip as this Airbnb's doormat, which says – "Yay! You're here!".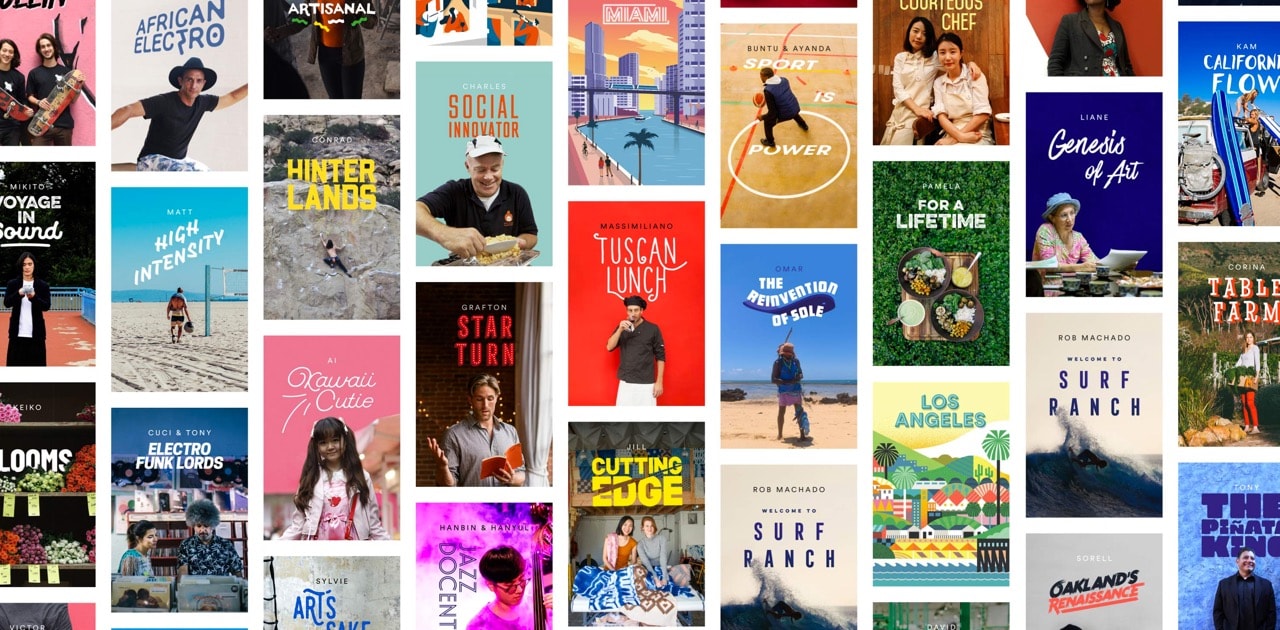 Private Room in Adorable Midtown House
Twinkling lights, a private den and an adorable beagle mix roaming around this adorable room is the best way to describe this Airbnb. Located in the historic neighbourhood of Annesdale Snowden, the house is actually almost 100 years old, complete with all its vintage charm.
Since Superhost Rachel also lives on the property, you will get access to the private den – which also functions as a media room – the shared living room and a shared kitchen, available upon prior notice.
The places which are yours for the stay consists of a room with a queen bed as well as a private bathroom. Even though Rachel is busy throughout the day, not only is she extremely accommodating, but makes sure to provide breakfast to the guests.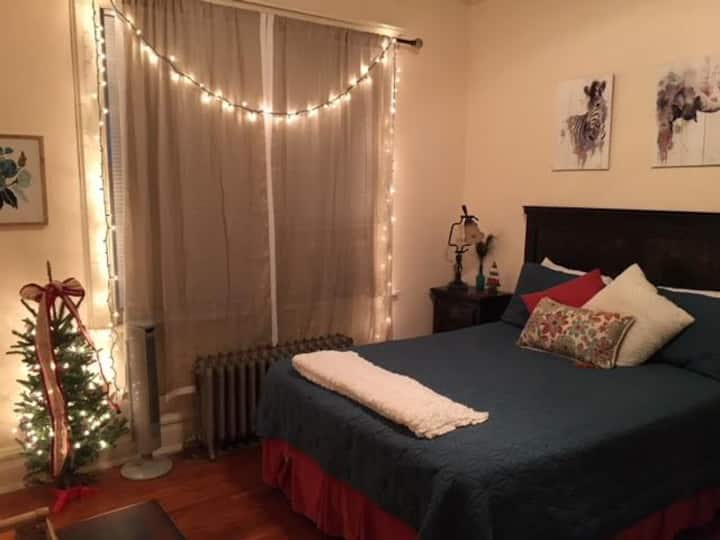 Clean and Cozy Cottage in Heart of Memphis
This Airbnb is located in one of the oldest and loving neighbourhoods of Memphis, Annesdale-Snowden. You can access the place through the back gate and then going into the fenced backyard, after parking your vehicle in the reserved spot.
This backhouse-turned-Airbnb boasts of large living space, complete with a queen bed, queen air mattress, a couch as well as basic kitchen amenities, such as a refrigerator, coffee pot and a microwave.
A newly renovated bathroom is also included, which comes with a tub and a shower. Superhosts Matt and Jennifer live in the main house and therefore, are available to answer your queries or even hang out with you - whenever you want.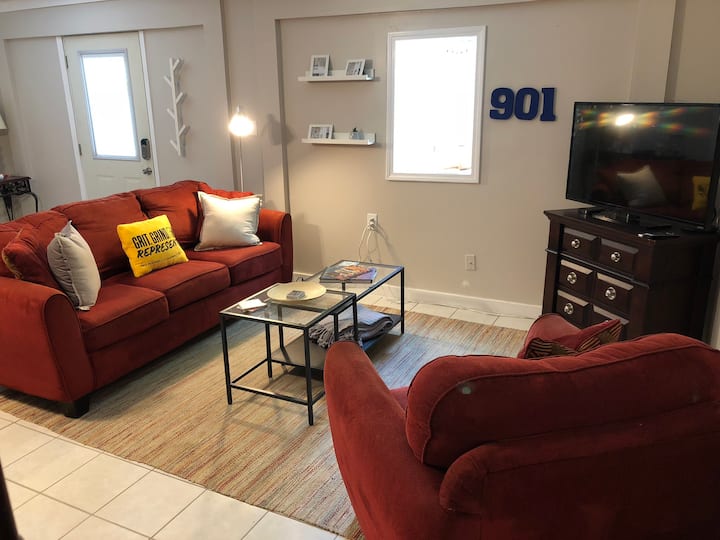 The Blue Heron-elegant urban studio in the city centre
An Airbnb that is exclusively themed around the beautiful blue heron! This apartment, located in the heart of Memphis, is a clean and comfortable space, complete with a living area with a futon and an airbed, a kitchenette, a bedroom and a full bathroom.
The backyard is a shared space, where all the guests can relax quite comfortably. This pet-friendly place is full of amenities - including Smart TV, mini-fridge and even a coffee maker - and oh so amazing, as a percentage of the profit goes to local nonprofits, along with providing a living wage for a neighbouring refugee family.
Superhosts Jamey and Michelle have made sure that this Airbnb is as chic as their other listing – The Boho Groove.
Priv. Midtown Suite, Liv Rm, Fireplace, Great location
The historic neighbourhood of Evergreen boasts of having equally vintage and beautiful houses. This Airbnb undoubtedly comes in this category – it comes with large windows, an old-fashioned, wraparound porch and a vintage charm.
There's a private living room, a bedroom, an en-suite bathroom and a whole array of amenities for you to use. Though there is no kitchen as such, you will definitely get the essentials, including a mini-fridge, microwave and coffee, tea and hot chocolate, etc.
There is a glass-front bookcase, a fireplace and a double recliner by the fireplace, all of which gives off utterly cosy vibes. Superhosted by Teri, she is extremely accommodating and provides her guests with a binder containing relevant information about Memphis!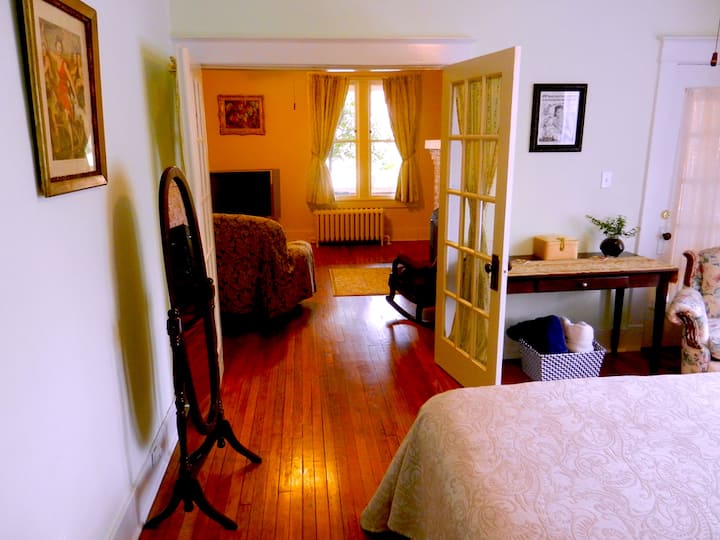 Our 1906 Humble Abode in The Bluff City
This Airbnb just whispers of beautiful times and cheerful days. An amazing apartment in the Uptown area, it is particularly close to many Memphis areas, including midtown, Beale Street and Crosstown Concourse, among others. Spread over 1,300 sq. ft., it consists of a living room, two bedrooms, a full kitchen, a full bath, with a washer and a dryer.
A perfect blend of vintage and eclectic, the house features original heart pine floors, 12-foot ceilings, brick columns and accents, built-in bookcases and relaxing vibes all around. Perfect for four guests, the bedrooms come with a white noise machine to ensure your comfortable rest. Superhost Timothy and Jessica live next door and are perfectly happy to be your hosts.
Cozy Farmhouse Getaway in East Memphis
What guest would not love their Airbnb to be as cosy as possible? Well, this Airbnb takes the comfort up a notch! A completely private guesthouse, it comes with a sitting area, a fully equipped kitchen, a queen bed with built-in closets and a private bathroom.
Not only do you get access to WiFi but you also get a desk – which doubles as a dining space – where you can work and eat. Another impressive feature of this farmhouse is its deck, which comes with a bistro table and chairs, as well as the pool deck, where you can use the BBQ grill. Located rather conveniently in the Richland Acres, Superhosts Brandt and Leslie make sure that your stay is as amazing as possible.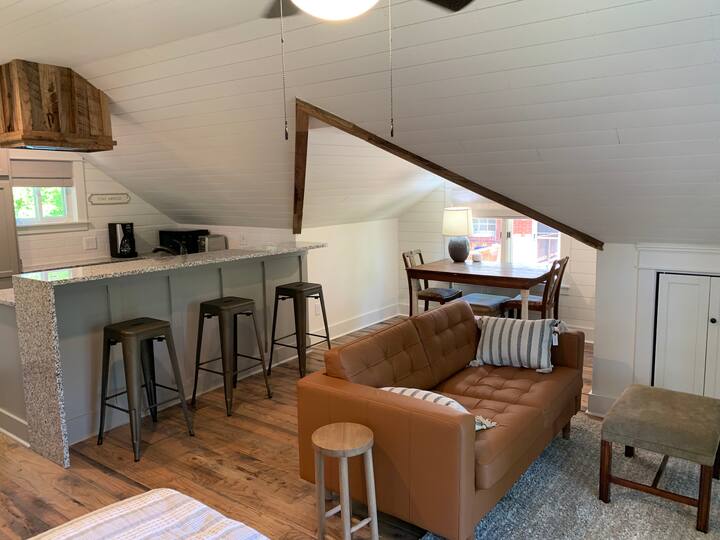 Lions Rest with Private Garden
This Airbnb is a part of a historic home, made all the more beautiful with the garden in front of the place.
Nestling in the historic neighbourhood of Evergreen, just a little distance away from the Overton Park, a private entrance gets you into this ethereal suite, complete with a living area – with sofa and cable TV – a kitchenette and a work-cum-dining area, two beds and a private bathroom.
The place features modern amenities, soft shades and enchanting wilderness all around. There is a private porch that is accessible for you and which provides a peaceful view of the garden. Superhosts Mark and Fabricio have renovated the house with great care and it shows – this Airbnb is a perfect little getaway.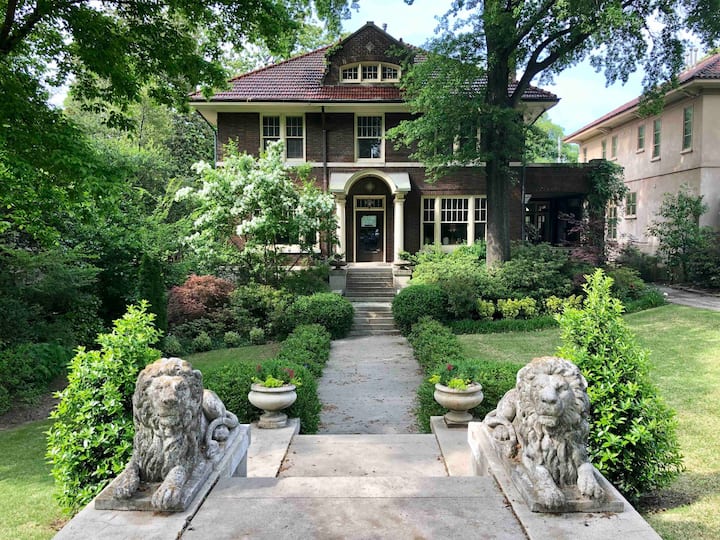 Cottage bungalow in midtown (Cooper and Young)
A gem in the heart of Cooper and Young neighbourhood, this Cottage Bungalow is a beautiful Airbnb, amidst a wild garden. It comes with a living room, a full kitchen, two lovely bedrooms and a full bathroom.
Since there is another cottage on the property – which are obviously situated in their own secluded spots – the laundry room is common for these two homes.
The place is tastefully decorated, with vibrant colours, equally impressive décor and an amazing piano! Superhosts Jordan and Mona are indulgent and co-operative and are pretty cool with you using the musical instruments lying around. And when one sees how close it is to everything in Memphis, one is bound to choose this Airbnb over others!
Memphis has an array of unique Airbnbs, all of which showcase varied levels of beautiful diversity. Resting in the wilderness or located in a suave neighbourhood, these Airbnbs will not fail to provide you with the true Memphis experience.