15 Best Airbnbs in Kyoto
See also: Best Things to Do in Kyoto and Where to Stay in Kyoto
Perhaps the most Japanese city of Japan is Kyoto; in fact, it is a historical and cultural centre of Japan. Temples, shrines, shops, gardens, geisha, traditional festivals – you name it, Kyoto has it all.
With so much to explore around, it is crucial to know what the living conditions around in the city are, including Airbnbs.
All of these accommodations range from traditional to modern, from compact spaces to spacious livings – the only link between these is that each and every place is simply amazing!
Sakura River Inn 2 (licenced Machiya)
Right from its name, to its amazing and traditional space, everything about this Airbnb reflects the essence of Japan. It is located on the banks of the tranquil Takase river and was originally in the possession of Geisha.
The apartment features a six-tatami living room as well as a six-tatami bedroom, along with a kitchenette, a proper bathroom. The place is actually on the first floor, which not only gives additional privacy but also provides picturesque views of the river, lovely Sakura trees and surroundings beyond.
Ideal for couples and small families, the apartment is also surrounded by many local attractions, markets and restaurants. Superhosts Andrea and Mayumi take care of their Machiya-apartment rather lovingly – you can see it shining in every corner of this Airbnb.
Near Kyoto Station: Double room with Kitchen
A 12-minute walk from Kyoto Station, this Airbnb is a spacious paradise. The big room contains a double bed as well as a sofa bed, a bathroom and a toilet, and not to forget a small kitchen.
Major useful amenities include a washing machine, refrigerator, bathroom dryer and racks, to name a few. The entire place is tastefully decorated, adorned with soft lights, large windows, cleanliness shining all over.
The location is especially amazing, as being close to the station is always convenient. This apartment is in a hotel and therefore, might come with its own set of problems. However, thanks to Superhost Omotenashi, your stay here is as smooth and seamless as possible!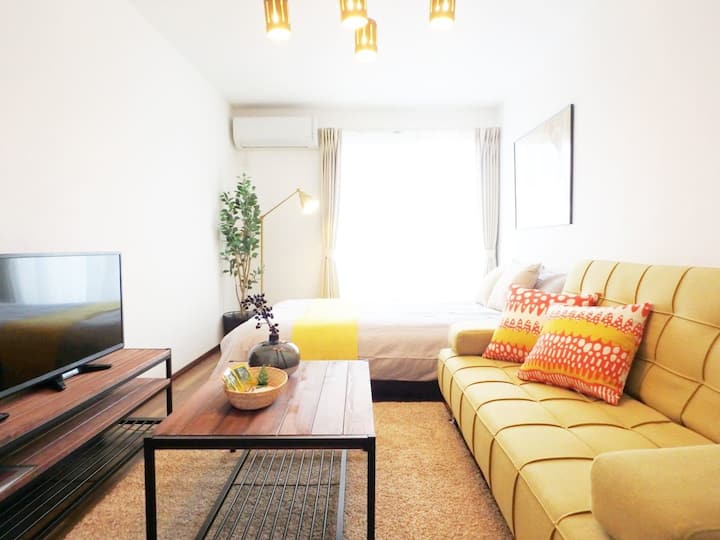 Utsuwa Designed hostel 13min Kyoto Sta. Free WiFi
This Airbnb is one of the more authentic ones in this list, truly reflecting the elements of the area its located in – Higashiyama Ward, popular for its traditional and historic architectures. It is a 'Utsuwa'-styled hostel, complete with 35 beds, three shared showers, one bathtub, six separate toilets and a lounge with food and drinks.
The bedroom is all yours to use, but can't have food in there, except for soft drinks. The hostel also comes with a beautiful Karensansui-Zen garden, situated on the patio, which is accessible for the guests.
The place also boasts of an amazing arts' collection, which is insightful and aesthetically pleasing. Superhost Utsuwa's place happens to be a beautiful choice, don't you think?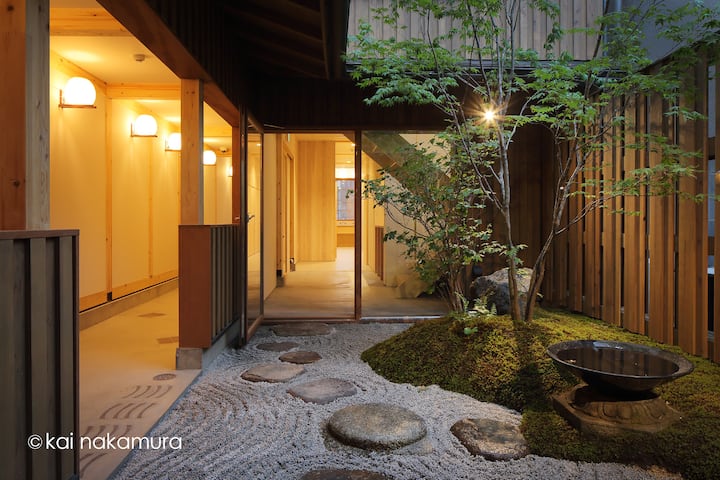 Gion TUBAKI
Nestled in the folds of the Gion area is this amazing Airbnb, where you get access to the entire ground floor space. It comes with a big living-area-cum-dining room, which also has a kitchen, a big bedroom with five comfortable floor mattresses, a washing machine space as well as a bathroom and a shower room.
It is a lively space, lit with the soft Japanese lights and lamps inside and sunlight streaming from outside. What is impressive about this place is how everything is within walking distance – not only the restaurants, bars, cafés and taverns but also rental kimono stores and gift shops are easily accessible.
The place is owned and lovingly handled by Superhost Fusako, whose another listing also features here.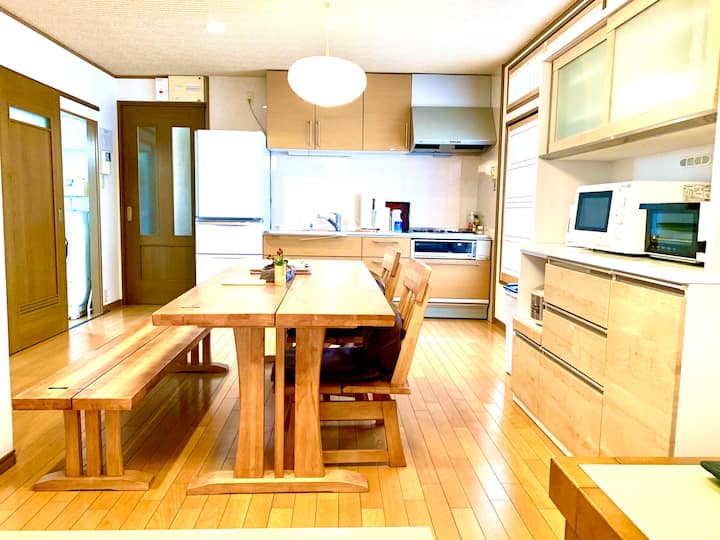 Sweet Private Room 203
The name of this Airbnb says it all – it's a private room and its as sweet as an apartment can get! Located just 10 minutes away from Kyoto station, this place is on the second floor, accessible by traditional stairs.
This place features a bedroom, a small kitchen, a closet, a bathroom, along with a shower and bath. It also comes with a variety of amenities, including pocket WiFi, electric kettle, refrigerator and washing machine, among others.
What is even more interesting about this place is how close it is to a number of tourist attractions, including Kiyomizu Temple and Fushimi Inari Shrine. Superhost Fusako is responsive and friendly and keeps a comprehensive guide map in Airbnb for your easy navigation through the city.
Premium/Luxury Stay at Kitano Machiya +2 bikes
Most of the Airbnbs in Kyoto exudes traditional Japanese architecture and culture. Here, however, is a townhouse, around 100-years-old, perfectly renovated to cater to your needs.
This Kitano house Airbnb is a comfortable space, featuring a full kitchen attached to a living-cum-dining area, a bedroom with a double bed and a perfectly large bath and shower room.
The place is rather aesthetic, ideal for romantic getaways and solo trips – and you can extend your stay here whenever you want! Every amenity in the house works exceptionally well – including the multi-gear folding bicycles - making your stay even more comfortable.
Superhosts Duncan and Audrey are equally dreamy, who are not only accommodating but will also willingly arrange meals at local restaurants on your request!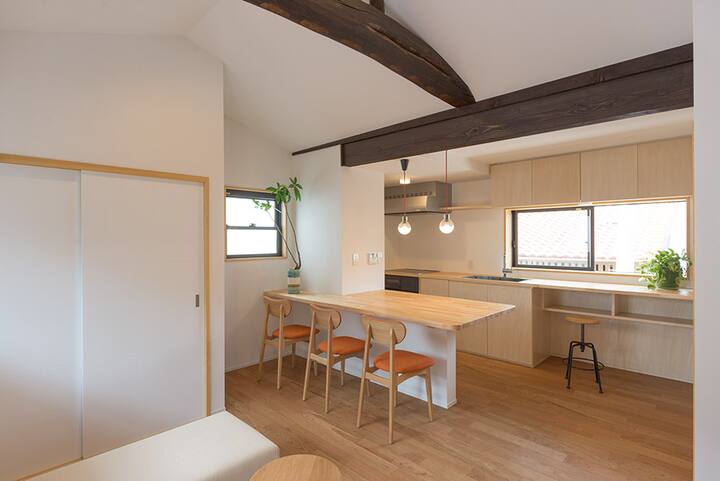 Kurumi - 4 mins Nijojo Sta/7 mins Karasumaoike Station
Located just in the heart of Kyoto is this beautiful Airbnb, a traditional Machiya apartment.
This townhouse features two bedrooms – with two double beds and three futons respectively – a full kitchen and a separate bathroom and a toilet. It has everything you need, right from a microwave, rice cooker and refrigerator to an A.C., heater, washing machine and portable high-speed WiFi.
Groups of five can make themselves at home here quite comfortably and can use anything and everything that is in this space. The place is surrounded by amazing restaurants and cafés as well as traditional crafts stores and variety stores. Superhost Satomi has worked hard to make her apartment speak of class, comfort and convenience!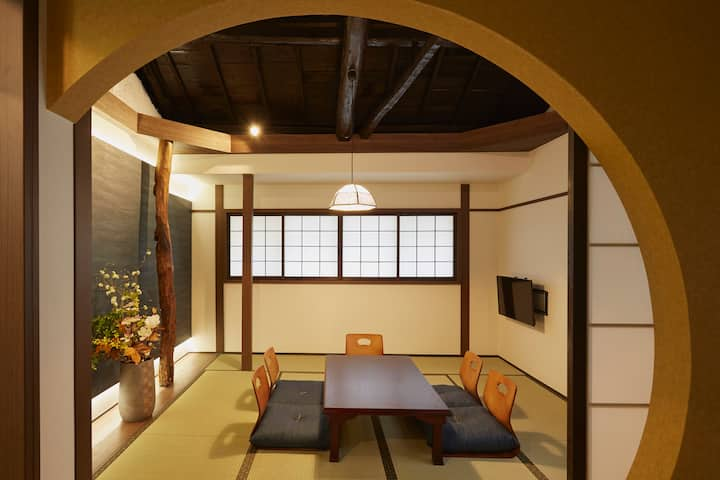 Traditional Kyoto townhouse – North
Located in one of the famous cities of Kyoto – Nishijun – is this amazing Traditional townhouse Airbnb, Kaika. It is a small place, ideal for four guests, but with its cosy atmosphere and mellow vibes, it becomes a spacious choice for couples or small families.
The house comes with a dining room – which can work as a living area – a kitchen, a bedroom and a shower room. It is decorated rather tastefully, where, with sleek wooden floors, soft shades and Japanese knick-knacks spread all over.
Though there is no TV for entertainment, it is compensated by an access to high-speed WiFi. The house is hosted by Eriko, who makes sure that this Airbnb is as self-sufficient and comfortable as possible.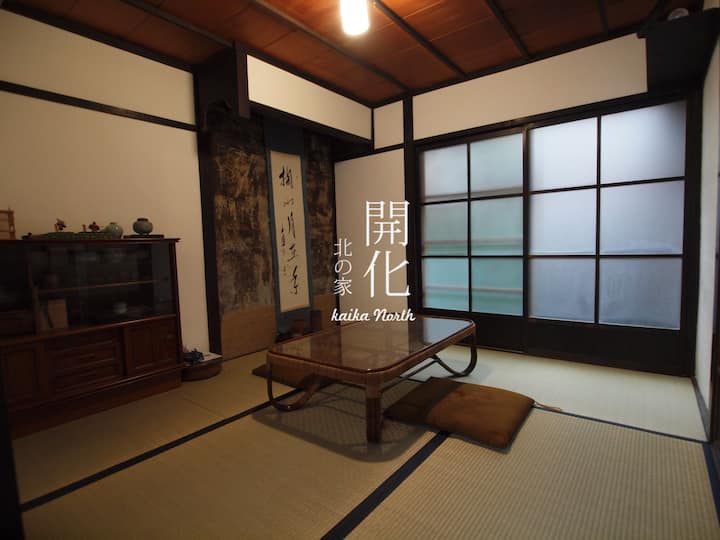 100-Year-old Machiya Guest House close to Heian Shrine in Kyoto
Located quite close to Heian Shrine, this beautiful Airbnb is actually 'Warakuan', which is a 100-year-old Machiya House, renovated to suit your needs.
What you get here is a proper guest room – a tatami room – which is furnished with Japanese elements, including décor and impressive washi lighting. Double-size bedding – with the availability of a single mattress on request – high-speed WiFi and greenery all around grace this Airbnb.
As for the shower room and toilets, they are shared but will be available all day long. There's also a public bath in the vicinity as well as a shared bar. You can also rent some basic amenities, including towels, PCs, chargers and even bicycles, among others. Owned by a Superhost, it is a literal Japanese paradise.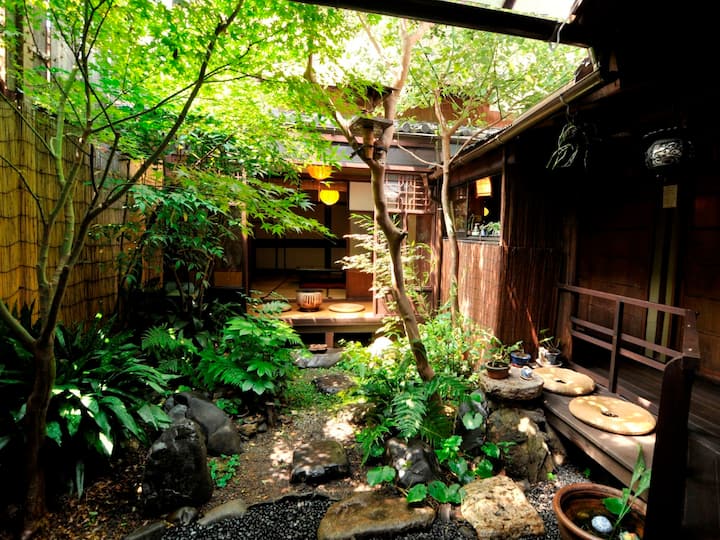 A comfortable big house
Japanese culture values minimalist living – and so, this Airbnb comes in like a breath of fresh air! This place can comfortably accommodate groups of six people.
Located just at a walking distance away from Kyoto station, it features a spacious living room, a full kitchen, a separate bathroom and two amazing bedrooms – a western room and a Japanese room - with four beds.
A comfortable blend of modern and traditional, the house also comes with impressive wooden décor, Japanese touches – like the heated table and the ample lighting – and a thoughtful guidebook to introduce you to your surroundings. Superhost Fusako makes sure that the place is perfectly spotless and is absolutely delightful to be around; no wonder everyone recommends this Airbnb!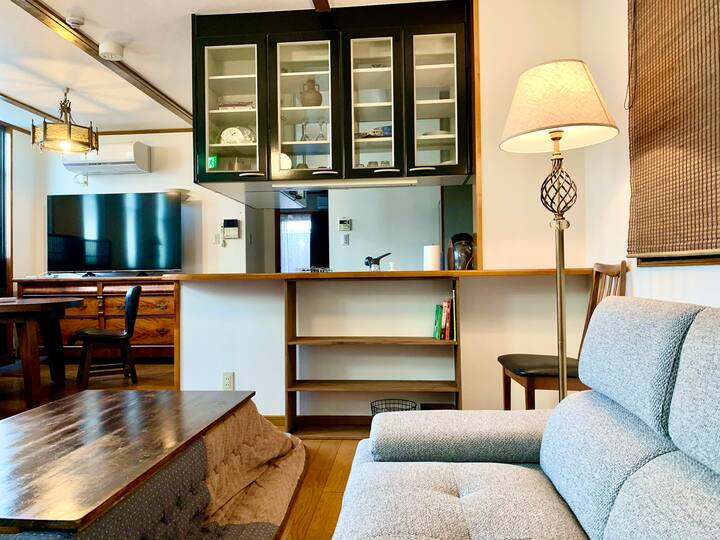 Stay safe - Luxury★5 mins to Shijo Station 7S-402
This Airbnb is quite different from other Airbnbs – why you ask? Because it's actually an Apartment Hotel! Registered under the Kyoto-shi Hotel Business Act, you get to live in a private unit, which comes with a big room with two double beds, a kitchen and a bathroom and even a balcony.
The kitchen is packed with amenities, including an electric kettle, microwave, refrigerator and toaster, among others. A special guest privilege of this place is a list that'll let you know about popular local attractions and even more amazing restaurants.
Superhost Keiko is accommodating and super responsive – meaning any feedback will be greatly appreciated. This luxury Airbnb is simply a fine choice, thanks to its amazing stay and convenient location.
Fushimi INARI shrine walk by 10 min! Big Group OK
A recently renovated and refurbished house, this Airbnb rests just at a 10 minutes distance away from the beautiful and popular Fushimi Inari Shrine.
Modern Japanese style blesses this house, which comes with a large living area, with a kitchen and dining arrangement attached, along with two bedrooms and two bathrooms.
The Japanese style room is especially beautiful, as not only does it comes with around five-floor mattresses, but it also features a Tsubo-Niwa, i.e. a small Japanese garden.
Hosted by Hiroyuki and his family, he is very responsive and accommodating about whatever you need. The house has many facilities nearby, including nice eateries, shopping as well as entertainment options and not to forget, the Shrine.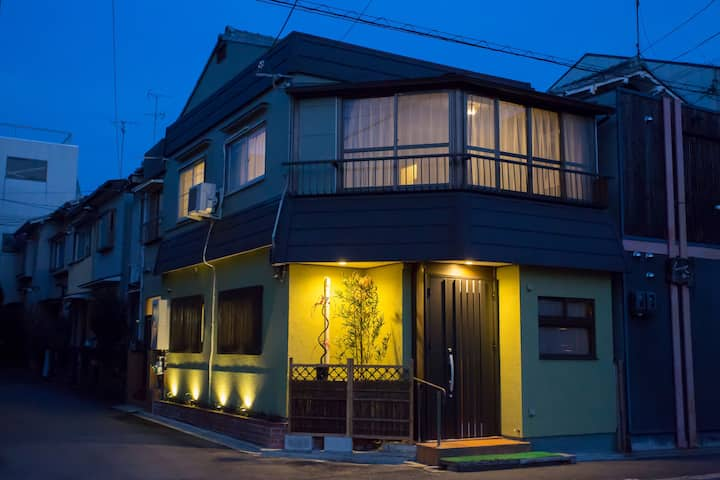 Spacious loft. Accessible to Kyoto stn, Arashiyama
Most of Kyoto's Airbnbs are located in the vicinity of the station – this one is no exception to this! The Airbnb is actually a condo, quite near Hankyu Omiya station, JR Tambauguchi station and obviously the Kyoto station.
One of the best features of this place is its high ceilings, which has given way for the hosts to add a comfortable loft.
Enclosed in the space is a room, a kitchen and a separate bath and toilet rooms, along with a washing machine and laundry hanging rack. Up the loft, there's a single bed and a nice lampshade. With its luxury hardwood floors, Italian-made kitchen tiles and soft shades, Superhost Ikuyo's place just oozes class and comfort.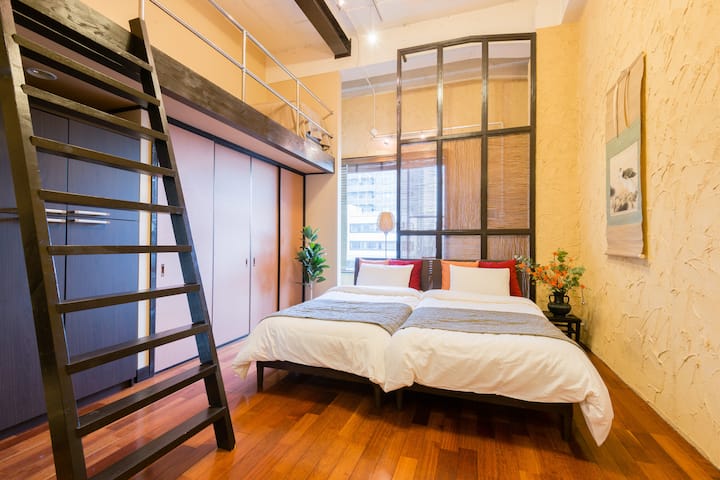 Kyoto station area/Near Kujo Sta/Free WiFi
When you step out of Kyoto Station, you will be greeted by this amazing Airbnb, tastefully decorated and conveniently located.
It is peppered with a variety of modern amenities, including an electrical carpet, electric kettle, microwave, refrigerator, Air conditioner, a handful of futons and fully private bathroom facilities.
Perfect for groups of four, it focuses on incorporating traditional Japanese elements, including the display kimono, low table, tatami beds and so on. This place is also blessed with a cute little indoor garden, styled to look like a traditional Japanese one.
Hosted by a local lady, Yukina, she is amazingly accommodating and always goes a step ahead to make your stay as comfortable and authentic as possible.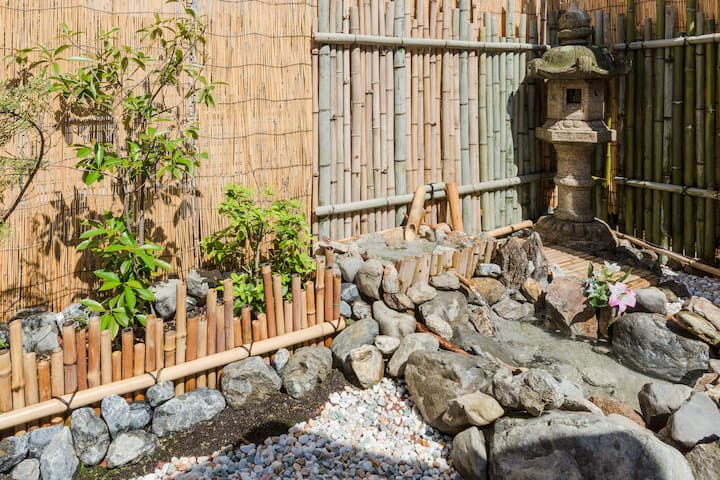 Fluffy Koo's "Registered" Homestay

A little distance away from the beautiful Fushimi Inari Shrine, this Airbnb has an edge over others. Why? The Superhosts Kei & Ritsuko not only offer daily breakfasts and pick-up/drop-off services to the station but also because of their two sweet pets - a cat and a dog.
The house features a spacious living-cum-dining room, opening up in the BBQ-friendly backyard as well as a bedroom. The kitchen, two bathrooms and laundry area are shared spaces and can be used to your heart's content.
The hosts have quite a commendable hosting experience and willingly help you to explore this great city, along with lending a hand in preparing meals for you. With Chocolata's help in deer hunting and Fluffy Koo's 'purry' presence, this stay is as homely as an Airbnb can get.
If you are travelling to Kyoto - whether solo, with your SO, or with friends – there is no way you can't get an amazing Airbnb that won't cater to your needs. Since these places are hosted by locals, Airbnbs happen to provide a really close way to experience the city, physically as well as culturally!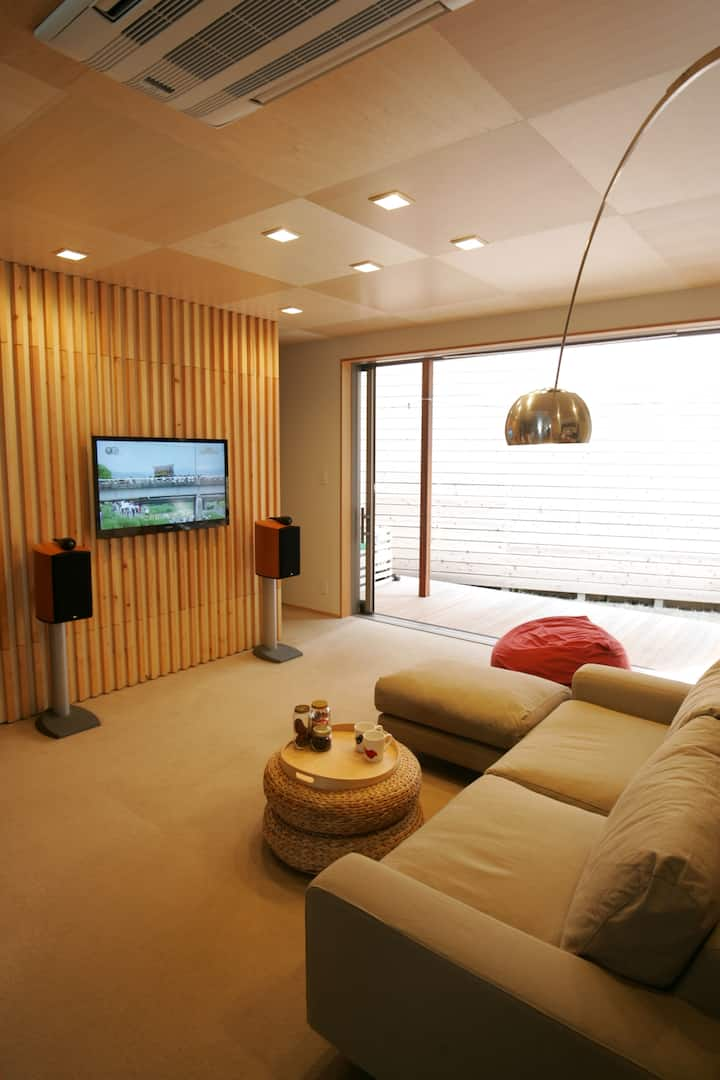 ✍️
Find out more about Travel Lens and read our editorial guidelines
here
.